Call us toll-free now
Book with an expert for free:
1-888-488-0592
Prefer us to call you? Drop your number in the box:
24 hours a day, 7 days a week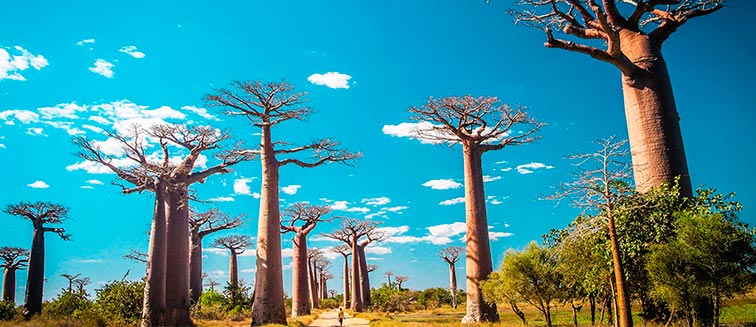 What to see in Madagascar
Morondava
Tourist attractions Morondava
The gateway to the iconic Avenue of Baobabs, Morondava is a charming seaside town on Madagascar's western coast. Although the town is a little sleepy, it is the surrounding landscapes that inspire travellers to visit Morondava. The beaches are paradisical, whilst the towns sandy streets are flanked by modest clapboard houses, local shops and eateries. 
You might not find the same selection of cultural sights as in the capital or any larger Madagascan city, but a trip to Morondava is ideal for discovering the rich natural abundance of this beautiful island. Tsingy de Bernaraha National Park and Kirindy Forest Reserve are within each reach of Morondava if you ever tire of sunning yourself on the beach. This coastal town is also the starting point for a popular multi-day adventure road trip to Tulear in the south, which passes through some of the more remote and undeveloped landscapes in the country. 
Most of the accommodation options are concentrated on the Nosy Kely peninsula, whilst the old town is surrounded by verdant mangrove forests. Overall, you can expect a vacation to Morondava to be a laid-back experience.
Things to see in Morondava
Of course, if you travel to Morondava, you will want to visit the most famous sight in Madagascar: the legendary Avenue of Baobabs. This 250-meter stretch of dirt road, flanked by a group of Grandidler's baobab trees, is located just outside of Morondava town. Around 20-25 trees, instantly recognisable by their chunky trunks, create an unforgettable silhouette that inspires all that view it. These incredible trees are endemic to Madagascar and have become synonymous with the island. Be sure to view the nearby Baobab Amoureux, an entwined pair of Baobab trees said to have fallen in love with one another!
One of the best places in Madagascar to meet the island's unique wildlife is also situated close to Morondava. Follow the road from the Avenue of Baobabs and you'll arrive at Kirindy Forest Reserve, one of the best things to see in Morondava. Within this forest landscape, you can discover rare species such as the fossa, a cat-like creature and the largest carnivore in Madagascar, as well as giant jumping rats and a wide variety of lemur species. It's recommended to take a nocturnal nature walk to observe the rich biodiversity come nightfall. 
A little further afield, 200-kilometers north of Morondava, the Tsingy de Bernaraha National Park is worth the trip. This national park is a UNESCO World Heritage Site thanks to its unique limestone karst formations and unique geography. Home to a 'forest' of spiky rocks, Tsingy de Bernaraha also plays host to the dramatic Manambolo River Canyon, unspoilt mangrove swamps and a number of rare birds and lemur species. 
Finally, if you travel to Morondava you should take some time to enjoy the fine, soft sand and clear azure waves of Morondava Beach. Shaded by swaying palm trees, this stretch of coast is the perfect place to enjoy the Madagascan sunshine and practice watersports. 
OUR BEST TRIPS TO MORONDAVA
Copyright 2013-2023 Exoticca. All Rights Reserved.
80 Southwest 8th Street Brickell Bayview, Miami, FL 33130, United States