Call us toll-free now
Book with an expert for free:
1-888-488-0592
Prefer us to call you? Drop your number in the box:
24 hours a day, 7 days a week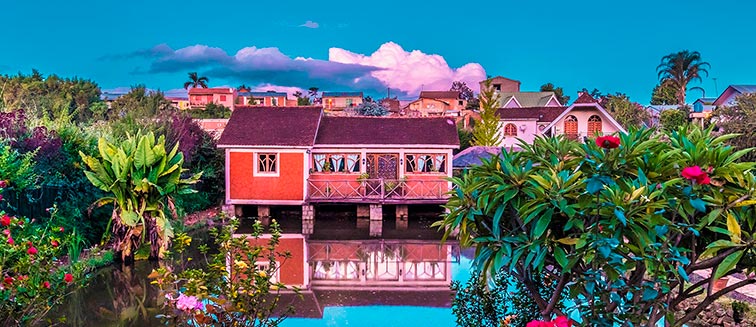 What to see in Madagascar
Antsirabe
Tourist attractions Antsirabe
Nestled in the cool Central Highlands, 160 kilometers south of the capital, Antsirabe is the third-largest city in Madagascar. If you travel to Antsirabe as part of a wider tour of the island, you're sure to notice that it stands out in comparison to other Madagascascan cities, with its wide, tree-lined boulevards and the faded elegance of its grand colonial architecture.
This highland city sat at 1,500 meters above sea level, is perhaps best-known for its mineral-rich thermal springs, which gives the city its name of Antsirabe, meaning 'the place of much salt' in Malagasy. Before its discovery by Europeans in the 19th-century, the area was part of the Andrantsay and Imerina kingdoms respectively and was known for its rich farmlands and agricultural traditions. In 1872, the city of Antsirabe was founded by Norweigan missionaries as a retreat center thanks to its cool, clear climate. The first thermal spa was opened in 1917. Later, French colonists shaped Antsirabe's appearance, constructing elegant villas and French-style public buildings, still present in the city today. 
This city is also rich in craft traditions and if you visit Antsirabe you'll find innumerable artisan workshops where the famous Antsirabe textiles, among other products, are still crafted by hand today. Antsirabe is also home to one of the best breweries in the country, Brasserie Star, which produces the Three Horses Beer found throughout Madagascar. Finally, a trip to Antsirabe would be incomplete without a ride on one of the colorful pousse-pousse rickshaws, man-powered buggies that brighten up the streets with their rainbow-colored paint jobs. 
Things to see in Antsirabe
If you make a trip to Antsirabe, you'll want to visit its Thermal Baths, one of the most famous attractions in the city. In fact, Madagascans from across the country travel here to bathe in these volcanic waters hoping to cure their ailments. Said to have therapeutic properties, take a dip for yourself to enjoy their healing properties.
When it comes to the French influence on Antsirabe, it is best seen in the city's grand architecture. The Hotel des Thermes is one of the best examples of this, with its elegant facade instantly transporting visitors back to the city's colonial era. This fancy hotel was once the swankiest place in town, and although it is a little run down these days, it's still worth a visit, if only to admire the great views of the city from its spacious gardens.
Norte Dam de la Salette is another must-see piece of historic architecture in Antsirabe. This Roman Catholic church is situated in the heart of the city, easily spotted by its towering Gothic spire. An active place of worship, the church was constructed in the early 20th-century. 
To understand the craft heritage of this highland city, one of the best things to do in Antsirabe is to visit the numerous artisan workshops scattered throughout the city. One of the most popular activities for tourists, workshop visits allow visitors to understand the skill behind some of Antsirabe's most iconic products such as zebus horn jewellery, miniatures, handwoven textiles and delicious traditional sweets. 
If you're looking for a taste of local life when you visit Antsirabe, pay Sabotsy Market a visit. This open-air market is the best place in the city to mingle with the locals and to purchase all kinds of local foods and products. Sabotsy Market is busiest on Saturdays. 
Finally, if you want to explore further afield, Lake Tritriva is a natural crater lake, located just 8-kilometers west of Antsirabe. This striking green colored lake is surrounded by dramatic cliffs and is a popular spot for locals and tourists alike. 
OUR BEST TRIPS TO ANTSIRABE
Copyright 2013-2023 Exoticca. All Rights Reserved.
80 Southwest 8th Street Brickell Bayview, Miami, FL 33130, United States