Call us for free now
Book with an expert for free:
+44 20 8068 3176
Prefer us to call you? Drop your number in the box:
24 hours a day, 7 days a week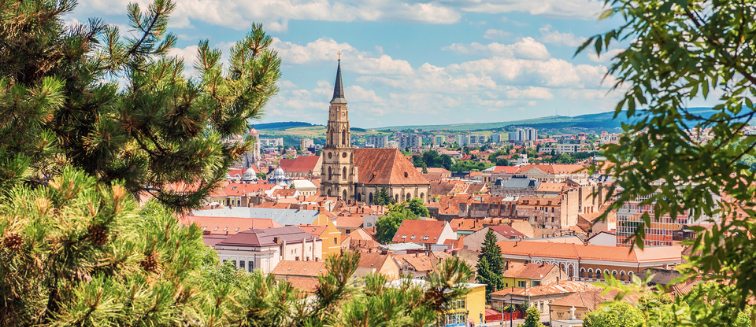 What to see in Romania
Cluj Napoca
Tourist attractions Cluj Napoca
Sat on the Somesul Mic River in northwestern Romania, Cluj Napoca is the unofficial capital of the Transylvania region. With its fairytale architecture and buzzing, youthful atmosphere, a trip to Cluj Napoca is sure to leave a lasting impression of life in Transylvania. 
Also known affectionately as 'Cluj', this creative city is home to an array of museums, modern art galleries and boasts a trendsetting food and drinks scene. As it is home to the largest university in Romania, Cluj locals work hard and play hard with an electric nightlife scene as well as a smorgasbord of quirky bars and eateries ranging from street food trucks to fine-dining restaurants. Travel to Cluj Napoca to experience Transylvanian urban life in its most vibrant expression.
Cluj is a city with more than 2000 years of history. From Roman ruins to Gothic churches and Neo-Byzantine cathedrals, the city boasts an eclectic mix of sights. Today, visiting Cluj Napoca reveals a cosmopolitan city with an action-packed events calendar. There's always something going on in Cluj, from open-air concerts to gallery openings. In fact, it was voted European Capital of Youth in 2015.
It is easy to travel to Cluj from the Romanian capital of Bucharest, with plenty of daily flights. A city break to Cluj Napoca is also a possibility, as it has its own international airport, connecting it to the rest of Europe. You can easily explore the Old Town on foot as it's largely pedestrianised, but to explore further afield you can make use of Cluj's fantastic public transport system including buses, trams and trolleybuses. 
Things to do in Cluj Napoca
There are limitless things to do in Cluj Napoca, owing to its fantastic events schedule and arts scene. The best place to start a tour of Cluj is in Unirii Square, at the heart of the Old Town. Surrounded by pastel-coloured buildings, charming cafe terraces and an array of notable landmarks this is the epicentre of urban life in Cluj. Within the square, you'll find the huge Gothic St. Michael's Church, the Old Town Hall and a statue of King Matthias Corvinus, who was born in the city. 
An imposing 18th-century Baroque building in the northern corner of the square houses the National Art Museum, one of the best things to see in Cluj Napoca. The museum houses a rich array of valuable works by both Romanian and European artists. Whether you're interested in art or not, the surroundings of the elegant Bánffy Palace make it a worthwhile stop on a tour of Cluj Napoca. 
As well as picturesque streets and squares, Cluj has an array of beautiful green spaces. The Botanical Garden is one of the most popular places to visit in Cluj and is home to more than 10,000 plants from around the world. Since its inauguration in 1925, the Botanical Gardens have been Cluj's go-to place for a leisurely stroll. Here you can explore an interesting variety of themed gardens including a Roman and a Japanese Garden as well as a Rose Garden, home to 250 varieties of fragrant flowers. 
If you travel to Cluj Napoca, be sure to visit the nearby Ethnographic Park and Museum, a short bus ride away from the city centre. This heritage museum is an open-air attraction showcasing traditional Romanian architecture and rural life. It's the perfect place to enjoy the natural beauty of the Transylvania region whilst learning a little about Romanian culture. 
We don't have any trips to Cluj Napoca at the moment.
Subscribe to our newsletter to not miss any trips
In compliance with the Data Protection Regulation, we inform you about your rights in our privacy policy and Cookies policy