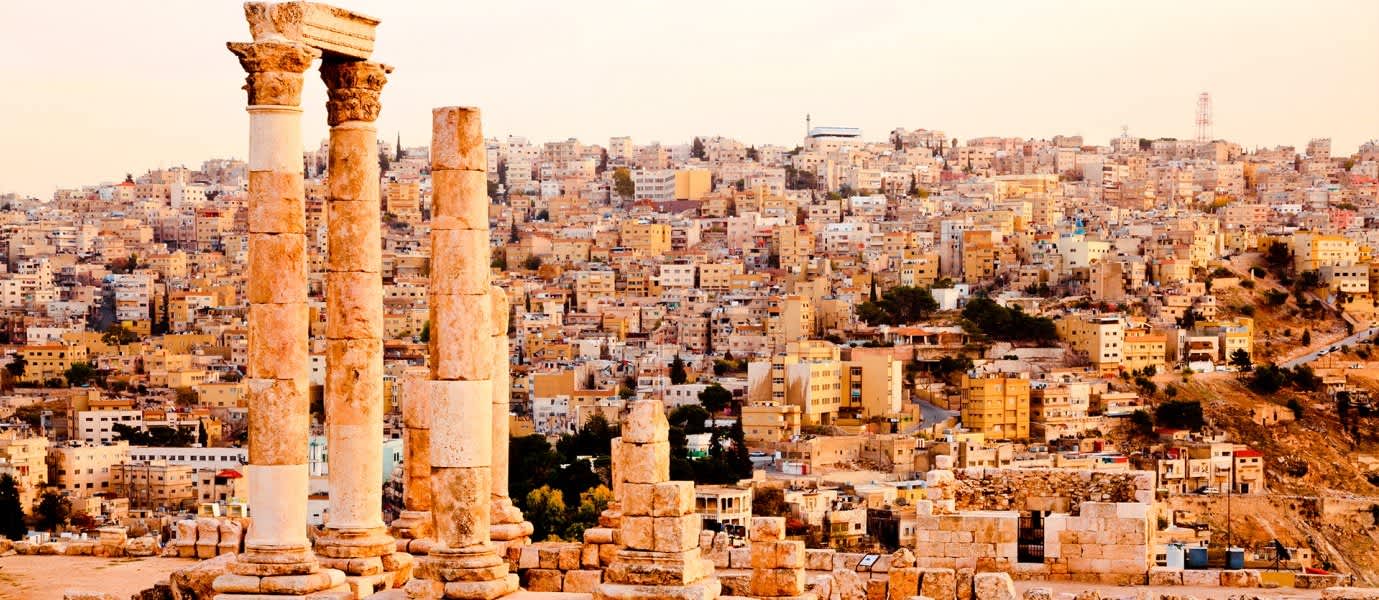 Holidays to Jordan at -35%
Our recommendation to visit Jordan
Our recommendation to visit Jordan and neighboring countries
Multi country tours including Jordan
Creating unforgettable memories, one traveler at a time
Great trip to Jordan
We saw some beautiful areas of a lovely country and all the excursions were very well organised with a good driver, Mohammed and Sameer, our very knowledgeable guide. We have travelled with Exotica before and would do so again.
Jordan Travel advice
Events and festivals in Jordan

Festivals in Jordan are often of a religious nature. Like its neighboring countries, many of its holidays are marked by the Islamic calendar, so some international events such as the New Year have different dates. The country also celebrates Ramadan, as well as all the events related to the Qur'an and its protagonist the prophet Muhammad. Other festivities have political origins, such as Independence Day, which celebrates the end of British rule and the end of Transjordan, as the country was known during the occupation. In its main cities such as Petra, Jerash or Amman, the capital, it is also common to find cultural events where you can enjoy the country's traditions.

GO TO EVENTS

Food in Jordan

Jordan has a very varied cuisine nurtured by a Bedouin past, and the influence of its neighboring countries, Egypt, Syria and Lebanon. Also, because Jordan was a passage for merchants' caravans for centuries, it has received gastronomic influences from other places much farther away, such as India. It is a very healthy, tasty, mildly spicy cuisine in which special attention is paid to presentation.

 

GO TO GASTRONOMY

Shopping in Jordan

Shopping in Jordan is one of the best ways to learn about its culture, history and traditions. The souqs of big cities like Amman are full of merchandise of all kinds where you can find everything from clothes to the spices. Because they are local markets, where Jordanians make their own purchases, prices are quite cheap and, in some places, they are open to bargaining. Among the most characteristic products of the country is its popular white and blue ceramics elaborated by hand, mosaics, carpets and tapestries. Gold and silver are also goods that have acquired great prestige in the country, and in many of the stores they sell good quality jewellery. Jordanian fashion is also very particular. In many of the street stalls you can find keffiyeh, the typical checked handkerchief, or white tunics for men. Although undoubtedly, if there is a product that can not be overlooked due to its value and popularity it is the cosmetics and products made from the therapeutic Dead Sea water.

 

GO TO SHOPPING
Jordan tourist attractions
More information about Jordan
A Jordan travel immediately evokes the Arabian Nights, visions of camels, deserts and Bedouins, But the reality is that the Hashemite Kingdom has many other attractions to trump this.
In the heart of the Levant, the so-called 'Cradle of Civilisation', lies the Hashemite Kingdom of Jordan. It is situated in West Asia, on the east bank of the River Jordan and is a land of legends and mysteries, with many travellers attracted by its brilliant historic sights, such as the sandstone masterpiece of Petra and Wadi Rum, the ancient city of Jerash, as well as the natural wonders of the Dead Sea. 
A Jordan tour package is an adventure where you can trace the origins of faith and uncover ancient cultures. Due to its strategic location at the crossroads between Asia, Africa and Europe, Jordan is a history buffs paradise with a multitude of ancient relics showcasing different parts of the country's complex past. It's immense desert landscapes contrast with its modern, exciting cities, such as the capital, Amman, located in the north of the country and known for its brilliant cultural institutions, ancient ruins and labyrinthine bazaars.
Jordan shares borders with Iraq, Syria, Israel and Palestine, and is considered a safe haven for tourists in a region that has seen varying levels of conflict in recent years. A tour of Jordan is a journey through great civilisations. Here you can walk in the footsteps of Lawrence of Arabia in the Wadi Rum desert or step back to the time of the Crusades at the derelict ruins desert castles. With biblical sites and Bedouin culture to boot, a Jordan vacation package is sure to open up a world of opportunities for all intrepid travellers. 
History of Jordan
Jordan, despite its modest size, has a rich and fascinating history, captivating to all who visit. Ancient empires and kingdoms such as the Romans, Ottomans and Nabataeans have each left their mark on the country, the latter of which built the majestic pink sandstone city of Petra as its capital around 500BC. The Nabataeans had a rich civilisation with strong trade links to other Arab nations until being absorbed into the Roman Empire in around 106 AD. 
If you travel to Jordan you cannot miss out on the experience of walking through the dusty canyons to come face-to-face with the beautiful Treasury at Petra, a bucket-list favourite and seen in the popular Indian Jones movie, The Last Crusade. Christianity soon spread to region and the country flourished until the Roman Empire split and Jordan became part of the Byzantine Empire.
You can see the vestiges of this era at the incredible Amman Citadel, home to both Roman and Byzantine ruins, a must-see stop on a tour of Jordan. The 7th-century was a pivotal time for the country; Jordan was conquered by Muslims and became part of the Islamic world, whilst it continued to flourish as an important trade centre, awash with travelling merchants and road-side caravanserais.
In the 16th-century, Jordan was absorbed into the powerful Turkish Empire and remained so until Turkey's defeat in World War I and the Great Arab Revolt of 1916, after which it came under a British mandate. It wasn't until 1946 that Jordan gained independence and Abdullah was crowned the king of the Hashemite Kingdom.
This era saw many conflicts between Jordan and Israel over the West Bank, such as the Arab-Israeli War of 1948. Jordan renounced its claim to the West Bank in 1988 and later signed a peace treaty with Israel in 1994. Today, Jordan still remains a kingdom and a beacon of peace in the Middle East.
Nature in Jordan
A land of mountains, deserts and spring-link oases, Jordan captivates nature lovers with its diverse terrains and untouched natural beauty of its wilderness. The golden coastline of Aqaba, at the northern tip of the Red Sea, is a haven of tropical marine line and palm-lined beaches, a favourite of Jordanian holidaymakers. 
Jordan is home to the lowest point on earth, amazing wildlife, such as Arabian wolves, snakes, jackals and deer, and a varied climate. Whilst the desert regions can be scorching, the more northern regions enjoy a Mediterranean climate.
On a Jordan tour, you can hike in the 'wadis', explore the numerous nature reserves, the most popular of which is the incredible Dana Biosphere Reserve, and snorkel in the warm waters of the Red Sea. A tour of Jordan is incomplete without taking a dip in the mineral-rich waters of the Dead Sea, the lowest point on earth. It's almost impossible to swim in the waters due to the high salt content, so instead, you can float around and enjoy the landscape. The waters are thought to be therapeutic and have healing powers.
Another must-see natural attraction is the immortal desert of Wadi Rum, a protected area in the south of Jordan. Here, unique sandstone mountains, landscapes and historic canyons, complete with ancient rock carvings, are yours to explore. Watching the sunrise from a tent in the middle of Wadi Rum is the ultimate travel experience and sure to take your breath away. 
Culture in Jordan
Jordan has long welcomed refugees and immigrants to its lands with warm hospitality, so you can expect a diverse and cosmopolitan culture, with vibrant cities bursting with sights to explore. Arabic is the official language, but you may also find that English is widely spoken by locals as it is taught in schools and used in university education. 
On a vacation package to Jordan, travelling through the country, you'll notice that it is somewhat more liberal than its neighbours, and has embraced Westernisation in its cities. Despite this, Jordan has continued to retain many of its cultural traditions despite the shadow of modernity. 
Bedouin communities still exist and continue to live nomadic lives and if you have the opportunity to stay in a Bedouin camp in the desert you'll see first hand the famous Jordanian hospitality; copious amounts of food, tasty coffee and friendly conversation. Without a doubt, this is the best way to get to know the culture of Jordan. 
Even in the streets of Amman is it common for foreigners to be greeted and welcomed by passers-by! Museums in the city showcase the cornerstones history and culture in Jordan and the capital is thought to be one of the Middle East's most sophisticated cities. At the heart of Jordanian culture is food and the cuisine is vegetarian-friendly with lots of beans, pulses and fresh vegetables and salads, all with oodles of flavour! Don't forget, Jordan is one of the largest producers of olives in the world, so be sure to take home a bottle of olive oil if you travel to Jordan.
The great Hashemite Kingdom, the 'Cradle of Civilisation' and the heartland of the Nabateans, Jordan captivates all who step foot in its dusty deserts, in its cosmopolitan cities and its ancient archaeological sites. Take a tour of Jordan and immerse yourself in the magic of years gone by and the hospitality of its friendly locals.
Entry requirements

Passport with a minimum of six months validity. One page required for stamp.

Visa

A visa is mandatory. This is issued on arrival to the country.

Time zone

UTC + 02:00.

Currency

Jordanian Dinar.

Language

Arabic.

Tourist Office website

Visit website

Electricity

220 V. European style plug.

Other useful information

You should always bargain when you go shopping.

Health

There are no mandatory vaccinations.
Visit nearby destinations
Receive assistance from one of our travel experts and plan the perfect trip.
Please fill out this form with the information about you and the trip your are planning to do. One of our experts will personally contact you answering all your questions and will offer you the best options according to your needs.
*Required fields

Save time, call a travel expert for free
Allow one of our expert help you to arrange your reservation
Unbelievable prices
Save when buying your next trip thanks to super discounted prices that we negotiate with airlines and hotels.
Free Cancellation
For bookings purchased from April 7 2020 to 31 October 2021, enjoy free cancellation policy. No questions asked.
Hand-crafted by experts
Each one of our itineraries are designed to ensure you have the best possible experience in every destination.
Our guarantees
Exoticca is a member of ASTA. Our membership means we adhere to ASTA's code of ethics, commitment to quality service, and ethical business practices.