Call us toll-free now
Book with an expert for free:
1 778 807 9750
Too much? We'll call you. Drop your number in the box:
24 hours a day, 7 days a week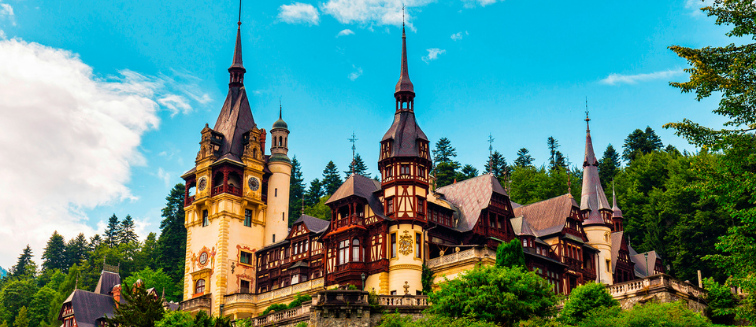 What to see in Romania
Sinaia
Tourist attractions Sinaia
Nestled deep in the Carpathian Mountains, Sinaia is a popular resort town, known for its breathtaking Peles Castle and idyllic natural scenery. Draped in verdant forests, Sinaia was once the summer retreat of Romanian royalty. Travel to Sinaia is popular throughout the year, with hikers flocking to the area to enjoy the emerald forests in the summer and winter sports enthusiasts enjoying the snow-cloaked mountains come winter. A natural paradise of fresh air, alpine architecture and mountain peaks, a trip to Sinaia is sure to be a highlight of any tour of Romania.
Originally the site of an Orthodox monastery, King Carol I of Romania built Peles Castle here in the late 19th-century after falling in love with the mountain scenery and mild climate. Situated in the Wallachia region, visiting Sinaia is easy as it's roughly halfway between Bucharest and Brasov.
If you visit Sinaia, outdoor enthusiasts can enjoy hiking through the Bucegi Mountain trails, whilst culture vultures can fall in love with the fairytale architecture of Sinaia's 19th-century palaces and uncover the fascinating heritage of this idyllic region.
Things to see in Sinaia
If you take a trip to Sinaia you'll want to see Peles Castle, the jewel in the crown of this beautiful mountain town. This impressive 19th-century castle was constructed by King Carol I as his summer residence and combines a dreamy mix of Neo-Renaissance and Gothic revival architecture. Like something from a fairytale, the castle has more than 170 rooms, idyllic gardens filled with statues, luxurious tapestries and beautiful wood carvings. Within the same complex, you'll find Pelisor Palace, which was built for King Carol I's nephew, King Ferdinand, at the turn of the 20th-century. To uncover the spiritual heritage of Sinaia, be sure to explore the historic Sinaia Monastery, founded in 1695. Inspired by the Saint Catherine Monastery on Egypt's Mount Sinai, the monastery is home to thirteen Christian orthodox monks. Inside the monastery, you can explore two churches, a bell tower and a Monastery Museum, home to the first Romanian Bible. The Old Church is built in a traditional Romanian style, complete with colorful frescoes depicting biblical scenes. On the other hand, the Great Church, built in 1842, showcases a mix of Moldavian and Brancovenesc architectural styles and boasts brilliant golden mosaics, characteristic of the Neo-Byzantine style. Finally, a trip to Sinaia is incomplete without a peaceful stroll through Dimitrie Ghica Park, a picturesque garden with an array of classical statues of eminent Romanians. Here you can breathe in the fresh mountain air and admire the surrounding historic buildings such as Sinaia Casino, Hotel Regal and Hotel Caraiman.
We don't have any trips to Sinaia at the moment.
Subscribe to our newsletter to not miss any trips
In compliance with the Data Protection Regulation, we inform you about your rights in our privacy policy and Cookies policy
Copyright 2013-2023 Exoticca. All Rights Reserved.
Exoticca Travel Canada Inc 229 Yonge St Suite 400 Toronto, Ontario M5B 1N9 Canada