Call us toll-free now
Book with an expert for free:
1 778 807 9750
Too much? We'll call you. Drop your number in the box:
24 hours a day, 7 days a week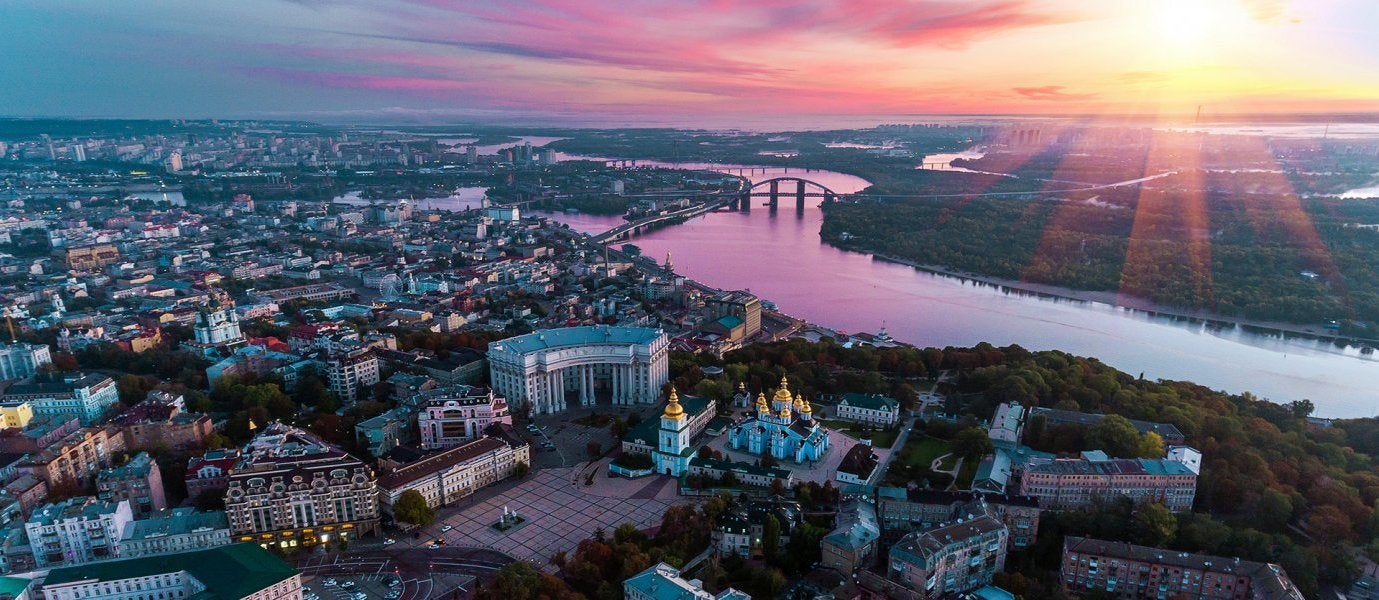 What to see in Ukraine
Kiev
Tourist attractions Kiev
Formerly known as Kiev, Kyiv is the capital of Ukraine, situated in the north of the country, on the banks of the Dnieper River. It's history dates back to the days of the mighty Kievan Rus' when it was a centre of Slavic civilisation and is proudly one of Eastern Europe's oldest cities. Having changed hands between the Slavs, Mongols, Poles and Russians over the centuries, Kyiv boasts a rich cultural heritage and plenty of fascinating sights to sink your teeth into.
If you travel to Kyiv you'll notice that almost all signposts are in written in the Cyrillic alphabet and that there are few English-speakers, so equip yourself was a handful of Ukranian phrases or opt for a package tour of Kyiv if you're concerned with communication. Khreshchatyk Street, once a stream that ran off of the Dnieper River, is today the central avenue and heart of the city, stretching from historic European Square to Bessarabska Square, home to a bustling local market.
Often pedestrianised on weekends, Khreshchatyk Street is full of street performers and a hive of activity, making it a great place to begin your sightseeing in Kyiv. A super affordable, exciting and unique city, that's seen its fair share of historic events and revolutionary movements, a trip to Kyiv is a sure bet for a memorable city break. 
What to see in Kiev
Owing to its long history and importance as a centre of medieval Eastern Europe, there's an abundance of things to see in Kyiv. The stand-out sight is the Saint Sophia Cathedral, the oldest remaining church in the city and a UNESCO World Heritage. Saint Sophia is home to the worlds largest ensemble of frescos, many of which date back to the 11th-century. There's also an on-site museum to explore and the chance to see the Virgin Orans Mosaic, a sacred, Byzantine-inspired symbol of spirituality from the Middle Ages.
The Golden Gate is another of Kyiv's oldest attractions. Although largely reconstructed, it was once the main entrance to the medieval city. In terms of cultural attractions, Kyiv Pechersk Lavra tops the charts of things to see in Kyiv. One of the oldest monasteries in Ukraine, founded in 1077, this cave monastery was dug out by hermit priests almost a millennia ago. Down in the caves, there are mummified monks and an underground church for those who dare to brave the somewhat claustrophobic tunnels. This unique monastery provides an eerie, yet fascinating insight into Kyiv's spiritual heritage.
Other curious things to do in Kyiv include taking the metro to one of the world's deepest metro stations, such as Arsenalna Station, which is a staggering 107 metres deep. It can take up to five minutes to emerge to street level, travelling from the platform to the exit on a series of escalators! Hidropark Island is a good bet for sunnier days, when this island on the Dnieper River, complete with urban beaches and swimming areas, springs to life. Finally, if you travel to Kyiv to explore its Soviet past, be sure to visit the huge Motherland Statue, which is part of the war museum complex which overlooks the city.
We don't have any trips to Kiev at the moment.
Subscribe to our newsletter to not miss any trips
In compliance with the Data Protection Regulation, we inform you about your rights in our privacy policy and Cookies policy
Copyright 2013-2023 Exoticca. All Rights Reserved.
Exoticca Travel Canada Inc 229 Yonge St Suite 400 Toronto, Ontario M5B 1N9 Canada