Call us toll-free now
Book with an expert for free:
1 778 807 9750
Too much? We'll call you. Drop your number in the box:
24 hours a day, 7 days a week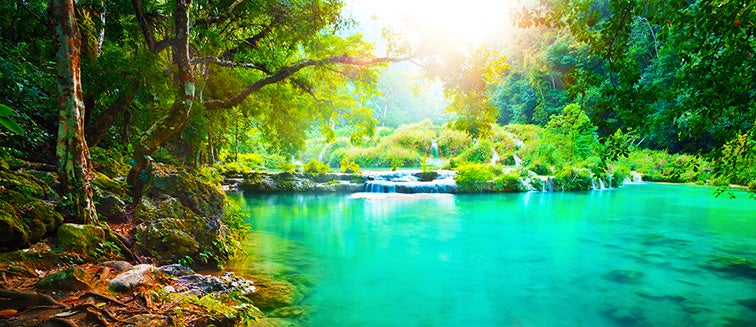 What to see in Guatemala
Semuc Champey
Tourist attractions Semuc Champey
Semuc Champey is a natural monument located close to the town of Lanquin, in the Alta Verapaz department. In the middle of a dense tropical forest is a natural 300 metre long limestone bridge under which flows the Cahabón river. There are also a great many pools from one to three metres in depth, whose green-turquoise colour changes throughout the year with the climate, the sun and other natural factors. In 1999 it was named a National Monument by the then president of Guatemala, Álvaro Arzú Irigoyen. It boasts a diverse richness of ecology, amongst which over 100 species of birds, 34 of mammals, 25 of reptiles and amphibians, and 10 of fish as well as 120 different species of trees have been identified. It also boasts a viewpoint at a height of 50 metres from where you can see all 350 metres of the natural pools that comprise "Semuc Champey, with falls of up to forty feet and the streams that link the series of pools.
Tourist attractions guatemala
Copyright 2013-2023 Exoticca. All Rights Reserved.
Exoticca Travel Canada Inc 229 Yonge St Suite 400 Toronto, Ontario M5B 1N9 Canada