Call us toll-free now
Book with an expert for free:
1 778 807 9750
Too much? We'll call you. Drop your number in the box:
24 hours a day, 7 days a week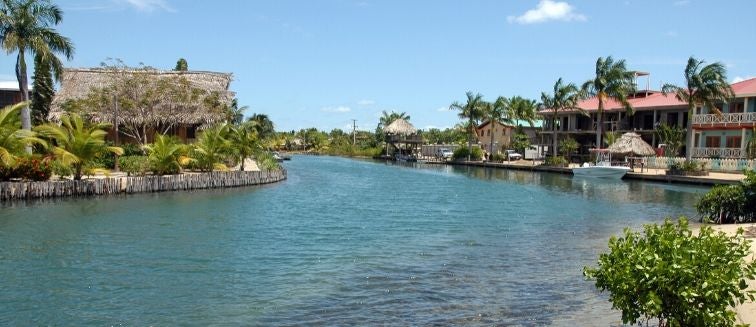 What to see in Belize
Belize city
Tourist attractions Belize city
The largest city in the country and former capital of British Honduras, Belize City is situated on the Caribbean Coast and acts as a gateway to the idyllic cays and islets that Belize is so famous for. Aside from its fantastic connections, it also acts as the primary financial and industrial hub of Belize and it's busy Cruise Ship Terminal ensures a steady flow of tourists throughout the city.
Belize City has retained much of its colonial architecture, which documents it's fascinating history, from popular pirate hideaway to British colony; visitors might be surprised at how similar some of the period architecture is to that of Victorian England. The city is divided in half by the Haulover Creek, with the north side of the city considered the more prosperous half, the prefered part of the city for most travellers to Belize. It is home to the charming Tourist Village, where cruise ship passengers arrive, the international airport, a number of bars and restaurants and the Belize Museum, housed inside an old prison.
Water taxis operate frequently from the main terminal, taking beach lovers to Caye Caulker and San Pedro on Ambergris Caye. Although a holiday to Belize is more likely to revolve around beach relaxation and snorkelling, there are a couple of sightseeing points to visit on a tour of Belize City. The fascinating St. John's Cathedral, Central America's oldest Anglican church, is located between Albert and Regent Street, in the southernmost part of downtown Belize City. Built in the early 19th-century with bricks that had been used as ballast aboard British ships, it was the first church to be built in the colony of British Honduras.
Today it stands out for its picturesque appearance and huge plantation-style windows which flood the interior with daylight. Not far from the cathedral is the Baron Bliss Lighthouse, famous for its tapered design and its candy-cane red and white stripes. It's the perfect place to admire the ocean views and sea breeze which Belize offers in abundance.
OUR BEST TRIPS TO BELIZE CITY
Tourist attractions belize
Copyright 2013-2023 Exoticca. All Rights Reserved.
Exoticca Travel Canada Inc 229 Yonge St Suite 400 Toronto, Ontario M5B 1N9 Canada