Call us toll-free now
Book with an expert for free:
1 778 807 9750
Too much? We'll call you. Drop your number in the box:
Mon. to Fri.: available 24-hours Sat. and Sun.: 3:00 a.m. - Midnight (EST) Or call your preferred Travel Advisor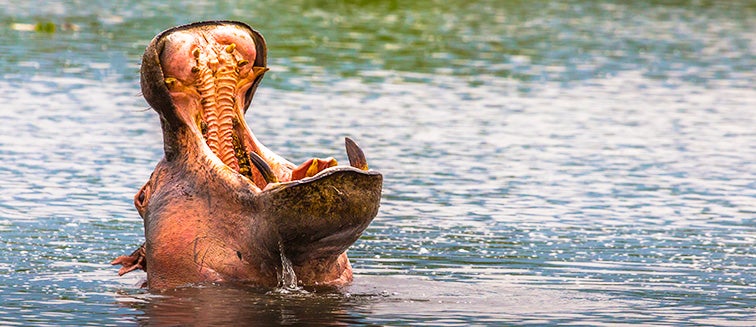 What to see in Tanzania
Ngorongoro
Tourist attractions Ngorongoro
One of Tanzania's best-known natural havens, the Ngorongoro Conservation Area, a huge volcanic crater, harbours a rich abundance of animal species due to the protective nature of the natural enclosure. Situated in northern Tanzania, west of Arusha, the crater was formed by the collapse of an ancient volcano, creating a 2000 foot deep natural depression which stretches for 260 square-kilometres.
A safari in Ngorongoro is an unmissable highlight of any holiday to Tanzania. Inside this primordial caldera, declared one of the seven natural wonders of Africa, you can spot any number of the 25,000 large mammals that inhabit this wildlife haven, including black rhinos, buffalos, hippos, zebras, cheetahs, leopards and lions. Lake Magadi, within the confines of the crater walls, is home to huge flocks of lesser flamingos and is a picture-perfect stop for capturing amazing photos during a tour of Ngorongoro.
If your safari dreams involve prides of big cats, look no further than Ngorongoro's lions, of which there are around 60 permanent residents, one of the highest population densities of lions on the planet. If you travel to Tanzania you can even spend the night on the rim of the crater, overlooking the vast, emerald plains of Ngorongoro in a purpose-built safari lodge, the perfect way to witness the nocturnal wildlife action. A trip to Ngorongoro is a great choice for avid bird-watchers too, who can tick-off around 500 bird species within the crater itself. It's no wonder that Ngorongoro has been nicknamed 'the garden of Eden'!
OUR BEST TRIPS TO NGORONGORO
Copyright 2013-2023 Exoticca. All Rights Reserved.
Exoticca Travel Canada Inc 229 Yonge St Suite 400 Toronto, Ontario M5B 1N9 Canada