Call us toll-free now
Book with an expert for free:
1 778 807 9750
Too much? We'll call you. Drop your number in the box:
24 hours a day, 7 days a week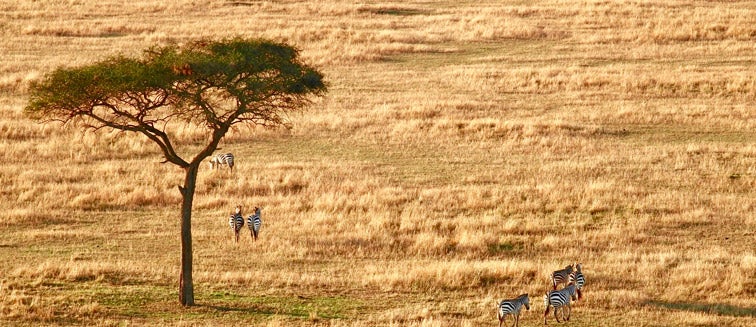 What to see in Tanzania
Arusha
Tourist attractions Arusha
Located at the foot of the Mount Meru volcano, Arusha is known as the gateway to the national parks and safari destinations of Tanzania. A crossroads of cultures, here you can encounter the rich diversity of Tanzania's people, as well as an array of interesting historic monuments and architecture.
Often overlooked or simply used as a stopover at the beginning or end of a safari, Arusha has a population of around 400,000 people and is a major international diplomatic hub. Scratch beneath the surface and you'll find an array of fantastic eateries, serving up the best of Tanzanian cuisine, and comfortable accommodation options. Furthermore, Arusha enjoys a scenic location in the verdant foothills surrounding Mount Meru and legendary Mount Kilimanjaro and boasts a spring-like, temperate climate all year round.
An ideal place to unwind after time on the road, a trip to Arusha is sure to surprise you, thanks to the city's cosmopolitan atmosphere, vibrant nightlife and welcoming locals. Although a vacation to Tanzania will most likely focus on the country's incredible wildlife and inspiring landscapes, if you visit just one city, make it Arusha.
Things to see in Arusha
If you have time to spare whilst visiting Arusha, there are a handful of sights to keep you occupied during your stay. The Natural History Museum, located inside the old German fort, is an interesting place where you can dive deeper into the history of both the city and the country as a whole. Inside the fort, you'll find different exhibitions dedicated to human evolution, wildlife and the history of Arusha during the colonial era. A visit to the Natural History Museum is one of the more informative things to do in Arusha.
If you're stopping off here after a safari trip and need to pick up some souvenirs, the Maasai Market is a must-visit. A valuable insight into the local culture, here you can browse and buy an array of curious objects and local handicrafts. Expect lots of hustle and bustle and plenty of haggling with stallholders.
One of the best-known landmarks in the city, the Arusha Clock Tower is located at the heart of the city. Legend has it that this Clock Tower marks the halfway point between Cape Town and Cairo. Although this claim has long been proved incorrect, this charming landmark is worth a quick photo stop if you visit Arusha.
Finally, if you're staying in town for an extended time and want to discover more of the local wildlife, head to the Meserani Snake Park, around 25 kilometres outside of Arusha. A good choice for a day trip or as a stop on the way to Tanzania's national parks, the park is home to a diverse range of reptile species, including deadly snakes such as black mambas and Egyptian cobras. The onsite Maasai culture museum offers an insight into the traditions of Tanzania's Maasai community.
Copyright 2013-2023 Exoticca. All Rights Reserved.
Exoticca Travel Canada Inc 229 Yonge St Suite 400 Toronto, Ontario M5B 1N9 Canada