Call us toll-free now
Book with an expert for free:
1-888-488-0592
Prefer us to call you? Drop your number in the box:
Mon. to Fri.: available 24-hours Sat. and Sun.: 3:00 a.m. - Midnight (EST) Or call your preferred Travel Advisor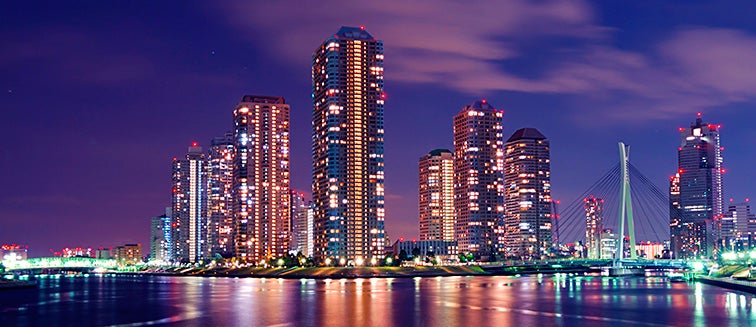 What to see in Japan
Tokyo
Tourist attractions Tokyo
In the shadow of Mount Fuji lies Tokyo, the Japanese capital, the world's most populous metropolis and a city like no other. This vast city is high on the must-visit lists of all travelers for its non-stop atmosphere as well as the glimpses of Japanese history and culture that are waiting to be uncovered if you know where to look. An organic entity, Tokyo's urban sprawl takes on a life of its own and it's easy to lose your bearings amidst the neon signs and skyscrapers, but that's all part of the fun of a trip to Tokyo.
Stretching for over 2000 square-kilometers, this immense megalopolis consists of 23 central districts, including Central Tokyo and Old Tokyo, known as Shitamachi. From the dazzling lights of youthful Shibuya and Harajuku to the temples of Asakusa and the majestic Imperial Palace of Chiyoda, the seat of Japanese power, the city's diversity is its main appeal. One of the most surprising aspects of the city is its humble beginnings. Once a small castle town called Edo, today, you can still trace Tokyo's modest beginnings and historic legacy in Shibamata or Taito, two of the more traditional neighborhoods that nod towards the days of the Edo era. A trip to Tokyo is sure to include a good deal of delicious Japanese food and the city's gastronomic scene is simply unbeatable. I
t's incredibly easy to find good eats in Tokyo; just follow the locals and chow down on freshly rolled sushi or handmade noodles. Tokyo's super-efficient and accessible subway system might appear a little daunting on the first inspection, but it's the key to exploring the city's wealth of sights, so you're sure to make use of it if you take a tour of Tokyo. 
What to see in Tokyo
Faced with such an enormous city, it can be challenging to choose where to start when it comes to things to see in Tokyo. Keep in mind that some of the most eye-opening and memorable parts of a Tokyo holiday will probably happen when you're traveling between sights or simply strolling aimlessly through the city's neon-lit neighborhoods. Tokyo is all about 'experiencing' rather than 'doing'. Nevertheless, there are a number of top sights in Tokyo to fit into your itinerary. 
The Meiji Shrine, dedicated to the spirits of Emperor Meiji and his wife, is a beautiful traditional Shinto shrine, located in the neighborhood of Shibuya. Nestled within a thick evergreen forest, it's the perfect place to enjoy a laid-back stroll and gain an insight into the traditional beliefs of Japanese Shintoism. Undoubtedly the most popular district in the city for visitors on a tour of Tokyo is Asakusa, which stands out from the rest of the city for its historic streets and remarkably well-preserved traditional architecture.
This is the Tokyo of yesteryear and a trip to Tokyo is incomplete without visiting this part of the city. Senso-ji Buddhist Temple is the highlight of the Asakusa district and the oldest temple in the city. For further historic delights, head to the Imperial Palace, in the district of Chiyoda. This stately castle complex is the primary residence of the Emperor of Japan and is surrounded by a serene moat and a large grassy park area. Although most visitors are not authorized to enter the buildings themselves, tours around the manicured gardens are popular and very scenic. 
If you travel to Japan you probably want to experience the tranquil charms of a traditional Japanese garden, and Korakuen Garden, in Bunkyo, is Tokyo's best example of this. This 17th-century garden is a beautiful oasis of ponds, waterfalls and walking trails that lead visitors through areas of maple trees, cherry blossom, and plum trees. Gorgeous at any time of year, Korakue Garden is a little slice of zen amidst the hustle and bustle of modern Tokyo. If you're interested in the arts, then Tokyo is paradise, owing to its countless museums and galleries. There's something to suit all tastes, from the National Museum to the high-rise Mori Art Gallery, not to mention the seemingly endless array of pop-up exhibitions and galleries scattered throughout the city in buildings as diverse as former bathhouses and dilapidated warehouses. It's here you'll find the cutting-edge of Japanese art. 
Finally, there are two things to do in Tokyo which are high on the lists of everyone who travels to Japan. The first is crossing the Shibuya Crossing, the world's most famous intersection and the quintessential image of Tokyo. Although the crowds can be overwhelming, it's the number one thing to do in Tokyo. Secondly, if you're lucky enough to travel to Japan in the springtime, you'll be able to see the fleeting beauty of Cherry Blossom, or hanami, season, usually between the end of March and the beginning of April. Shinjuku Gyoen and the Korakuen Gardens are just two of the locations where you can see this magical natural phenomenon in Tokyo.
Copyright 2013-2023 Exoticca. All Rights Reserved.
80 Southwest 8th Street Brickell Bayview, Miami, FL 33130, United States