Call us toll-free now
Book with an expert for free:
1-888-488-0592
Prefer us to call you? Drop your number in the box:
Mon. to Fri.: available 24-hours Sat. and Sun.: 3:00 a.m. - Midnight (EST) Or call your preferred Travel Advisor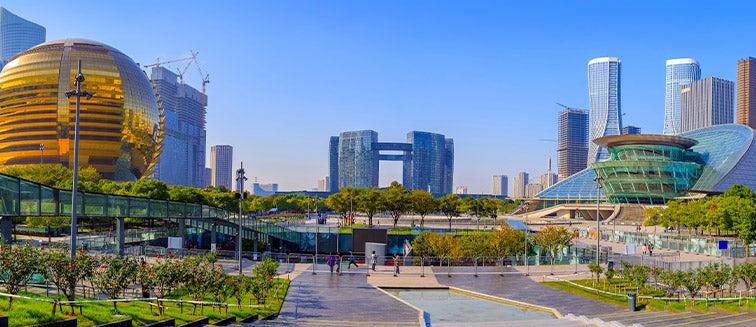 What to see in China
Hangzhou
Tourist attractions Hangzhou
The capital of Zhejiang, located near the mouth of the Qiantang River, is one of the most visited places in China. Credit for this is probably due to the Sui dynasty, which ruled between 581 and 618 AD and built the Beijing-Hangzhou Grand Canal. It is the longest artificial river in the world and has been declared a World Heritage Site by UNESCO. So, if you decide to visit Hangzhou, be prepared to meet other travelers. It is no accident that this was one of the most important trading centers of antiquity. A function that persists to the present day. Do you which large Chinese company has its headquarters in Hangzhou? None other than Alibaba Group, the owners and founders of the world-renowned AliExpres. 
Lingyin Temple
The first place to see when you visit Hangzhou is the Lingyin Temple or Temple of the Hidden Soul. It is also known as the Temple of the Soul's Retreat.
This is a very important place for practitioners of Buddhism in China. They revere it because of its spectacular architecture, but also because of the literary treasures it houses. 
Like many other temples, the Hidden Soul temple does not consist of a single building but is a complex with several courtyards, gardens, and pavilions of great beauty. When you visit you will find the faithful making their incense offerings in a place that connects present and past through spirituality. 
During its heyday, the complex consisted of a total of nine buildings of various heights, 18 pagodas, 1,300 bedrooms, and 72 rooms. More than 3,000 monks lived and prayed within its walls. 
Flying Peak: open-air sculpture museum
In reality, calling the Flying Peak a sculpture museum is not entirely accurate. We're talking about a group of almost 500 rock sculptures representing Buddhas and other Buddhism-related figures. They were carved between the 10th and 14th centuries and the best known of them all is the laughing Buddha, Maitreya. One-stop that no one visiting Hangzhou should miss The Buddhas are a symbol of happiness and this one, with its great smile, promises to give joy to all who see it.
The Pagoda of Six Harmonies
The Six Harmonies Pagoda is not located in the center of the city, but to the south, by the Qiantang River. It dates back to 970 AD and was built in brick and wood during the reign of the Song dynasty. 
Its name is derived from the six Buddhist laws or harmonies: heaven, earth, east, west, north, and south, related to the principles of this religion, which preaches harmony of body, words, mind, opinions, abstinence, and poverty. 
The number six is important in China because six is also the number of Feng Shui elements that are arranged to achieve perfect harmony in the home: water, fire, earth, metal, wood, and air.
Travel to Hangzhou and visit the West Lake
UNESCO has declared the West Lake and the surrounding landscape a World Heritage Site. You can sail on the lake in a small boat when you visit Hangzhou. The views lead you to the forests and mountains that have populated Chinese mythology since time immemorial. 
The lake has an area of about eight square kilometers and is divided into five parts: Northern Lake, Lake Yuehu, Western Interior Lake and Southern Minor Lake.
If you don't want to sail, you can cross it using one of the most impressive causeways in the world, which owes its fame to the landscape. It's a three-kilometer walk across the waters that you'll never forget. 
Travel to Hangzhou to enjoy the food
Chinese food has become virtually international. However, eating a Chinese takeaway at home is not the same as eating authentic Chinese dishes in China. Here are some of the Chinese delicacies you can try if you travel to their country of origin: 
Steamed meat patties called Xianrou Xiaolong; Whole roasted chicken wrapped in lotus leaves. Although the name of Beggar's Chicken is hardly appetizing, it's actually exquisite. Fish head with soybean curd. This is one of the best-known delicacies of the region. It's mostly eaten in winter. Golden carp with bamboo shoots, also typical of the colder months. Fish soup. As you can see, fish are the basis of many of these dishes. Bear in mind that Hangzhou's two biggest attractions are its canal and the western lake. Stew made from bamboo shoots, Crunchy tofu roll and Sweet-and-sour carp from the lake.
OUR BEST TRIPS TO HANGZHOU
Copyright 2013-2023 Exoticca. All Rights Reserved.
80 Southwest 8th Street Brickell Bayview, Miami, FL 33130, United States