Call us toll-free now
Book with an expert for free:
1-888-488-0592
Prefer us to call you? Drop your number in the box:
Mon. to Fri.: available 24-hours Sat. and Sun.: 3:00 a.m. - Midnight (EST) Or call your preferred Travel Advisor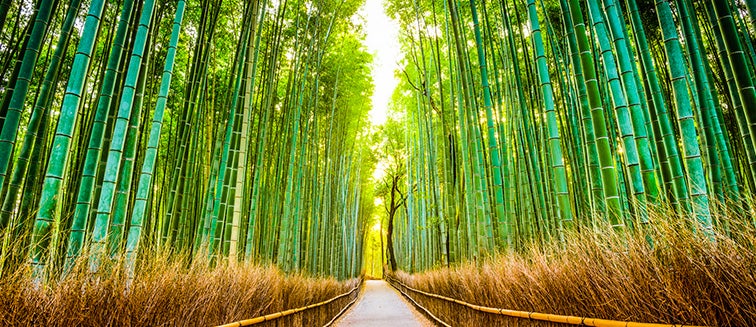 What to see in Japan
Kyoto
Tourist attractions Kyoto
The imperial city and former national capital preserves some of the best temples in Japan, with its zen gardens, such as the Golden Pavillion Kinkaju-ji. The Higashiyama area still captures the atmosphere of old Tokyo, with its cobbled streets and range of pagodas, whilst in Shimbashi the traditions of geishas and tea houses are still very much alive.
If you decide to visit Kyoto, be prepared to see a side of Japan you may not expect. Unlike Tokyo, Kyoto has retained its more traditional appearance in districts such as Gion. The city boasts so many temples and is surrounded by such stunning parks and gardens that all the time you spend there will seem like too little. So take note of the essential sites we recommend at Exoticca.
What to see in Kyoto
Travelling to Kyoto to find oneself
Even if you travel in summer, Kyoto is full of places to meditate. And we are not only referring to its temples, but also to its parks and gardens. This is one of the most visited cities in Japan and you will find locals and foreigners in the streets dressed up as geishas and samurais. The good news is that the Japanese, who tend to tour around their own country a good deal, are very polite and respectful, so you can stop and meditate in any of these places:
Kiyomizudera Temple
This is an enormous wooden temple supported by hundreds of huge columns built with no nails. Join the queue at the nearby fountain and collect the water that comes directly from the spring. The walk up to the temple from the city takes you through a traditional cemetery. But don't worry, Japanese cemeteries are nothing like Western ones and the differences are worth noting. Once at the top of the hill, soak up the views of the city.
Sannenzaka and Ninenzaka
After the visit to Kiyomizudera, you'll have to descend to the centre again. The custom is to do this by walking down the narrow streets of Sannenzaka and Ninenzaka, flanked by traditional shops and houses. You'll find all kinds of gifts here and lots of people taking pictures. If you're up early enough, you can take some incredible photographs and savour the architecture as if you've travelled back in time.
The golden pavilion or Kinkaku-ji and the gardens of Ryoan-ji
If you're going to Kyoto, you mustn't miss the golden pavilion. Our advice is to get up very early so you can enter with the first group. This building, with its roofs decorated in gold leaf and surrounded by a beautiful lake which reflect it like a mirror, is one of the city's main attractions. It's not unusual to find large groups of students here taking pictures and studying the history of their country. It's worth visiting, despite the crowds.
Next to it are the Ryoan-ji gardens, a large park where you can relax and even get lost. Everywhere you go in Japan is well marked with maps, but the beauty of this garden is labyrinthine, so pay attention to where you are going.
Travelling to Kyoto to meet up with the past: the Gion district
Kyoto is one of the major Japanese cities where traditions have been best preserved. Walking around the Gion district is a delight not only because of its traditional buildings but also because of the possibility of meeting, even today, an authentic geisha. These women, in clothes and make up from the Edo period, will allow you to photograph them, but it is better to ask their permission and not keep them waiting. Remember, they're working, and may be in a hurry.
Fushimi Innari Shrine
To get here you will have to take a train, but the journey takes only five minutes and you'll never forget it. This shrine occupies an entire hill, where you pass between hundreds of red toriis marking out the path to the top. The itinerary is impressive, full of sculptures dedicated to the goddess Inari and funerary monuments that blend into the forest. Photographs are allowed, but don't forget that this is a sacred place. Respect is fundamental.
Arashiyama Bamboo Forest
Japan is known for many things, including the extensive use of bamboo to build furniture, boats and all manner of utensils. Arashiyama is a bamboo forest outside the city centre, although you can walk there if the thought of long walks does not deter you. Once there, you can go deep into the high plants, visit the many temples hidden among them, take a boat ride or have tea in one of the area's many cafés. Mind the mosquitoes, though! These humid areas are their favourite place.
How to get around if you decide to visit Kyoto
Unlike Osaka or Tokyo, where the metro is recommended, one of the best ways to get around Kyoto is by bus, unless you are in a hurry. They are slow because of the traffic, but it is the best way to get a broader impression of what the city is like. Of course, Kyoto also has a metro system with stops at the biggest tourist attractions.
Copyright 2013-2023 Exoticca. All Rights Reserved.
80 Southwest 8th Street Brickell Bayview, Miami, FL 33130, United States