Call us toll-free now
Book with an expert for free:
1-888-488-0592
Prefer us to call you? Drop your number in the box:
24 hours a day, 7 days a week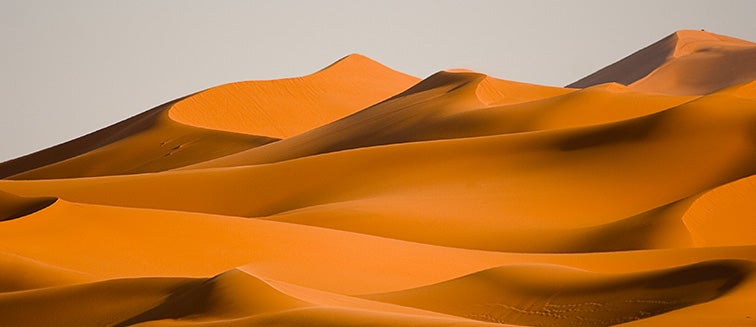 What to see in Morocco
Merzouga
Tourist attractions Merzouga
Nestled at the edge of the towering sand dunes of Erg Chebbi, Merzouga is the gateway to the Sahara Desert in Morocco. It's accessibility and facilities enable many a traveller to live out their dreams of exploring the eternal landscapes of the desert. This small village, in the shadow of orange-hued dunes, is easily reached by road in a day or two from either Fez or Marrakech and has seen a steady increase in tourism in recent years as more and more people make the journey to experience the tranquillity of the desert for themselves. 
Nevertheless, it's retained much of its charm and visitors who travel to Merzouga can enjoy the mix of Arab and Berber culture and countless desert experiences out in the dunes of the Sahara. 
Things to do in Merzouga include camel trekking in the desert and gazing at the millions of twinkling stars in the clear desert sky at night. Most who visit Merzouga during their tour of Morocco opt to join camel trains, which travel deep into the desert, to spend the night at remote Berber camps and experience first-hand the life of this desert-dwelling culture. Most desert camp experiences in Merzouga include traditional Moroccan meals around a campfire and entertainment in the form of dancing and music. Simply being surrounded by the immense sand dunes of the Sahara and watching the sunrise or set over the endless horizon is the main attraction of a trip to Merzouga. 
Most lodges and hotels in the village of Merzouga itself are able to arrange camel trekking and desert excursions for visitors. If you wonder why this village emerged from the desert in the first place, a clue can be found at nearby Lake Merzouga, where rich birdlife, such as flamingos, storks and sandgrouse, can be spotted frolicking in the waters of this real-life desert oasis.
OUR BEST TRIPS TO MERZOUGA
Copyright 2013-2023 Exoticca. All Rights Reserved.
80 Southwest 8th Street Brickell Bayview, Miami, FL 33130, United States