Appelez-nous gratuitement
Parlez gratuitement à un expert :
01 76 41 02 29
Vous préférez être rappelé ? Laissez nous votre numéro :
Du lundi au vendredi de 9h à 20h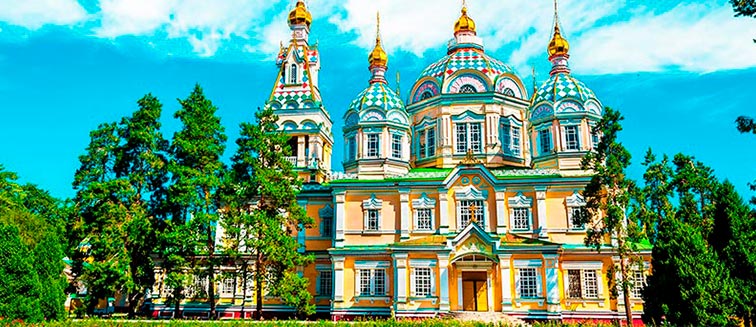 What to see in Kazakhstan
Almaty
Attractions touristiques dans Almaty
Known throughout Kazakhstan as the 'southern capital', the cosmopolitan city of Almaty served as the country's capital until 1997, when it was transferred to Nur-Sultan. Despite losing its status as the capital city, a trip to Almaty is sure to show you that it is in fact here, where the true essence of Kazakhstan can be found. It is the country's largest city and is considered the cultural centre with an almost European feel to some parts of the city.
Almaty is situated in southern Kazakhstan, in the foothills of the Trans Ili Alatau Mountains and has a history that stretches back as far as the Bronze Age, when the first communities settled in the region. Due to the city's prominence during the era of Soviet rule, you'll find a noticeable Russian influence if you travel to Almaty; Russian is the most widely spoken language in this part of the country and there are large communities of both Russians and Ukrainians.
In recent years, tourists and travellers have been increasingly attracted to this unique city due to its diverse nature and beautiful location, nestled between snow-capped mountains with plenty of skiing and hiking routes to cater for lovers of the great outdoors. You'll find buildings ranging from traditional wooden churches to Soviet-era housing and modern glass skyscrapers in Almaty as well as countless coffee houses, restaurants serving cuisines from around the world and a surprisingly lively nightlife scene. Like elsewhere in Kazakhstan, the city endures severe winters, so the best time to visit Almaty is during the spring or summer when the city and it's surroundings are transformed by abundant green foliage.
Highlights of Almaty
A city as eclectic as Almaty is sure to be home to a dazzling array of sights for all travellers to enjoy. The best place to start if you want to experience true, everyday Kazakh culture and immerse yourself in the hustle and bustle of the city, is the Green Bazaar, set across two-levels and selling an impressive selection of Central Asian produce.
From piles of fruits, nuts, spices, sweets, vegetables and herbs to an entire aisle of horse-meat products, a visit to Almaty's Green Bazaar is sure to surprise and delight you. If you're looking to get to know the country and its history better, head to the Central State Museum, where you can trace the country's story and admire the wide array of precious artefacts that are on display. A tour of Almaty would not be complete without a wander through Panfilov Park, which is home to the colourful Zenkov Cathedral, adorned with a bright orange facade and patterned domes.
This Russian Orthodox cathedral bears a slight resemblance to St. Basil's in Moscow and is one of the only relics of tsarist-era Kazakhstan remaining in the city. What is perhaps most impressive about the structure is that was built entirely from wood, even the nails that hold it together! If you've somehow exhausted the city sights, take the futuristic aerial tramway to Kok Tobe, or 'Blue Mountain', home to a zoo, restaurants and amusement rides. Skiiers cannot miss out on the nearby ski resort of Shymbulak, which is covered with a thick layer of snow between November to May.
Pour le moment Almaty n'est pas disponible
Inscrivez-vous à notre newsletter pour ne manquer aucun de nos meilleurs voyages
Conformément au Réglement de Protection des Données, nous vous informons de vos droits en terme de confidentialité en et notre politique de cookies
Vous pourriez également aimer
Attractions touristiques dans kazakhstan