Appelez-nous gratuitement
Parlez gratuitement à un expert :
01 76 41 02 29
Vous préférez être rappelé ? Laissez nous votre numéro :
Du lundi au vendredi de 9h à 20h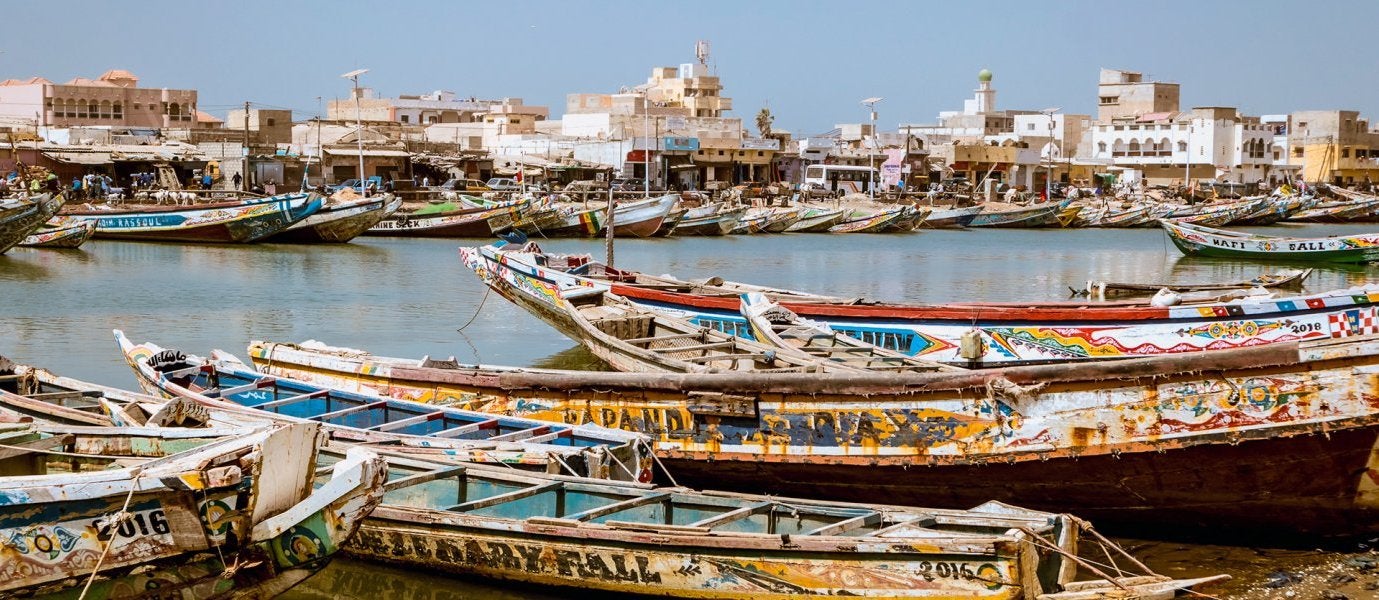 What to see in Sénegal
Saint Louis
Attractions touristiques dans Saint Louis
Situated in the north-west of Senegal, Saint-Louis is well-known for its cheerful colonial architecture as it was the capital of French Senegal between 1673 and 1902. The faded elegance of its buildings and quiet streets, trodden by horse-drawn carts, make a trip to Saint-Louis a highlight of any tour of Senegal. A designated UNESCO World Heritage Site, visiting Saint-Louis is like stepping back in time to a seemingly simpler era and this time-capsule city exudes an undeniable charm. 
The old town is located on an island on the mouth of the Senegal River between the mainland and the Langue de Barberie peninsula and it's here that you'll find a magical mixture of colonial buildings, steeped in history and painted in a rainbow palette of colours. Saint-Louis is unique because it was the first city founded by Europeans in West Africa. Known as N'dar in the local language, this vibrant city is sure to grant you an amazing insight into Senegalese heritage and culture, as well as countless photo opportunities. In fact, Saint-Louis is a paradise for photographers thanks to its colourful facades, sleepy streets and traditionally dressed locals.
Known as the birthplace of teranga, the Wolof word used to describe Senegal's famously warm hospitality, Saint-Louis has a rich three centuries-old history and is known for its cultural fusion of African and European influences. Travel to Saint-Louis and absorb the atmosphere of one of West Africa's most distinctive cities. 
What to see in Saint-Louis
Once you've explored the charming sand-blown streets you'll find there are plenty of things to see in Saint-Louis. The Faidherbe Bridge, which connects Saint-Louis to the mainland, is an icon of the city. Constructed in 1897 following the designs of Gustav Eiffel, this eight-span metal bridge serves as both a road and foot crossing and remains the only road connection between Saint-Louis and the mainland today. Once you've crossed Faidherbe Bridge and continued through the old town you'll reach another bridge which links Saint-Louis to the long, thin Langue de Barberie peninsula, home to the charming fishing town of Guet N'Dar, one of the best places to visit in Saint-Louis.
Here, you can watch the busy fishermen heading out to sea in the morning or coming back with their abundant catches as the day progresses. For a beautiful insight into the daily lives of the locals and some pretty spectacular sea views, don't miss out on a trip to Guet N'Dar if you visit Saint-Louis. Back in the city itself, spending an afternoon at the Saint-Louis Photography Museum is one of the most rewarding things to do in Saint-Louis and provides visitors with a fascinating and enjoyable walkthrough of the history and artistic and musical heritage of the city through a series of beautiful photographs, sculptures and artworks. The museum is set across a handful of restored buildings in the old town. If you're lucky enough to travel to Saint-Louis in May you'll be able to enjoy the musical delights of Saint-Louis Jazz Festival, one of the most internationally renowned jazz events in West Africa. The festival showcases both international and Senegalese musicians and concerts are held at the Quai des Arts or on an open-air stage in Place Faidherbe.
Pour le moment Saint Louis n'est pas disponible
Inscrivez-vous à notre newsletter pour ne manquer aucun de nos meilleurs voyages
Conformément au Réglement de Protection des Données, nous vous informons de vos droits en terme de confidentialité en et notre politique de cookies
Vous pourriez également aimer
Attractions touristiques dans senegal