Call us toll-free now
Book with an expert for free:
1 778 807 9750
Too much? We'll call you. Drop your number in the box:
24 hours a day, 7 days a week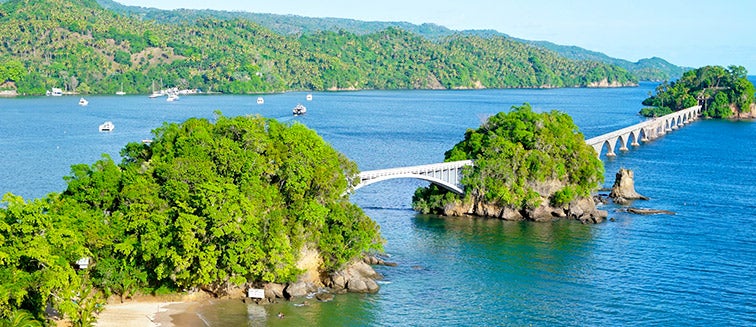 What to see in Dominican Republic
Samaná
Tourist attractions Samaná
Situated on the peninsula of the same name, Samaná is a tropical paradise and one of the most popular travel destinations in the Dominican Republic. Emerging from the northeast corner of the island and stretching into the Atlantic Ocean, the Samaná Peninsula appeals to anyone looking for a tranquil escape amidst landscapes of lush palm forests, white sand beaches and Caribbean culture. Lesser known to tourists than Punta Cana, a vacation to Samaná offers a slice of authentic tropical paradise!
The town of Samaná is located on the south coast of the peninsula, overlooking the sheltered Samaná Bay. Here, the annual humpback whale mating season offers a unique wildlife spectacle every winter. On average, over 2,000 humpback whales visit the waters of Samaná Bay every year, so if you travel to Samaná between January and March, you'll have a good chance to witness these majestic marine mammals for yourself!Samaná town, known officially as Santa Barbara de Samaná, is the largest town on the peninsula and is famed for its brightly coloured houses and idyllic stretches of beach. Up until the late 19th-century, the entire peninsula was separated from the mainland by a narrow channel, which in turn has left some pretty fascinating pirate-related history in this region. Since then, sediment has slowly fused the peninsula with the mainland and, nowadays, a trip to Semana is considered a mandatory stop if you travel to the Dominican Republic.
Home to a pretty harbour, interesting museums and a charming seafront Malecon, Samaná is the perfect place to enjoy the best of the Dominican Republic. As well as generous helpings of sun, sea and sand, staying here also puts you within easy reach of the tropical interior of the peninsula, home to stunning waterfalls, rainforest zip-lines and abundant wildlife.
Things to do in Semana 
There are countless ways to experience the incredible natural beauty of this region if you travel to Samaná! From whale-watching to catamaran cruises and snorkelling trips, you'll never tire of exploring the natural treasures of Samaná. One of the most popular things to do in Samaná is to pay a visit to the Los Haitises National Park, a mangrove swamp situated just across the Bay of Samaná on the mainland. Day trips to Los Haitses are popular, especially for bird-watching enthusiasts owing to the wide variety of species that inhabit this unique environment. Furthermore, this national park is home to an astonishing cave system, some of which contain ancient cave drawings. 
For a desert-island escape, no trip to Samaná would be complete without a visit to the paradise shores of Cayo Levantado. Located in Samaná Bay, this tiny islet is nicknamed 'Barcardi Island' as it was used as a backdrop for rum advertisements. Sure enough, it's truly the kind of place where you can forget all your worries and soak up the best of the Caribbean sun, sea and sand! Boat tours to Cay Levantado are popular and often include a stop at nearby Cayo La Farola, home to verdant greenery and tropical flora.
If you travel to Samaná during the winter months, you're in for a good chance of seeing humpback whales during their annual mating season. Samaná Bay becomes a busy breeding ground as thousands of these giant marine mammals frolic in the warm waters. If you're visiting outside of the winter, you can still learn about this natural phenomenon with a visit to Samaná's Whale Museum. One of the best things to do in Samaná for nature lovers, this informative exhibition is dedicated to the humpback and also features a 40-foot humpback skeleton. 
Finally, for an immersion into the lush rainforests of the Dominican Republic, the El Limon Waterfall is a must-visit if you are staying on the Samaná Peninsula! A 2.5-kilometre hike through thick forest rewards visitors with the chance to cool off in the crystal clear waters of the El Limon Waterfall. These secluded cascades are among the most beautiful in the country and are well worth the trek!
Tourist attractions dominican-republic
Copyright 2013-2023 Exoticca. All Rights Reserved.
Exoticca Travel Canada Inc 229 Yonge St Suite 400 Toronto, Ontario M5B 1N9 Canada