Call us toll-free now
Book with an expert for free:
1 778 807 9750
Too much? We'll call you. Drop your number in the box:
24 hours a day, 7 days a week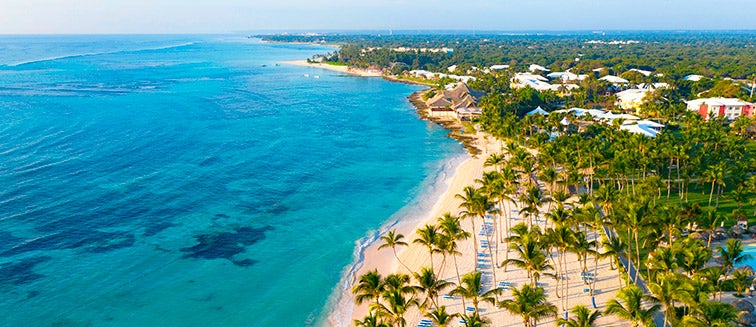 What to see in Dominican Republic
Punta Cana
Tourist attractions Punta Cana
Blissful beaches, upmarket resorts and sugar-soft sand. A vacation to Punta Cana is your chance to escape everyday life and unwind amidst tropical landscapes. Nestled on the easternmost tip of the Dominican Republic, travel to Punta Cana is an irresistible choice for when all you need is sun, sea and sand. As one of the most popular tourist destinations in the region, Punta Cana has an excellent reputation thanks to its wide choice of luxury resorts, restaurants and leisure facilities. From swaying palm trees to the turquoise waters of the Caribbean Sea, get ready to leave your worries behind when you travel to Punta Cana!
All-inclusive vacations to Punta Cana are incredibly popular. With all your meals and drinks catered for, there's nothing left to do other than kick back by the pool or sun yourself on the beach. An hour away from the nearest town, Punta Cana offers a remote paradise. But, this doesn't mean there's nothing to do here. In fact, the area is home to a number of excellent golf courses, thrilling water sports, shopping malls and nature reserves.
Although Punta Cana is better known for relaxation than adventure, hiking trails offer the chance to get out and explore the lush rainforests and rolling hills inland from the coast. In terms of day trips from Punta Cana, the Dominican capital of Santo Domingo and the idyllic province of Samana are just a few hours away by car. When it comes to the best time to travel to Punta Cana, keep in mind that temperatures are warm throughout the year. Rainfall peaks during the summer months, but rain showers are usually short and sharp, leaving plenty of time for beach activities. 
A package vacation to Punta Cana delivers everything you'd expect from a tropical getaway: sunshine, golden beaches, luxury resorts, beach bars, watersports and idyllic landscapes. Book a trip to Punta Cana today and you'll soon see why vacationmakers can't get enough of this beautiful corner of the Dominican Republic. 
Things to do in Punta Cana
Of course, any trip to Punta Cana will revolve around the area's magnificent beaches. Bavaro and Macao are among the most beautiful in the region, although the entire coastline offers endless stretches of golden sand. In fact, many hotels in Punta Cana come with their own private beach access, so depending on where you're staying you can always enjoy the warm waters of the Caribbean Sea. On the other hand, Punta Cana is well known for its excellent snorkelling and scuba diving options. The waters here are abundant in marine life, including sea turtles, reef sharks and an array of tropical fish. Therefore, one of the best things to do in Punta Cana is to delve into its rich underwater world, either on a snorkelling or scuba diving excursion or a boat trip.
If you have a taste for adventure, rafting in Punta Cana is another option. Within close proximity to the mountains of the 'Dominican Alps', rafting and canoeing trips along the rivers surrounding the Central Highlands is a must-try for anyone looking for a fun, active pursuit whilst vacationing in Punta Cana. 
If you're looking for an adventure closer to the comforts of your resort, one of the best places to visit in Punta Cana is Scape Park. This natural adventure park makes the most of Punta Cana's beautiful landscapes and caves and offers unique experiences, from zip-lining to exploring underground cave pools, boat cruises and wildlife trails. If you're looking for family-friendly activities in Punta Cana, visiting Scape Park is one of the best things to do.
Finally, for a slice of pure, untouched nature, be sure to explore the beautiful Indigenous Eyes Ecological Reserve when you travel to Punta Cana. This forest reserve encompasses hiking trails, crystalline lagoons and a natural history museum and is the perfect place to explore if you ever get tired of lounging on the beach!
OUR BEST TRIPS TO PUNTA CANA
Tourist attractions dominican-republic
Copyright 2013-2023 Exoticca. All Rights Reserved.
Exoticca Travel Canada Inc 229 Yonge St Suite 400 Toronto, Ontario M5B 1N9 Canada