Call us toll-free now
Book with an expert for free:
1 778 807 9750
Too much? We'll call you. Drop your number in the box:
24 hours a day, 7 days a week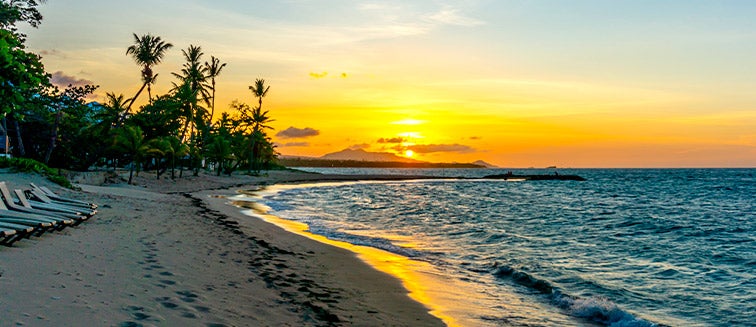 What to see in Dominican Republic
Cabarete
Tourist attractions Cabarete
Like adventure sports and breathtaking tropical beaches? Then Cabarete is the place for you! This once humble fishing village is now the go-to spot for watersports such as surfing, diving, windsurfing and kite surfing. Considered one of the best places in the Caribbean to practice these adrenaline-fuelled pursuits, the town of Cabarete is situated on a bay of the same name on the Dominican Republic's sun-kissed north coast. 
Known for its welcoming atmosphere and diverse mix of people, a vacation to Cabarete is the chance to indulge in all the wonderful activities and landscapes the Caribbean has to offer. A wide range of accommodation options and excellent beach dining is sure to satisfy even the most discerning traveller, whilst a number of distinguished natural areas along the northern coast coax visitors away from the beach to discover the abundant wildlife of the Dominican Republic. 
A trip to Cabarete is ideal if you're a beach-lover but still want to have plenty of activities to keep you busy. As mentioned, the area is famed for its watersports, and Cabarete Bay plays host to a number of professional kitesurfing competitions where you can watch the skills of some of the world's top watersports athletes! If you're into surfing, Playa Encuentro offers some of the most consistent waves in the Caribbean and is perfect for both beginners and more accomplished surfers. 
Around 11 miles from Puerto Plata airport, getting to Cabarete is simple. The small, yet perfectly equipped, town contains everything you'd need for a week or two in the sunshine, whilst nearby mangroves, swamps and tropical jungle await those seeking to reconnect with nature. The most popular areas to stay in Cabarete are Kite Beach, Playa Encuentro and downtown Cabarete.
Things to do in Cabarete
If you travel to Cabarete, you needn't venture far to encounter the incredible biodiversity of this Caribbean region. Just a 15-minute walk from the centre of town, the El Choco National Park is home to lagoons, rainforests, rolling hills and ancient caves against the backdrop of the stunning Cordillera Septentrional. This protected area can be explored on guided hikes, mountain biking tours or horseback riding excursions and is considered one of the best places to visit in Cabarete for nature lovers. Furthermore, the Cabarete Caves are encompassed within the park. These stalactite-filled caves offer crystal clear lagoons for swimming and are the perfect place to cool off during the summer!
No trip to Cabarete would be complete without a day spent watching the kitesurfers at Kite Beach. Just a few kilometres west of town, Kite Beach is one of the top spots in the Caribbean, if not the world, for kite surfing. Kiters of all levels flock here to take advantage of the perfect conditions, and on a windy day, the entire bay is filled with sails. If you fancy trying your hand at this exciting sport, you'll find many kite surf schools on the beach offering classes and gear rental. Otherwise, simply kick back on the sand and enjoy the spectacle!
Of course, if your interest lies more with surfing, don't miss out on a day at Encuentro Beach when you visit Cabarete. This surfing hot spot enjoys larger waves and the undeveloped beach is a beautiful place to spend an afternoon, with plenty of palm trees to use as shade during the hottest part of the day. 
On the other hand, if these watersports are a little too extreme for you, why not try your hand at paddle boarding? Although requiring a little balance, paddle boarding is the perfect watersport for beginners and the lagoons and rivers surrounding Cabarete are a good place to practice your skills.
OUR BEST TRIPS TO CABARETE
Tourist attractions dominican-republic
Copyright 2013-2023 Exoticca. All Rights Reserved.
Exoticca Travel Canada Inc 229 Yonge St Suite 400 Toronto, Ontario M5B 1N9 Canada