Call us for free now
Book with an expert for free:
+44 20 8068 3176
Prefer us to call you? Drop your number in the box:
24 hours a day, 7 days a week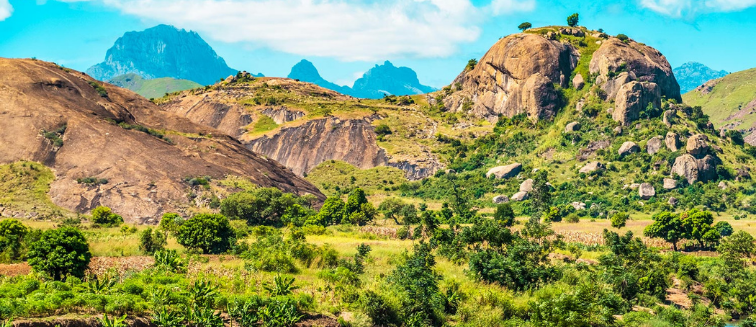 What to see in Madagascar
Anja Community Reserve
Tourist attractions Anja Community Reserve
Situated in the centre of southern Madagascar, this nature reserve is famed for its high concentration of ring-tailed lemurs, a symbol of the country and known as 'makis' to the locals. A short journey from the towns of Ambalavao or Fianarantsoa, a trip to Anja Community Reserve is the chance to explore a beautiful woodland landscape, surrounded by huge granite boulders and cliffs. Relatively small, with an area of just 30 hectares, this natural reserve is also home to a large freshwater lake, a vital life source for the rich wildlife that inhabits this wilderness. 
Anja Community Reserve was born out of the need to protect the dwindling population of ring-tailed lemurs and other wildlife in this area. Founded in 1999 by a group of locals, today Anja is a must-see stop on any tour of Madagascar. Not only is it the best place in the country to get up close to the adorable population of makis, but it is also a grass-roots eco-tourism initiative that is well worth supporting.
Other fascinating wildlife to encounter if you visit Anja Community Reserve includes an array of unique and colourful reptile species, such as lizards, chameleons, geckos and snakes, as well as wildcats, birdlife and the rare endemic lowland streaked tenrec. 
Backed by the beautiful silhouette of the Three Sisters Mountain group, a trip to Anja Community Reserve also has distinct cultural value. The natural caves found throughout the small granite mountain range were once important burial sites for the local Betsileo community. In fact, a number of family tombs still exist here today. 
If you are planning on visiting Anja Community Reserve, be aware that you can only visit with an accompanying guide. Furthermore, the best time to visit is during the early or late summer, when you can enjoy pleasantly warm temperatures and minimal rainfall.
Things to do in Anja Community Reserve
Due to the modest size of the reserve, there are just two different hiking trails to choose from. Firstly, the popular Short Circuit Loop takes just 1.5 - 2 hours to complete and is the best way to experience the diversity of Anja in a limited amount of time. You're likely to spot a number of ring-tailed lemurs along this route, many of which are very friendly and used to humans passing nearby. You'll also see two Betslieo tombs and a couple of natural caves.
For a more immersive and adventurous experience, one of the best things to do in Anja Community Reserve is to hike the 6-hour Long Circuit Loop, which takes you to the very top of the imposing summit of the granite peak, where you can soak up 360-degree views of the landscape and even the distant town of Ambalavao. You'll have plenty of encounters with the local wildlife if you opt for this more challenging hike, too. 
Most visitors who travel to Anja Community Reserve stay overnight in nearby Fianarantsoa or Ambalavao, but there is also an onsite camping ground for those who wish to spend the night under the star-studded Madagascan sky. 
OUR BEST TRIPS TO ANJA COMMUNITY RESERVE