Call us for free now
Book with an expert for free:
+44 20 8068 3176
Prefer us to call you? Drop your number in the box:
Mon. to Fri.: available 24-hours Sat. and Sun.: 8am - Midnight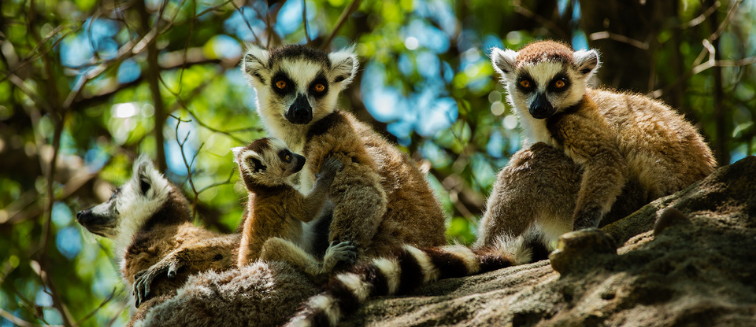 What to see in Madagascar
Ambalavao
Tourist attractions Ambalavao
Head south on the RN7 highway from Fianarantsoa and you'll come across the charming town of Ambalavao, nestled in the heart of Madagascar's Central Highlands. Famed for its production of Anaimoro paper, a papyrus-like paper decorated with wildflowers, a trip to Ambalavao is a window into the traditional way of life of the highlands.
The oldest part of town is filled with pastel-coloured buildings and houses with carved balconies. An attractive yet small town, Ambalavao has a long heritage of arts and crafts. You'll find workshops all over town where you can watch artisans at work and buy authentic Madagascan crafts. Furthermore, Ambalavao is known for its wine production and is surrounded by rolling vineyards.
On the outskirts of town, you'll find a huge zebu market, where you can learn more about the agricultural culture of this part of Madagascar. Although you won't find all the amenities you might expect in a larger town here, the lack of tourist infrastructure makes a trip to Ambalavao an authentic cultural experience. 
Things to see in Ambalavao
If you're visiting Ambalavao midweek you're in for a treat as the local Zebu market, one of the largest in the country takes place on Wednesday and Thursday mornings. The south side of town comes alive as it is seemingly overrun by zebu, a type of cattle, on their way to the market. Local herdsmen from the surrounding villages and towns all congregate to buy and sell their cattle, making for an interesting cultural experience if you travel to Ambalavao.
One of the best things to see in Ambalavao is its famous Antaimoro Paper Factory. Located next to the Hotel aux Bougainvillaeas, the factory is an unmissable place to visit as visitors are permitted to watch the production process of Antaimoro paper, made out of the bark of a Malagasy bush and pressed with a variety of wildflowers. 
Other interesting things to see in Ambalavao include the dozens of artisan workshops, the surrounding vineyards and the nearby Andringitra National Park, known for its large population of ring-tailed lemurs.
OUR BEST TRIPS TO AMBALAVAO