Call us for free now
Book with an expert for free:
+44 20 8068 3176
Prefer us to call you? Drop your number in the box:
24 hours a day, 7 days a week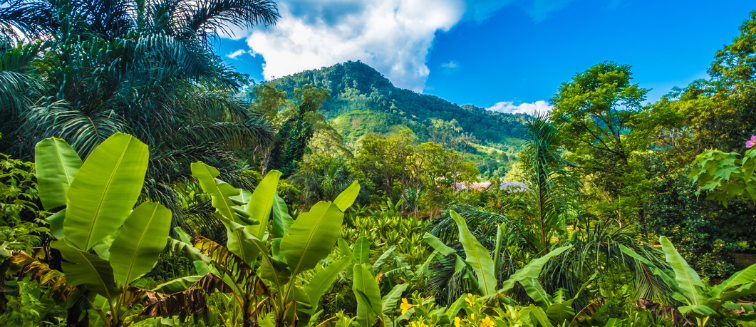 What to see in Madagascar
Ranomafana National Park
Tourist attractions Ranomafana National Park
161 square miles of tropical rainforest, Ranomafama is a natural paradise, known for its large population of lemurs, including the incredibly rare golden bamboo lemur, discovered here in 1986. Situated close to the small town of Fianarantsoa, it's the third-largest national park in the country yet one of the best in terms of biodiversity. Home to around 12 species of lemur, colourful chameleons, rare frog species and impressive birdlife, Ranomafama National Park showcases the best of Madagascan wildlife. In fact, much of the animal life here is endemic to this particular part of Madagascar, making a trip to Ranomafama National Park an unmissable experience for anyone with the slightest interest in wildlife!
A UNESCO World Heritage Site, several hiking routes ensure that there are a wide variety of ways to experience the natural beauty of this cloud forest. If you travel to Ranomafama you can choose a hiking trail to suit your activity level, from short 3-hour nature walks to 3 day-long treks through the rainforest. If you're planning on visiting Ranomafama, be sure to bring your best waterproof clothes as the humid, tropical climate that blesses this region with lush vegetation also brings abundant rainfall throughout the year. Ranomafana gets its name from the Malagasy words for 'hot water', due to the numerous hot springs in the area. 
The most popular time to visit Ranomafana National Park is during the summer season of July to September, although for the chance to spot baby lemurs, visit in October and November.
Things to see in Ranomafana National Park
Visiting Ranomafana National Park would be incomplete without sighting its most famous inhabitants. With around 12 different species of lemur to spot, it is one of the best places in the country to get up close to these adorable animals in their natural habitat. Of course, the highlight of a trip to Ranomafana National Park is sighting the rare golden bamboo lemur, endemic to this particular area, although other unique species include the Aye-Aye lemur, the largest nocturnal primate in the world and a source of many superstitions as well as red-bellied lemurs, tiny mouse lemurs and woolly lemurs. 
Once you've explored the verdant rainforests and scanned the treetops for lemurs, paying a visit to the bubbling thermal baths is one of the best things to do in Ranomafana. The perfect place to relax after a long day of hiking, these thermal baths are fed by the areas natural hot springs. With temperatures hovering between 40 and 50 degrees celsius, remember to bring your swimwear so you can enjoy an indulgent soak.
Other things to do in Ranomafana include kayaking on the Namorona River or taking a guided nocturnal nature walk to spot tiny mouse lemurs! 
OUR BEST TRIPS TO RANOMAFANA NATIONAL PARK