Call us for free now
Book with an expert for free:
+44 20 8068 3176
Prefer us to call you? Drop your number in the box:
Mon. to Fri.: available 24-hours Sat. and Sun.: 8am - Midnight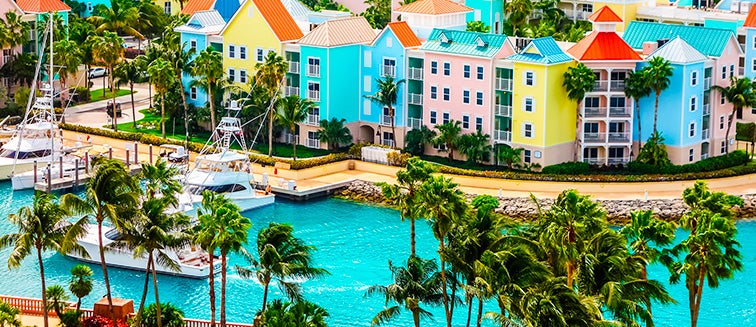 What to see in Bahamas
Nassau
Tourist attractions Nassau
Almost all trips to the Bahamas have a stop in Nassau, the capital of the island of New Providence and the largest city in the archipelago. Its mix between the old, the typical tropical culture and its wide range of leisure activities make it a perfect holiday destination. Its colonial architecture has been preserved over the years, making its historical center one of the attractions in a trip to the Bahamas along with the immense paradisiacal beaches that line its coast.
Some historical enclaves that can be admired are the Fort of Fincastle, built in the 18th century and which served for years as the lighthouse of the city; or the Fort of Charlotte, built by the British settlers and located next to the port where the cruise ships dock. A walk along Bay Street, the main artery of Nassau will allow you to observe the typical wooden houses. This is where many of the city's shops and restaurants are located such as the Straw Market, where some of the most typical souvenirs can be found.
We don't have any trips to Nassau at the moment.
Subscribe to our newsletter to not miss any trips
In compliance with the Data Protection Regulation, we inform you about your rights in our privacy policy and Cookies policy
Tourist attractions bahamas