Call us for free now
Book with an expert for free:
+44 20 8068 3176
Prefer us to call you? Drop your number in the box:
24 hours a day, 7 days a week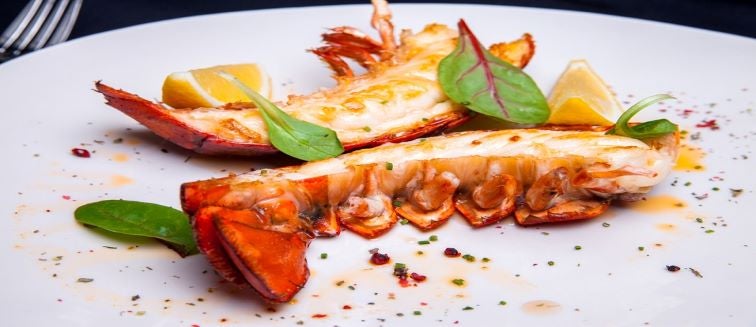 Food In Bahamas
When deciding what to eat in the Bahamas, the products you'll find most are fish and seafood. The island's cuisine is based mainly on seafood, as well as stews, salads, and of course tropical fruit.
As we have already anticipated, fish, shellfish and molluscs are part of the customary dishes in the Bahamas. Among them, the conch, which is a common snail in the country, provides the base of one of the most famous dishes of the Bahamian cuisine.
Of course, lobster, crab and all different types of fish make up the key ingredients of typical Bahamian dishes. Let's see what these dishes are, and how they're made.
Marinated Conch
The snail of the Bahamas is eaten in many different ways; it can be eaten raw, fried, steamed, boiled, as fritters, with salads or in soup. As you can see, this white meat mollusc goes a long way, but one of the traditional recipes is Marinated Conch.
To make it, several spices, coriander, chopped onion, vinegar, lemon juice and a bit of coconut milk are used. It can be served with a fresh vegetable salad, as a garnish for other fish dishes, or on its own as a starter.
Conch Burgers
Another way of eating these Bahamian snails is in the form of a burger. To make it, the snails are fried in batter, or cooked on a grill or in a pan. It is presented like a normal beef burger, then it is served with chips and hot sauce, as well as salad leaves.
Steamed Lobsters
Without a doubt, one of the customary dishes to eat in the Bahamas, especially if you like seafood, is Steamed Lobster. Once cooked, the lobster is served on a bed of fresh salad and accompanied with spicy salsa. Needless to say, the quality of lobster in the Bahamas is exceptional, and its flavour is truly exquisite.
Lobster Curry
Once again, lobster is used to make another of the star dishes of the Bahamian cuisine. For this dish, onion, butter, curry powder, lemon juice, coconut milk and a little flour and salt are used in addition to the lobster. It is served with white rice and is quite delicious.
Papaya Salad
Fruit is also a component of traditional dishes eaten in the Bahamas. As well as having many vitamins, papaya, in this case, is used to create a refreshing salad. Green pepper, tomato, onion, boiled eggs, coriander, oil, vinegar and a little salt is added to the diced papaya. Whether to have it as a starter or snack is the question.
Baked Snapper
One of the most common fish in the Bahamas is snapper, which can be prepared in many ways; it could be cooked on the barbecue, grilled, or in this case, baked. To prepare this typical Bahamian dish, onion, tomato, butter, pepper and herbs and spices such as thyme are used. It is baked for about an hour, and served with white rice or salad, depending on the island.
Bahamian Style Chicken Soup
Although chicken is not one of the main ingredients used in these Caribbean islands, chicken soup however is a traditional dish which you can eat in the Bahamas. To make it, a chicken and vegetable base is used, to which chilli and different vegetables are added. It is mostly eaten by Bahamians over the weekend as part of their culinary tradition.
Rice and Peas
During your trip, you will see that rice, as an accompaniment, is a key component of customary Bahamian dishes. In this case, instead of accompanying fish, rice accompanies peas. To prepare it, usually a pea stew is prepared, which can also be made of beans, and served with white rice, all seasoned with spices.
Desserts and drinks are worth mentioning separately, as they will also leave you with a good taste. When it comes to desserts, be sure to try Coconut Floating Islands, Johnny Cake, or Guava Duff, which we will talk about next.
Guava Duff
In the desserts section, as well as fresh fruit, you will also find the famous Guava Duff. To make it, guava, brown sugar, nutmeg and salt are used, as well as flour, eggs and butter. When it is cooked, a splash of Bahamian rum and the remaining pulp of the guava is added.
To finish, you can accompany this delicious gastronomic trip through the Bahamas with a Switcha, the country's traditional fruit-based drink, coconut water, or a Kalik, the most popular Bahamian beer.