Call us for free now
Book with an expert for free:
+44 20 8068 3176
Prefer us to call you? Drop your number in the box:
Mon. to Fri.: available 24-hours Sat. and Sun.: 8am - Midnight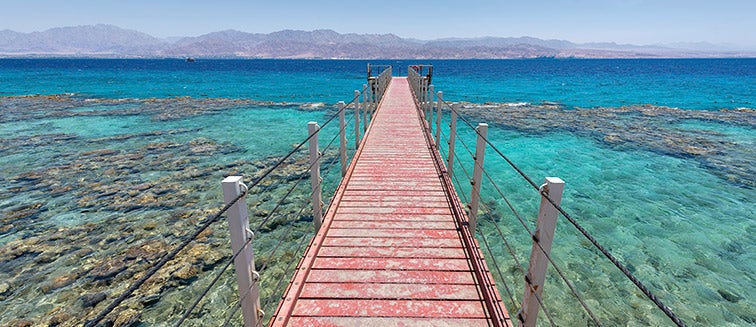 What to see in Egypt
Red Sea
Tourist attractions Red Sea
Lying between Asia and Africa, the Red Sea is home to some of the warmest and saltiest seawater on earth. In fact, this tropical sea is an inlet of the Indian Ocean and is connected to the Mediterranean via the Suez Canal, one of the busiest waterways in the world. This narrow body of water can be divided into three sections: the Red Sea, the Gulf of Aqaba and the Gulf of Suez. Furthermore, the Red Sea has shorelines on the coasts of Egypt, Sudan, Eritrea, Jordan, Yemen, Saudi Arabia and Djibouti.
The Red Sea is renowned for its recreational dive sites, thanks to the sea's diverse underwater ecosystem. 2000 kilometres of coral reefs and over 1200 fish species live in this sea, making a holiday to the Red Sea a paradise for diving enthusiasts. This rich biodiversity is protected at a number of special dive sites, such as the Ras Mohammed National Park in Egypt. At its maximum width, the Red Sea measures just 190-miles across, whilst its deepest sections plummet to more than 3000 metres below sea level. Some of the exotic sea life to discover in the Red Sea includes an array of colourful fish species, such as clownfish, lionfish, parrotfish and giant moray. These warm waters are also home to an array of shark species including hammerhead sharks, tiger sharks and grey reef sharks. Dolphins are also abundant, and a source of much interest to tourists who can enjoy dolphin-spotting cruises on the Red Sea. Finally, sea turtles are another integral part of the Red Sea's ecosystem.
The popularity of holidays on the Red Sea is shown in the numerous beach resorts that are dotted around its sun-drenched coastline. Aqaba in Jordan, Eilat in Israel as well as Sharm El-Sheikh and Hurghada in Egypt are just a few of the most popular beach resorts where you can enjoy the abundant waters of the Red Sea. 
OUR BEST TRIPS TO RED SEA