Call us toll-free now
Book with an expert for free:
1 778 807 9750
Too much? We'll call you. Drop your number in the box:
24 hours a day, 7 days a week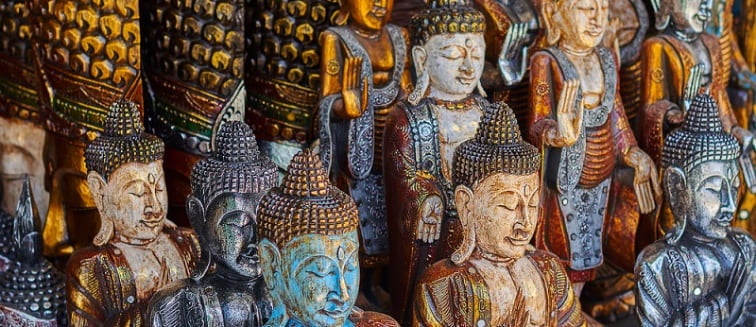 Shopping in Indonesia
If you are looking for souvenirs from Indonesia you should read this.
If you are preparing for your next trip and don't know what to buy in Indonesia, we will help you find the perfect souvenirs of Indonesia. There are so many wonderful natural treasures tucked away in this South Asian country, but it is also a great place to go shopping.
Of all the places you can visit in Indonesia, Jakarta and Bali are the best places to go shopping. Everything you could ever want to buy in Indonesia can be found in these two cities: one is the capital; the other being the main tourist resort.
However, markets and craft stalls can also be found in the rest of the country, where you can buy souvenirs of Indonesia. But let's focus on the typical Indonesian products par excellence. Take a look at the following list of souvenir products that you'll not be able to get enough of!
Typical Indonesian crafts
In Indonesia, there are a lot of artisans who dedicate themselves to wood carving, basketry, silverwork, and ceramics, among many other typical Indonesian crafts. Out of all of these crafts, wood carving has become something of a specialty in Indonesia, producing some high-quality pieces. Indonesian craftsmen are true artists, able to reproduce in wood anything from household utensils to religious objects of all sizes.
In Bali, for example – which is itself an island of artisans – you can find all kinds of typical Indonesian crafts. Another option is to visit the artisan villages that lie between Ubud and Sanur: these small towns specialize in concrete crafts. Butubulan and Singakerta mostly dedicate themselves to making stone sculptures and silver jewelry. The town of Batuan is a place where painters are born and bred, and if you want some wood carvings, make sure you don't miss a visit to Mas.
Handmade jewellery
Of all the things you can buy in Indonesia, jewelry stands out for its quality and price. But when looking at the wide range of goods on offer, always ask for the relevant license to avoid scams, especially in Jakarta.
A mix of original, beautifully-crafted gold and silver necklaces, rings and bracelets with precious stones, along with all sorts of accessories. In the village of Celuk, its inhabitants are expert goldsmiths who also make silverware, using traditional methods. The combination of this metallic element with coral, gems and natural stones achieves some stunning results.
Handmade ceramics
From vases and decorative pieces to complete sets of crockery, these are the souvenirs to buy in Indonesia when it comes to ceramics. Artisans here demonstrate a unique ability to mix traditional methods and designs, achieving the most modern results.
One place to see the process of making ceramics first-hand is in Ubud. Here there are lots of workshops, where you can get to know the whole process and acquire some of these wonderful pieces.
Batik Fabrics
Batik fabric, or the sarong, is one of the country's typical textiles and was originally worn by women going to pray in the temples. Over time, it has become the ultimate expression of what to buy in Indonesia, since even the locals use it as a gift.
There are various types of Batik: in Bali, it is made of cotton and natural dyes, with intricate patterns of lines and dots. You can buy the fabric as is, or made into skirts, shirts or dresses. One of the most popular places to buy this type of traditional fabric is the village of Ubud.
Organic beauty products
In addition to Indonesia's typical crafts are beauty products that are made with natural ingredients. What could be a better souvenir gift than a set of personal care products made from organic ingredients? You can find soaps, exfoliating lotions, natural oils, and high-quality cosmetics that are made locally.
The good thing about these products – besides being organic and suitable for all skin types, especially more sensitive skins – is that they have surprising results. So it's no wonder the most well-known cosmetic brands are introducing more and more natural ingredients in their products. Another advantage of buying these in Indonesia is that you can find them in any store or supermarket at a great price.
Aromatic incense
El Dupa is a type of incense that is used by Indonesians in their daily religious rituals. It is used to make offerings, but its pleasant aroma perfumes all the stores, attracting tourists. This incense is made from various types of flowers and you can buy it in markets and all sorts of shopping areas.
Indonesian coffee
Another product you can buy in Indonesia as a souvenir, or typical product of the country, is coffee. Of all the varieties of high-quality coffee, the country has to offer, it is Kopi Luwak that is distinguishable by its special flavor.
This particular coffee is made as follows: the coffee beans are fed to a civet (a small carnivorous mammal), which eats and partially digests them and then passes them. The beans are defecated, along with the inner layer of the fruit. These are then removed from the feces and lightly roasted to produce this distinctive coffee.
As you can see, there are a great variety of Indonesian products and gifts to choose from and you're sure to find more than one souvenir to bring home from your trip.
OUR BEST TRIPS TO INDONESIA
Copyright 2013-2023 Exoticca. All Rights Reserved.
Exoticca Travel Canada Inc 229 Yonge St Suite 400 Toronto, Ontario M5B 1N9 Canada