Events and festivals in Vietnam
As in many Southeast Asian countries, Vietnam's festivities are governed by the lunar calendar. Not every year coincide in the same dates, but to celebrate many of them you must wait for a full moon. Some of their most important festivals are ruled by the Buddhist religion, so pilgrims make the journey from all over the world and events are organized in and around the temples.
The Vietnamese consider the cycles of nature, so it is not surprising that there are ceremonies of gratitude for successful crops and festivals to mark the changing of the seasons.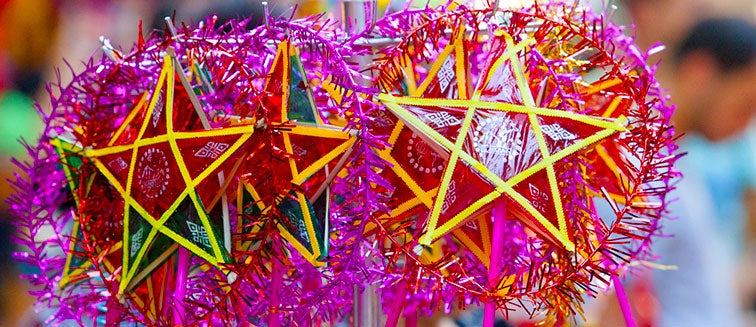 Autumn Festival
It is also called the Festival of the Autumn Full Moon, as it coincides with the eighth full moon of the year. As night falls, Vietnamese children wander through the streets with lanterns and moon cakes, a typical sweet made of rice, duck egg yolks, lotus seeds and sugar. It is largely a family celebration as relatives get together to enjoy the atmosphere and the more temperate weather of Autumn.
Day of the Dead (Trung Nguyen)
It is the second most important party in Vietnam and is celebrated on the 15th day of the seventh month of the lunar calendar. During this day, the Vietnamese clean the tombstones of the deceased and put food and fruit on the altars. In addition, so-called lucky money is burned, in the form of slips of paper in the hope of increasing prosperity for the following year.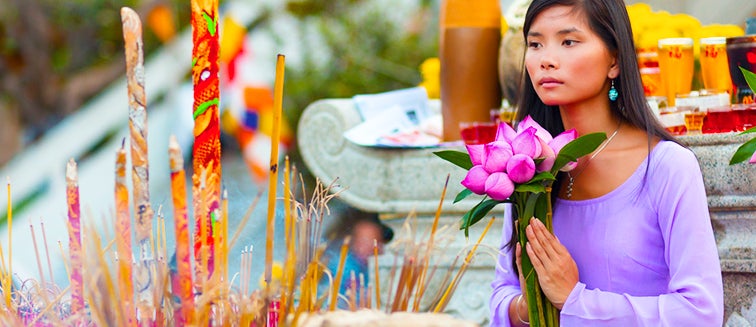 Feast of the Perfume Pagoda
This religious festival is celebrated on the 15th of the second lunar month south of Hanoi. It is a Buddhist holiday, so the pilgrims from the mountains and the Red River come down to pray at the pagodas and temples on the banks of the Yen River.
Full Moon Festival
This is the most important Buddhist celebration in Vietnam. It is celebrated on the fifth moon of the year, on the 15th day. During that day, Buddhists visit the main temples and pagodas to pray for Buddha's birth, enlightenment, and death. 
National Day of the Socialist Republic of Vietnam
It is a national holiday, so it is celebrated all over the country. It commemorates the founding of the Democratic Republic of Vietnam in 1945 and its independence. In Hanoi, this party is accompanied by music, fireworks and boat races. It is one of the most lively celebrations as there is so much to see and it can also be a very emotional day for the older generations.
New Year
Although they are guided by the lunar calendar, in Vietnam the Western New Year is also celebrated. The ideal city to enjoy it is in Hanoi, where there is a firework display at midnight and the streets are filled with festivity.
OUR BEST TRIPS TO VIETNAM