Call us toll-free now
Book with an expert for free:
1-888-488-0592
Prefer us to call you? Drop your number in the box:
24 hours a day, 7 days a week
Food In Sri Lanka
Sri Lankan Cuisine has both British and Indian influences. It is characterized by numerous types of curries which are often quite spicy. Some of the main ingredients used in Sri Lanka are chilli and coconut milk. It is a country rich in meat and fish also, and most of its dishes are usually accompanied by rice. You cannot leave Sri Lanka without tasting the local tea, which is said to be the best in the world.
Curry & Rice
The everyday, staple dish of Sri Lanka is curry and rice. The curry usually contains pieces of meat, chicken, vegetables or fish. Curry in Sri Lanka is a little different from what you can find in other countries, such as India. Here it normally contains chilli, pepper, cinnamon, saffron, ginger and coconut milk.  
Dhal
One of the most common dishes of Sinhalese cuisine. It is composed of masoor dhal, which is red boiled lentils mixed with different ingredients such as onion, tomato, chilli, cumin, curry leaves and coconut milk. It can be eaten with a spoon and has a deliciously intense flavour.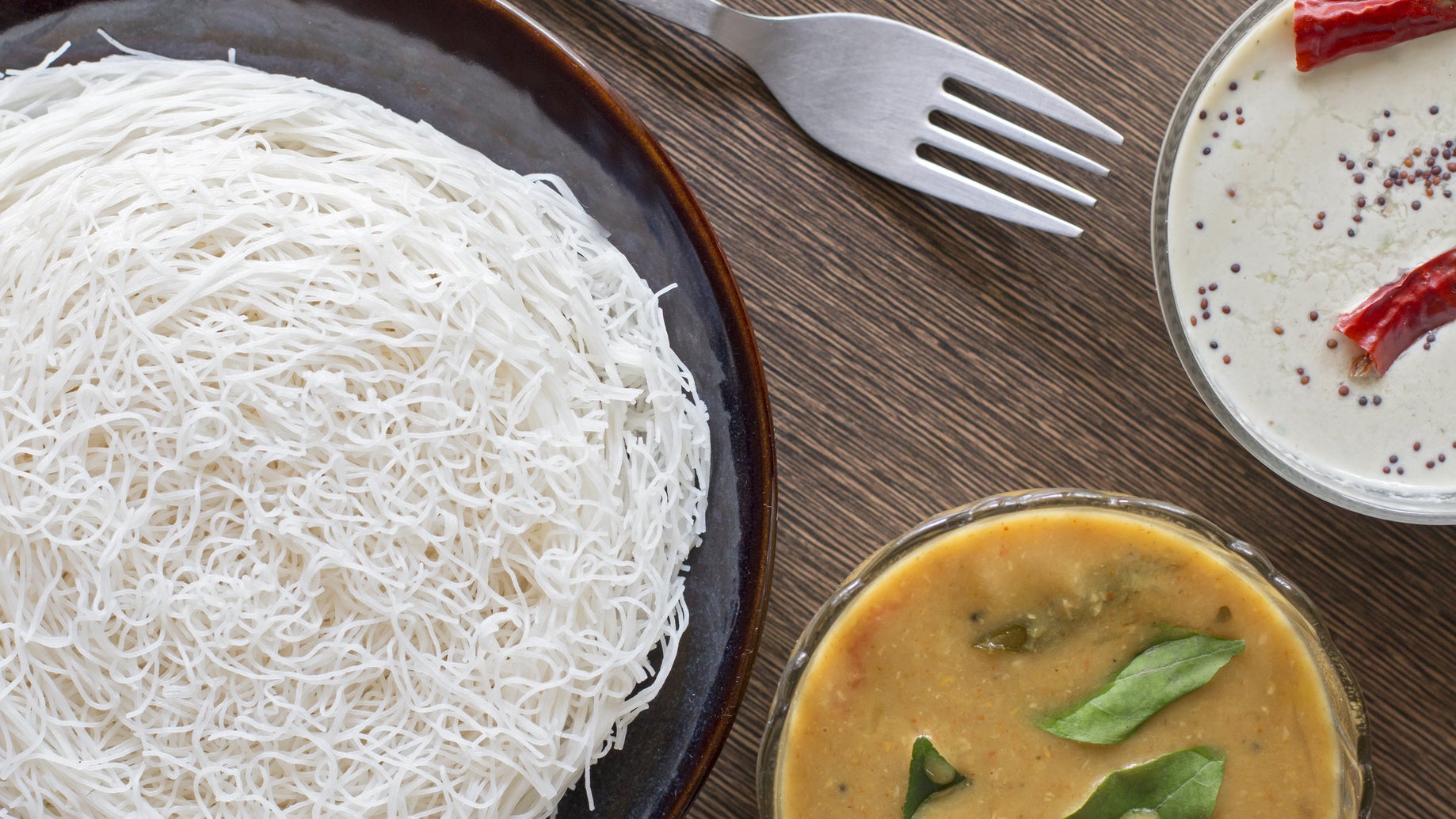 Hoppers
Hoppers are a Sri Lankan style crêpe. They can be sweet or savoury and are made of rice flour, coconut milk and sugar. Many Sri Lankan's eat Egg Hoppers where the crepe is shaped into a bowl and an egg is put in the middle. You can find them in restaurants, hotels and street stalls as they are so widely consumed.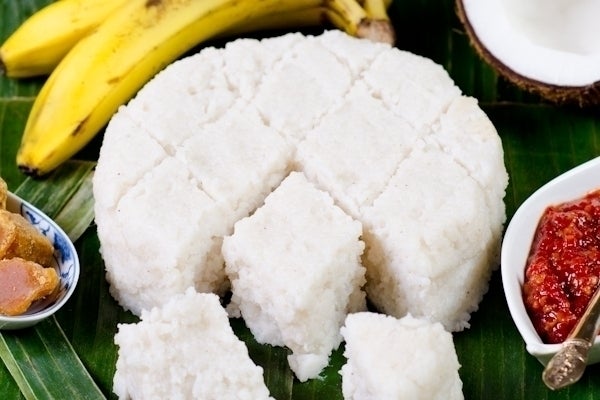 Kiribath
Kiribati is traditionally eaten in Sri Lanka for the New Year or during special celebrations. It is made of a rice with coconut milk and it has a dough-like consistency. It's very sweet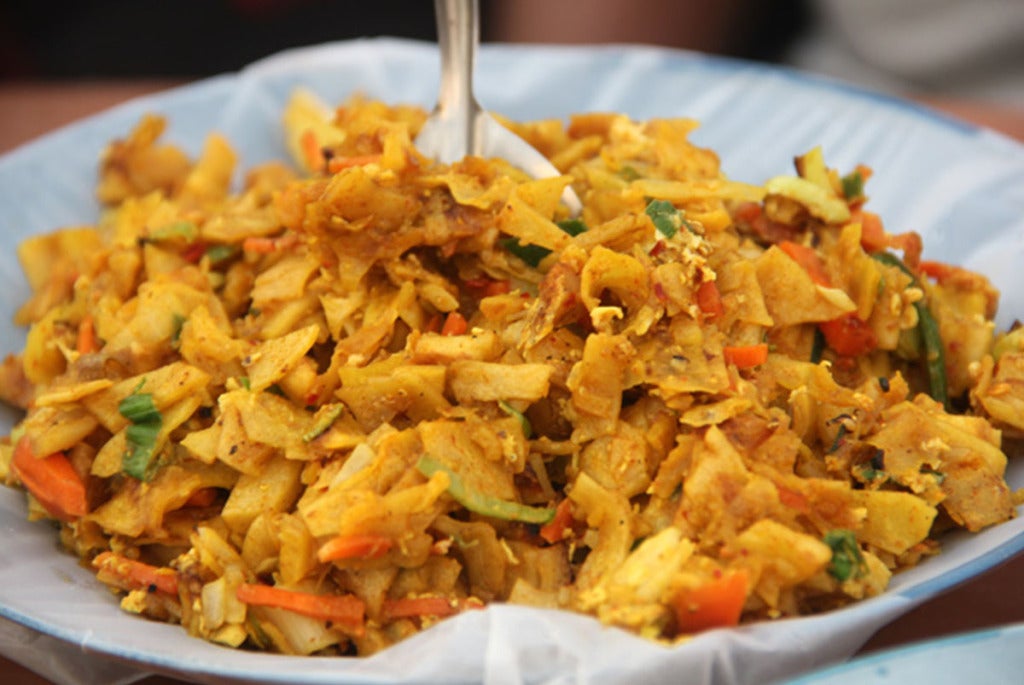 Kottu
One of the most filling dishes in Sri Lanka. It is a mixture of vegetables, eggs, meat and spices. There is also a vegetarian version without meat. It can be served in different ways: on its own on a plate, or accompanied by bread, with the mixture condensed to resemble a patty.  
Kukul Mas Curry
This chicken curry has different variations depending on the region of the country where you try it. Usually, it includes spices such as cardamom, chilli, curry powder, lime and coconut milk. It has a rather spicy flavour, and it is often accompanied by rice.  
Lamprais
The Lamprais is a mixture of cooked vegetables, prawn, meat, rice and curry. It usually comes with a serving of rice and, depending on the place, is served on a large banana leaf. It is one of the most traditional dishes of Sri Lanka.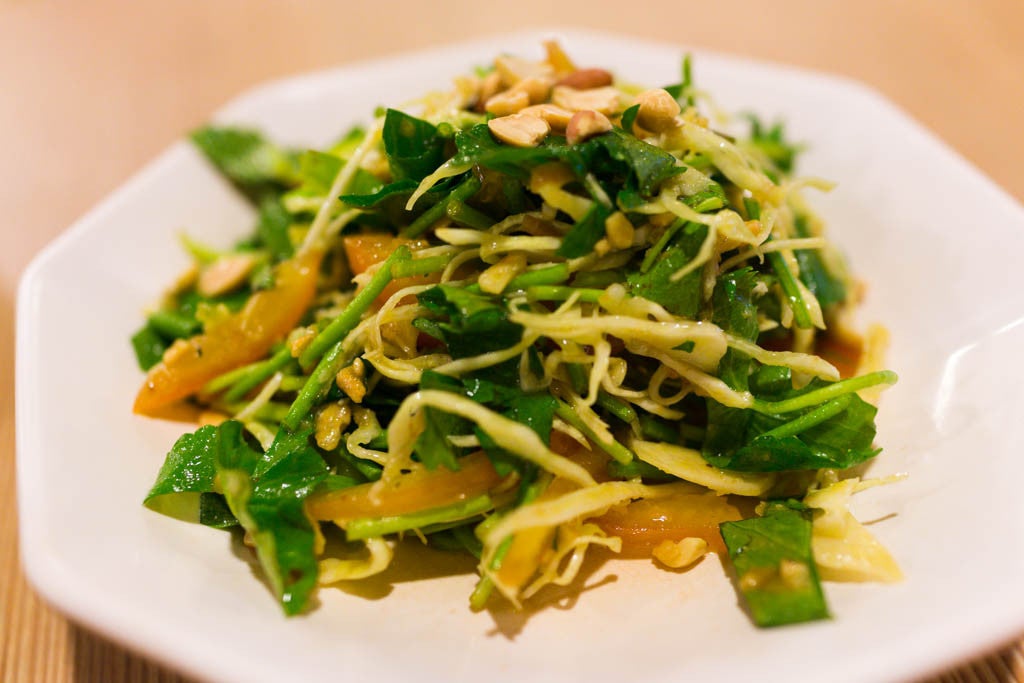 Pennywort Salad
A typical Sinhalese salad. It consists plate of green leaves typical of Asia that are chopped and mixed with grated coconut and onion. It is usually eaten as a main course, or as an accompaniment to meat or fish.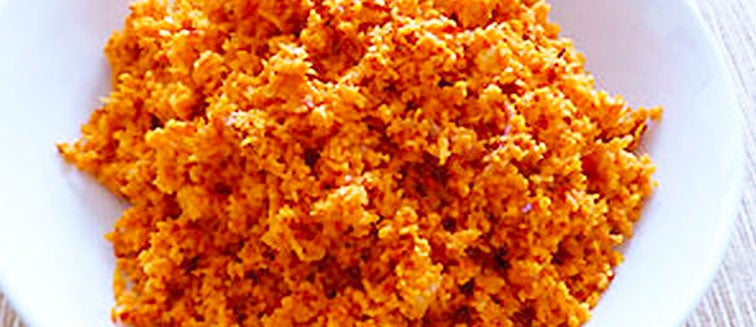 Pol Sambol
This traditional Sinhalese dish is always accompanied by rice, or inside hoppers. It is a mixture of coconut pulp, chilli powder, dried chilli, lemon, onion and salt. A very simple dish that is always present in the menus of the restaurants in the country.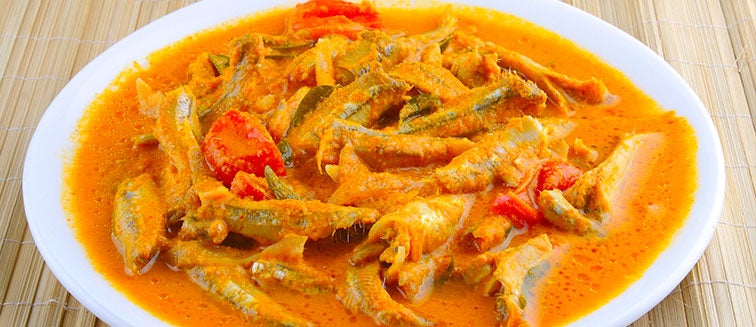 Salty Fried Fish
In Sri Lanka, there is great fish and seafood. In this case, this dish contains small fried and salted fish, that are fried until very crispy. It is usually accompanied with a bowl of rice and vegetarian curry. Sometimes, it also includes a spicy chilli-onion sauce that is used in many Sri Lankan dishes.  
OUR BEST TRIPS TO SRI LANKA
Copyright 2013-2023 Exoticca. All Rights Reserved.
80 Southwest 8th Street Brickell Bayview, Miami, FL 33130, United States