Call us toll-free now
Book with an expert for free:
1-888-488-0592
Prefer us to call you? Drop your number in the box:
Mon. to Fri.: available 24-hours Sat. and Sun.: 3:00 a.m. - Midnight (EST) Or call your preferred Travel Advisor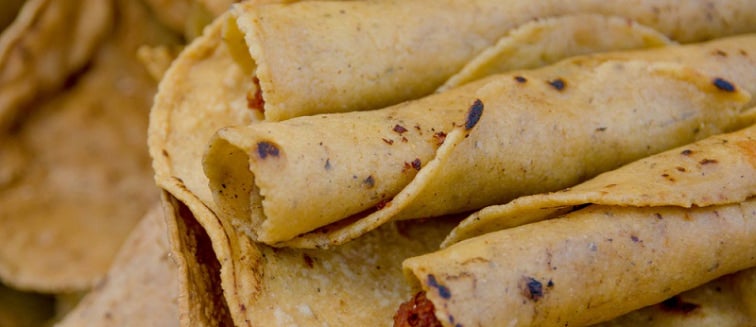 Food In Guatemala
Knowing what to eat in Guatemala is essential when preparing for your trip. This multi-cultural country is full of different ethnic groups and it has gastronomy that is equally as varied and rich. You will want to try many of the traditional dishes of Guatemala.
If you don't know what to eat in Guatemala, don't worry, as we will go on a gastronomic journey of the country below. We will begin with the traditional Guatemalan dishes and then focus on their variety and unique gastronomy.
Kaq ik
This typically Guatemalan dish comes from the Q'eqchi' region and is truly delicious. It is a meat soup made from chunto or turkey, which is prepared with various spices such as coriander, chili and annatto. Different vegetables are added to the soup and it is served accompanied by little tamales made with lard and rice.
This typical Guatemalan dish was declared a part of the intangible cultural heritage by the country's Ministry for Culture and Sports in 2007. The ancestry of the dish is pre-hispanic and, before serving it, you drink cacao and sugar cane liquor.
Enchiladas
Of all the things you will find to eat in Guatemala, the enchiladas will be the one you try the most. These toasts are filled with minced meat, cheese, and beetroot and served with onion rings, to which are added tomato sauce with chopped parsley and two slices of hard-boiled egg.
Guatemalan enchiladas stand out because of the purple color of the beetroot and the accompaniment of vegetables with which they are served. You will find them in every market, fair and restaurant in the country.
Fiambre
This traditional Guatemalan dish is prepared for All Saints Day. The dish is a very varied salad consisting of a mix of different cold meats and vegetables. It is also prepared by using different types of cheese and its flavor comes from the chicken sauce.
The history of this dish recounts that it emerged as an offering, or at least that is how it appears in 17th-century chronicles. Its ingredients vary from one region to another, but throughout the country, it is the national dish for the 1st of November.
Paches
This typical Guatemalan dish is very like tamales, but these are made with potato dough. Paches are the star food for celebrations: birthdays, Christmas, Easter, New Year, etc. Its main ingredients are Potatoes, garlic, onion, sesame, chili, paprika, butter, and chicken or beef.
They are served on banana leaves and you can find them at any market in the country. They are also known as potato tamales, the most famous of which are those made with potato, rice, and the black-colored ones.
Chuchitos
Continuing with the food delights of Guatemala, we find this simple, yet tasty traditional dish. Chuchitos are made with a tortilla covered with layers of maize leaves. This tortilla is filled with chicken, pork or beef and is served with grated cheese and a tomato sauce.
There is a sweet version which is known as chuchito de cambray. This is a characteristic dish throughout the whole country and you can find it in any market.
Pepián
This Guatemalan dish is the most famous stew in the country. Little wonder that it has survived as an inheritance from the Mayas.
To prepare it, place maize tortillas over a griddle, with tomatoes, sesame, chilies, garlic, and coriander. To this mix, add carrots, meat, and potatoes. Make a very fragrant soup with all these ingredients and serve it with rice.
Tortillas
Now that you know what to eat in Guatemala, don't forget the importance of tortillas or tortitas. These delicious maize doughs are a substitute for bread and accompany most dishes.
Tortillas are not only served as an accompaniment to the mail meals, but they can also be served on their own, with cheese or with beans.
Shucos
Shucos are a variation of what we know as the sandwich, or what has become known as our tapas. They are a base of bread, which is served with avocado, cabbage, and cold meats, and sometimes roast meats are added. You can add mayonnaise, mustard and tomato sauce with jalapeños according to taste.
Strolling through the streets, you will find vendors with barrows selling shucos. You will have the opportunity to try them on almost every street corner.
To complete our culinary journey through this beautiful country, what better than to end with one of its desserts. Don't forget to try tamarind balls, pumpkin dessert or milk rings. The coconut or guava colochos (a confection made with sugar), along with figs in honey are other temptations that you won't be able to resist.
This is just the beginning of what you need to know about things to eat in Guatemala and about its traditional dishes. This country will conquer you, not just visually, but also through its flavors.
Copyright 2013-2023 Exoticca. All Rights Reserved.
80 Southwest 8th Street Brickell Bayview, Miami, FL 33130, United States