Call us for free now
Book with an expert for free:
+44 20 8068 3176
Prefer us to call you? Drop your number in the box:
24 hours a day, 7 days a week
Food In Kenya
Due to historical reasons and scarcity of resources, Kenyan gastronomy has been characterized, for a long time, by a need to feed the masses in an effective way, something that is still reflected in their culinary culture.
Nevertheless, without the presence of great culinary luxuries, it is true that Kenyan cuisine is full of delicious surprises. This is a country with a great natural wealth where it is easy to find an exuberant variety of tropical fruits and vegetables. On the other hand, all kinds of meats are consumed, the most common being beef or goat, followed by lamb and even camel meat.
In addition, its warm waters in Mombasa provide plenty of fish and quality seafood. It is a flat and austere cuisine but that leaves no room for indifference, so it can be very enriching for those who approach it with an open mind and hunger for new experiences. Here is the list of typical dishes of Kenya.
Chai
Although Kenya is an excellent producer of quality coffee and tea, the national drink of Kenyan is chai  Chai is a variety of tea that is boiled in milk and flavored with abundant sugar resulting in an extremely sweet and tasty drink. Among its most popular variants are the chai masala, usually spiced with cinnamon and cardamom; and if you want the tea without milk, you should ask for kavu chai.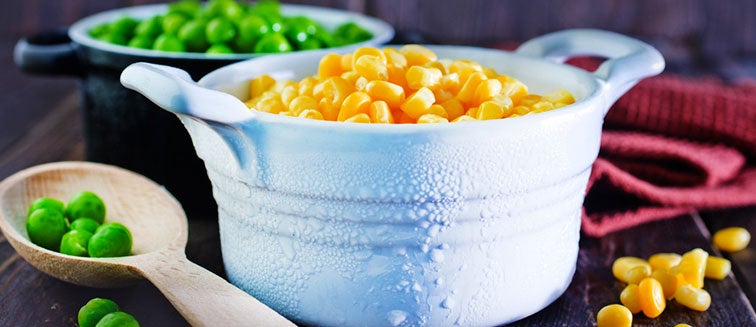 Irio
Among the most widespread specialties throughout the Kenyan territory, but above all characteristic of the central areas of the country, is the Irio, in Swahili it is known as"Kienyji". It is a dish made from mashed potatoes with vegetables with corn, peas and beans. Simple but nutritious.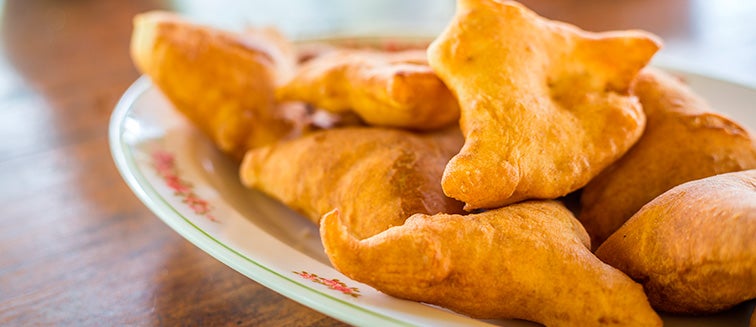 Manzadi
Known as the "African donut" or fried bread, next to chai, the manzadi is the most widely consumed breakfast dish in Kenya. It is a kind of flattened triangular donut shape that it is eaten freshly cooked, as it loses texture and fluffiness if it is allowed to cool.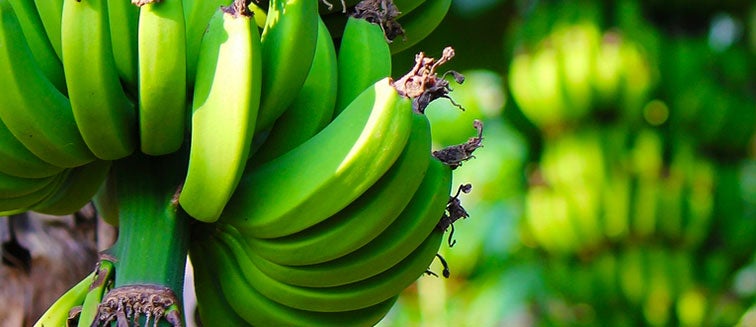 Matoke
Like ugali, another dish imported from Uganda is the matoke; which is one of the most traditional dishes of the Kisii community in southwestern Kenya. It consists of mashed starchy green bananas, a staple crop in Kenya and it can be served stewed and accompanied by chicken or potatoes.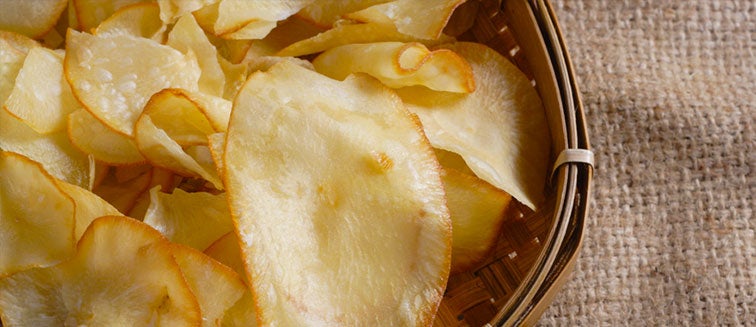 Mkate Mayai
Although it may not be the most widely consumed dish, a good snack that can be purchased from street stalls in some cities in Kenya, most commonly near the coast, is the mkate mayai, which literally means "bread eggs". It is a donut similar to the manzadi, but it is stuffed with meat and egg and cooked on the grill. Other options to appease hunger between meals are cassava chips.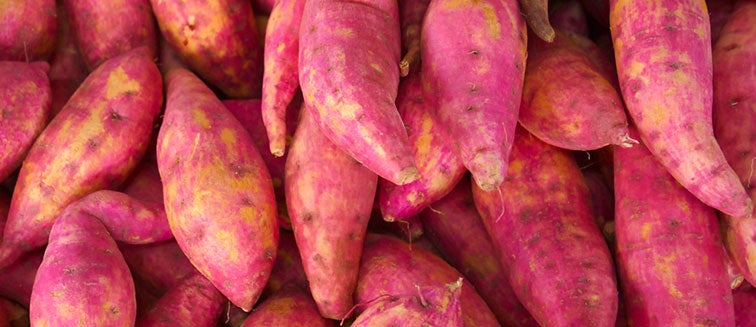 Mukimo
A dish containing nothing but vegetables the Mukimo consists of a mix of sweet potatoes, corn, beans and bananas. A variant of the mukimo is the githeri, which only consists of corn and beans; an original dish of the Kikuyo tribe that has become very popular throughout Kenya and that can be found in almost any restaurant.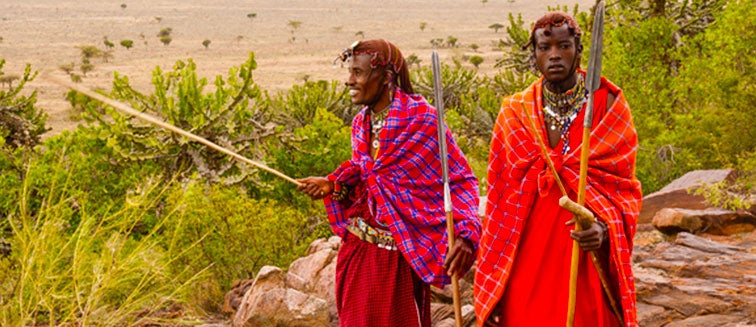 Mursik
Known as the "secret weapon" of Kenya ", Musik is a staple of the cuisine of the Kalenjin and Maasai Mara peoples. It is a very nutritious food made from fermented milk and herbs that is served in containers made out of hollow pumpkins. The taste and smell are very strong, however, they contain a series of nutrients that are very beneficial for the controlling cholesterol, which allows these tribes to stay healthy based when they have a diet rich in red meat and milk.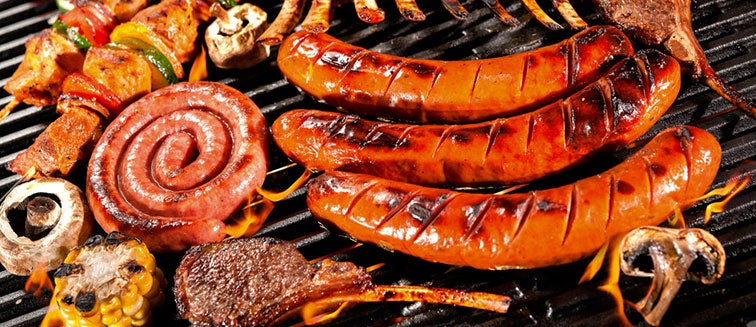 Nyama Choma
Without a doubt the most precious element for Kenyans in gastronomy is meat. So much so that nyama choma, - translated as grilled meat - is considered a national dish/ The most common meat used in nyama choma is goat, but there are also variations that use beef, chicken or other birds, and in some places, exotic meats such as zebra or antelope are used.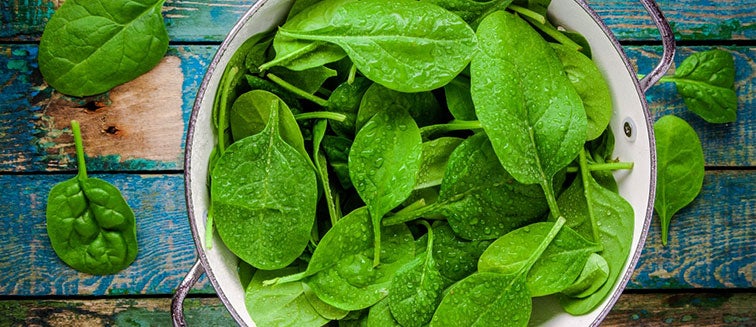 Sukuma Wiki
  This is a widely eaten dish containing sautéed spinach, meat broth, tomato and peppers. A humble dish, whose name in Swahili means "to lengthen the week", due to the low price of spinach in Kenya, meaning that it can make the weekly food budget stretch further. It is very popular among families with fewer resources.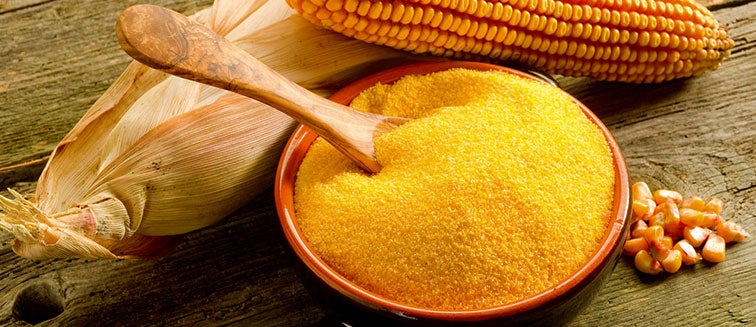 Ugali
In Kenya, cereals have traditionally played a very important role in nutrition. So much so that one of the star dishes of the country is ugali, imported from Uganda. The ugali is a corn porridge that is cooked until it is thick, and once it hardens and solidifies it is served in slices, almost like a flapjack. A very simple and humble dish, but at the same time very nutritious, and the Kenyans love it.