Call us toll-free now
Book with an expert for free:
1 778 807 9750
Too much? We'll call you. Drop your number in the box:
24 hours a day, 7 days a week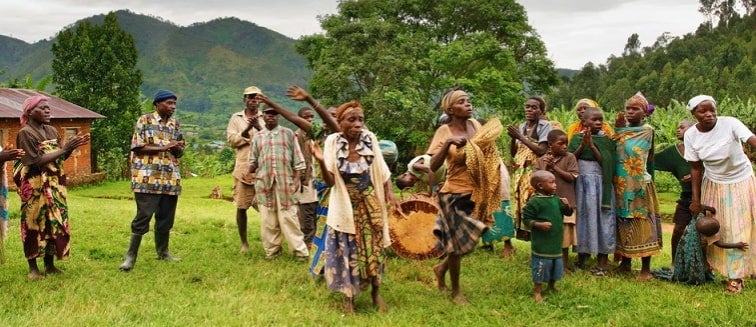 Events and festivals in
Uganda
Events and festivals in Uganda
Cultural diversity set the tone for the popular festivals of Uganda, a country with a fusion of forty different ethnic groups and which has a mix of cultures and traditions. Its festivals are not only related to its ethnic groups but also to the Christian religion, to which almost eighty percent of the population belongs.
In order to talk about festivals in Uganda, you need to keep in mind that music is the key element of most events celebrated in this country. Take note of the list of events below if you want to find out about the most popular and emblematic festivals.
Festival of the Ugandan Martyrs
Every 3 June there is a festival to celebrate what is considered to be one of the largest religious gatherings in the world.  Almost a million people attend, and a festival is a national event of such importance that it is covered by national television.
The Nile Festival
This celebration lasts a week and is one of the popular Ugandan festivals with the highest attendance. It takes place in early August in Jinja, and it centers on the rich and diverse cultures of the people that live on the shores of the River Nile.
Art and the cultural tradition of Uganda, as well as the cultures from the rest of Africa, mix to offer a great cultural program which is full of music, dance, theatre, folklore, storytelling, and gastronomy, as well as live shows. It also has a parade along the streets, children's activities and dance workshops. It is, without doubt, a great opportunity to discover the tribes of the whole of Uganda from close up.
International Film Festival of Kampala Amakula
Also known as the Amakula Kampala Cinema Caravan, this festival travels throughout the whole country over a period of four months, from the beginning of September to the end of November. It screens old and new films with themes based around independence.
The festival also offers workshops in cinematography and the creation of soundtracks for silent films. If you like cinema, this is one of the most recommended events for discovering this art during your visit to the country. 
International Film, Music and Arts Festival of Bayimba
Of all the popular festival of Uganda, this three-day festival, which takes place in the National Theatre of Uganda, attracts thousands of visitors. The festival centers on the art and culture of Uganda and is a must-see for all visitors who want to learn more about the music and art scene of the country.
This has become the country's number one festival, and the one in which Kampala truly comes to life. The festival gathers together music, cinema, dance, theatre, and visual arts under one roof and not only does it present local artists, but also those from other East African countries.
B-Global Indigenous Hip Hop Festival
Also in September, a four-day festival takes place which was created to celebrate hip hop in Uganda. Its vision is to educate the youth through hip hop culture and to teach the Ugandan youth the importance of reconnecting with their roots.
The festival brings together young people with some of the most important leaders of Ugandan hip hop to promote peace, love, and fun. Needless to say, if you like music, this is one of the popular Ugandan festivals that you should not miss.
The Nile Gold Jazz Safari
This one-day event takes place every October in Kampala and musicians from all over the world take part. Each year there is a new list of interpreters. But one thing that is consistent each year is the music is fantastic.  
The saxophones, bass, drums, keyboards, and pianos play for a growing audience of lovers of Ugandan jazz, and of course, for the visitors who are always welcome. 
This is Uganda
This annual festival aims to showcase the diversity of cultures in Uganda through art, music, poetry and dance, with an emphasis on women artists. Every December, thousands of people gather at the Kyandondo Rugby Club in Kampala to see some of the phenomenal live acts.
The festival also has a lounge where festival goers can socialize and where there are stalls promoting women's rights, education and AIDS awareness. If you are planning to go to one of the most popular, social and modern festivals in Uganda, then you need to discover this festival. 
Lastly, Christmas, St Stephen's Day, Good Friday and Easter Monday are also celebrated by Ugandan Catholics. With all these festivals, you can now plan your travel by taking note of some of these events.
Copyright 2013-2023 Exoticca. All Rights Reserved.
Exoticca Travel Canada Inc 229 Yonge St Suite 400 Toronto, Ontario M5B 1N9 Canada