Food In Singapore
Due to the young nature of the country, Singapore does not have its own cuisine. Most of its gastronomy has been adopted from Chinese, Hindu and Malaysian immigrants who have settled in its different neighborhoods. Therefore, most of the dishes available in Singapore are influenced from the traditional cuisine of other countries. One of the best known products is crab, prepared in various ways, although the most popular is chilli crab; along with rice noodles, present as a base in many dishes; and durian, a fruit with a nauseating smell but a sweet taste that, despite being banned in many establishments, is one of the hallmarks of the country. In the city of Singapore you can find fusions of cuisines from all parts of the world, although if something characterizes them all it is that the dishes tend to be spicy.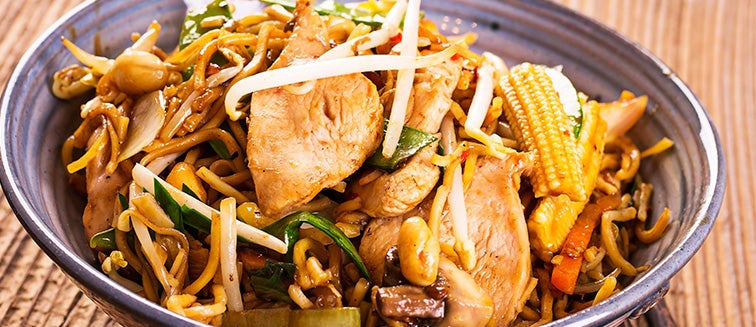 Bak Chor Mee
This dish that can be found in many of Singapore's restaurants has its origin in China. It is composed of mee pok, a flat yellow noodle whose thickness and width can vary. It can be served with sauce, meat and vegetables; or in soup. It is also common to find them mixed with another type of Chinese noodles and it is common to find them being sold on street stalls.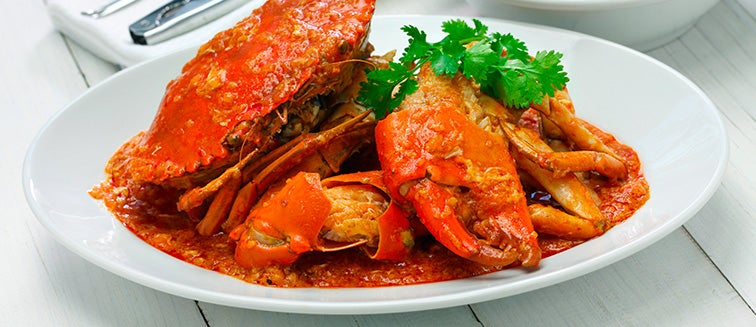 Carrot Cake
Unlike the popular cake we know in the UK, this dish is neither a cake nor does it contain any carrot. Actually, this popular dish is made up of rice flour, fried radish, scrambled eggs and different spices. It can be found in two versions: the so-called white carrot cake, which is the most popular; or the black carrot cake, which is accompanied by a sauce and is somewhat sweeter.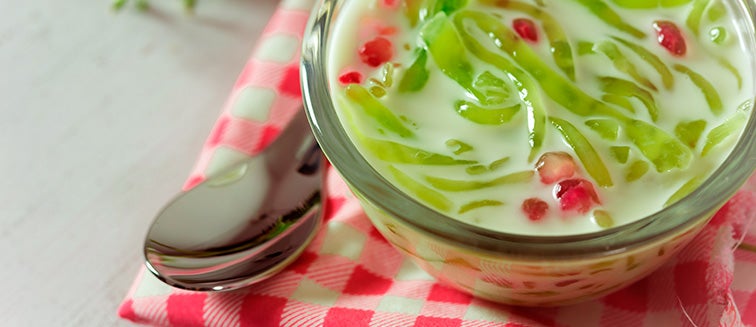 Cendol
This Indian dessert is one of the most popular and tasty in Singapore. Made with green rice noodles flavoured with pandan and mixed with crushed ice, it also incorporates coconut milk and palm sugar. Depending on the region it can also include red beans, rice, gelatin, sweet corn and durian. It is common to find it on roadside stalls, street stalls or in large restaurants.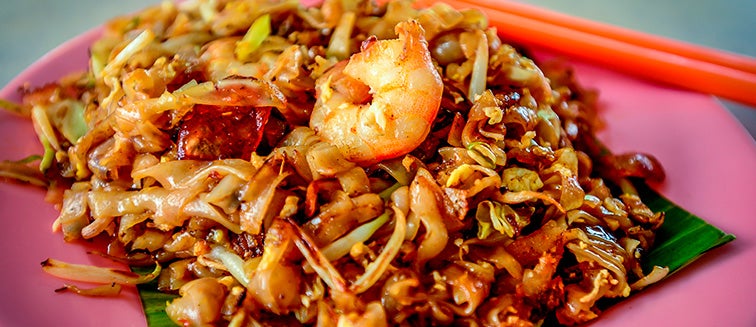 Char Kway Teow
One of the most popular dishes in Singapore is char kway teow, fried flat noodles that are served with prawns, cockles, eggs, chilli, Chinese garlic and soy sauce. It's a high calorie and nutritious dish as it originated from the ancient farmers who, without many resources, needed a filling dish. It can be found both on the menus of restaurants and on many street stalls.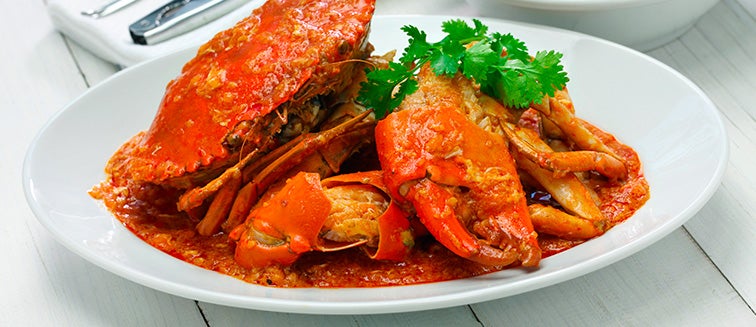 Chilli Crab
One of the icons of the cuisine of Singapore is a whole cooked crab served with a spicy chilli sauce. It is very typical to end up dipping bread in your sauce once after the crab is finished. Although this is the star dish of the country, in most restaurants you can also find other dishes with crab such as Crab Bee Hoon, with noodles; butter crab; or salted egg yolk crab, in a rich sauce similar to hollandaise.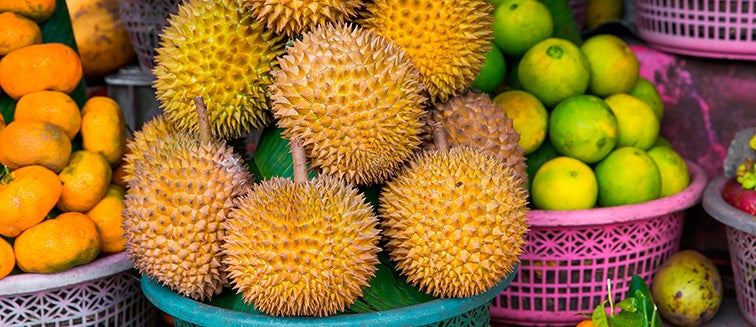 Durian
This typical Asian fruit is characterized by its strong, foul smell, being considered the most nauseating in the world. Those who dare to try it, however, agree that their taste is actually very delicious. Its popularity in Singapore is such that even the theatre-opera building is built in the shape of this fruit. It can be found in many of the markets of the city, although in some hotels, on public transport and in other public places it is common to find a sign that prohibits eating durians.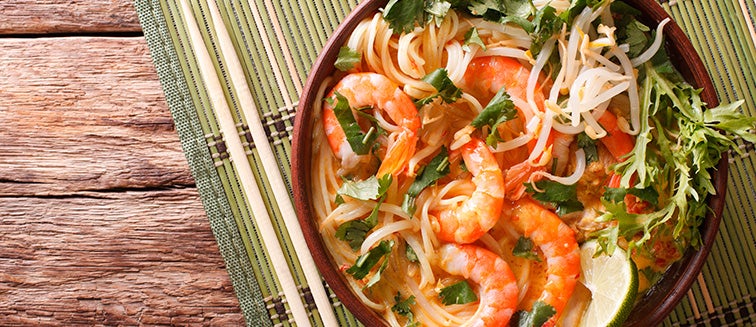 Laksa
Although its origin is uncertain, it is believed that this dish comes from the Chinese and Malay culture settled in certain regions of Malaysia and Singapore. Laksa is made up of rice noodles that are served with fish stock or seafood. In general, it is quite spicy, seasoned with coconut milk and chilli, which gives it a spicy aftertaste. Some of its variants include ingredients such as chopped chicken, egg, bean sprouts and prawns.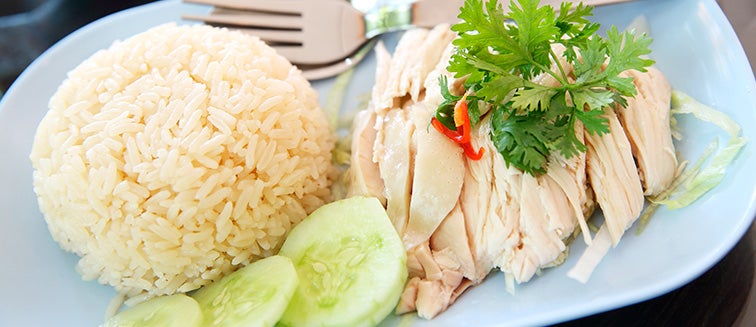 Rice with Chicken Hainanese
  Although the name refers to Hainan, a province of China, this dish is part of the cuisine of Singapore, which has many variations. The most traditional is composed of white rice, roasted chicken and chilli sauce and seasoned with herbs, ginger and garlic. To flavour the rice, in addition to being prepared with chicken stock, in some restaurants they also include coconut milk.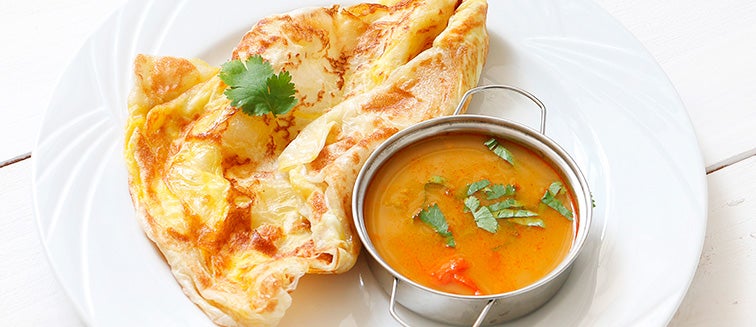 Roti Prata
This dish of Indian origin was introduced to Singapore by Hindu immigrants who settled in the city. It is a pancake made of very fine wheat dough that is cooked on the grill and whose interior can be filled with cheese, onion, mushrooms or, for sweet versions, banana or chocolate. Generally, the roti prata is accompanied by a bowl of curry with spicy lentils or a coffee or tea with condensed milk.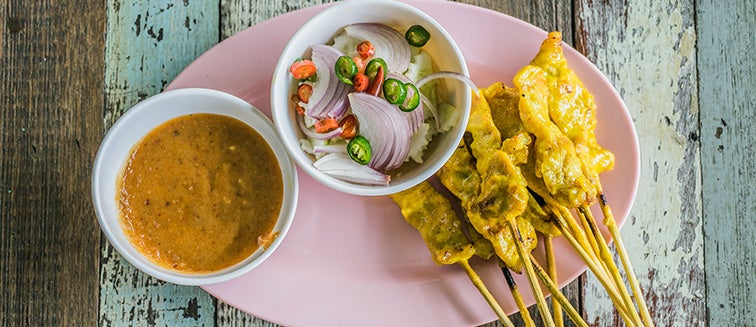 Satay
These skewers of meat, bamboo and coconut thorns that are cooked on the grill originate from the island of Java, in Indonesia. However, over the years it has been gaining popularity in other Asian countries such as Malaysia or Singapore, where it can be found on most street food stalls or restaurant menus. Although the type of meat may vary, it is usually beef, pork, venison, chicken, fish or prawns. It can also be accompanied by different sauces.