Call us toll-free now
Book with an expert for free:
1 778 807 9750
Too much? We'll call you. Drop your number in the box:
24 hours a day, 7 days a week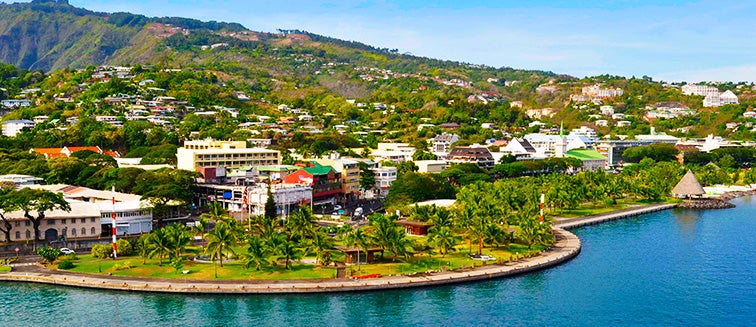 What to see in French Polynesia
Tahiti
Tourist attractions Tahiti
Nestled in the tropical waters of the South Pacific Ocean, Tahiti is the economic, cultural and political centre of French Polynesia. The name alone evokes images of an island paradise. At the heart of French Polynesia, a holiday to Tahiti is the chance to reconnect with nature and disconnect from our daily lives. The largest island in the country, Tahiti is dominated by the towering peaks of its volcanic mountains and lush, tropical forests. Contrast this with the glistening turquoise waters of the South Pacific and you have the vacation destination of your dreams!
The island of Tahiti can be divided into two parts: Tahiti Nui to the north and Tahiti Iti to the south. Whilst most travellers who visit Tahiti will opt to stay in the resorts and beach towns of Tahiti Nui, the secluded beaches and desert-island atmosphere of the Tahiti Iti Peninsula are well worth a visit. On the other hand, Papeete, the island's capital, is filled with quirky colonial architecture and exudes a welcoming and laid-back atmosphere. This is the usual starting point for vacations to Tahiti and the wider French Polynesian archipelago.
Honeymoons to Tahiti are incredibly popular, and some couples even choose to have their wedding or marriage vow renewal ceremonies against the backdrop of Tahiti's paradise beaches. Home to all kinds of accommodation options, from luxury over-water villas to charming homestays, you don't have to spend a fortune to enjoy a trip to Tahiti, although the island does have a more upmarket appeal. 
The best time to visit Tahiti is in the winter months between May and October. At this time of year, you can enjoy slightly cooler temperatures and lower humidity levels, but there is never a bad time of year to savour this island's blissful tropical climate!
If you're longing to travel to French Polynesia but can't choose which island to visit first, Tahiti is considered the best destination for getting to know the Polynesian culture. With a large population of locals and a cultural calendar filled with events, in Tahiti, you can experience warm Polynesian hospitality and fall in love with the Tahitian traditions of music and dance. 
Things to do in Tahiti
If you travel to Tahiti, be sure to spend a little time in its capital city of Papeete. It might be tempting to head straight to the beach, but a morning or afternoon mingling with the locals and getting a feel for everyday life in Tahiti is sure to be rewarding. Papeete is a vibrant, multicultural place, with excellent restaurants, shopping streets and a bustling harbour. You could spend hours people watching from a cafe terrace or enjoying the street performances at Vai'ete Square come nightfall. One of the best things to see in Tahiti is Papeete's La March Market, a shoppers paradise filled with all kinds of Tahitian goods. Shop for everything from vanilla beans to fragrant monoi oil, along with colourful textiles, tropical fruits and local crafts. Another sightseeing spot to visit in Papeete is the Robert Wan Pearl Museum, especially if you plan on buying a famous Tahitian black pearl during your trip!
When it comes to natural attractions, Tahiti has a great deal to discover. If you're into hiking and want to uncover the island's spectacular tropical landscapes, be sure to visit Les Trois Cascades, situated in the verdant Faarumai Valley. 4x4 tours and guided hikes are popular ways to reach these photogenic waterfalls and are the perfect insight into the natural beauty of Tahiti. Another famous waterfall to include on your tour of Tahiti is Fautaua. Most spectacular during the rainy season (November - April), Fautaua Waterfall is one of the tallest waterfalls in the world, measuring 300-metres in height. This natural spectacle is actually the result of the fast-flowing Fautaua River plummeting down the sheer mountainside into the Fautaua Valley below. At the bottom, you'll find a natural bathing pool, a welcome sight after the 3-6 hour hike required to reach the waterfall!
Another of the best things to see in Tahiti is the famous Arahoho Blowhole, a unique geological feature situated on the north coast. When the sea conditions are right and the swell is big enough, the blowhole erupts with huge sprays of water. A wow-inducing sight, the nearby black sand beach is a pleasant place to spend an afternoon.
Finally, for a perfect overview of the island, taking a guided 'Circle Tour' is one of the most popular things to do in Tahiti. Highlights such as the house of James Norman Hall, Point Venus, the Museum of Tahiti and Her Islands, the Paul Gauguin Museum, and the Harrison Smith Botanical Gardens are usually included on this kind of day tour.
We don't have any trips to Tahiti at the moment.
Subscribe to our newsletter to not miss any trips
In compliance with the Data Protection Regulation, we inform you about your rights in our privacy policy and Cookies policy
Copyright 2013-2023 Exoticca. All Rights Reserved.
Exoticca Travel Canada Inc 229 Yonge St Suite 400 Toronto, Ontario M5B 1N9 Canada