Call us toll-free now
Book with an expert for free:
1 778 807 9750
Too much? We'll call you. Drop your number in the box:
24 hours a day, 7 days a week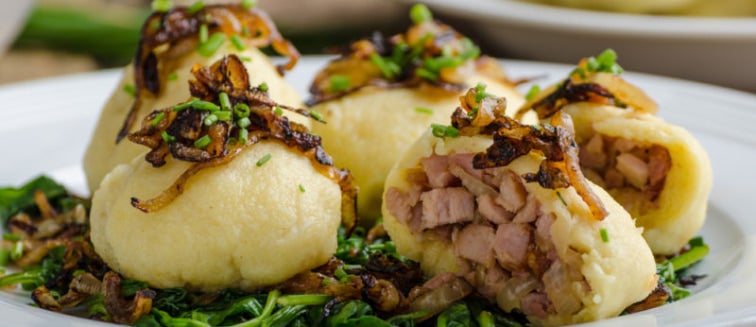 Food In Czech Republic
If you are asking yourself what you can eat in the Czech Republic, you should know that you won't go hungry, as the dishes they serve are large and abundant, perfect for the traveler who has spent the day touring around the country.
The gastronomy of the Czech Republic is influenced by Austrian and German cuisine. Also by the climate and the type of products that can be grown, among which you will find wheat, potatoes, vegetables, and meat. Although the cuisine is varied, the Czech population love meat, particularly veal and pork.
These are some of the dishes you will find in the restaurants and that all tourists should try.
Bramboračka (potato soup)
Some of the most traditional dishes of the Czech Republic are the soups, among which is found bramboračka. This soup is made with potatoes, vegetables, and mushrooms, and seasoned with spices. It is eaten as a starter and is particularly appetizing on cold days.
Koleno (Ham hock)
The koleno is roast ham hock, which is a very popular dish among the Czechs. The meat is marinated in beer and herbs before roasting. It is served in one large piece accompanied by mustard, pickles and Czech bread.
Svíčková na smetaně (marinated sirloin)
Another dish to try in the Czech Republic is svíčková, a very elaborate recipe which is representative of the country's cuisine. It is made with veal sirloin accompanied by a delicious Czech sauce which is prepared with vegetables, and which may vary according to local produce. What is consistent in all of these is the carrot, which provides its a characteristic orange color. This is a very old recipe which dates back to 1826 and the cooking of this dish has not changed since then.
Vepřo-knedlo-zelo (pork roast)
This is the star dish of Czech gastronomy. It is the definitive proof that Czechs love their meat. To prepare this dish, different parts of the pig are used, such as the head, the ham, and the fillet. It is served with cabbage and dumplings as a garnish. Each piece of meat is seasoned with onion, garlic, pepper, and cumin.
Knedlíky
Knedlíky or dumplings are also very popular foods within the gastronomy of the Czech Republic. They consist of pieces of boiled dough and they can be sweet or savory. They are usually used as a garnish on different dishes and can be found in the shape of a ball, or made into a roll to enable cutting. They can also be prepared stuffed with meat, or even fruit when served as a dessert.
Goulash
Goulash is an indispensable dish when eating in the Czech Republic. It belongs to Hungarian cuisine, although the Czech version has nothing to be envious of.  In reality, they are not really alike, neither in their ingredients nor in their presentation. Czech goulash consists of stuffed meat which is accompanied by a sauce and knedliky (dumplings). It is traditional to serve goulash inside a country loaf of bread after removing the dough.
Nakládaný hermelín
The nakládaný hermelín is an aperitif which is very popular in this country. You can ask for it at any pub to accompany a delicious Czech beer. It is a soft-flavored cheese macerated in oil, garlic, chilies and other spices. It is accompanied by Czech bread and pepper or onion.  
Traditional Czech Republic desserts
There are also some sweet treats to eat in the Czech Republic that you will enjoy, particularly if you have a sweet tooth. These are the most traditional.
Trdelník
In the historic center of Prague, there are many stalls selling trdelnik, which is a dough roll that is slowly boiled and pierced with a stick to create a hollow center. It is sprinkled with sugar and dried fruits and can also be filled with ice cream.
Kolache
This is a recipe from Czech Republic gastronomy originating from the beginning of the 17th Century. It was a dessert which was served at weddings in those times. It consists of small bread rolls stuffed with fruit compote.  There is also a savory version which is filled with a base of ham or cheese.
Ovocné knedlíky
Another typical dish from the Czech Republic is ovocné knedlíky which is a type of meatball filled with fruits and covered in cottage cheese or butter. These are also sold covered in cinnamon, chocolate or ginger.
Traditional drinks from the Czech Republic
Czech beer
The Czechs greatly appreciate their beer, and there are ancient factories in existence which date back to the year 993. Czech beer is considered a national symbol and an item of pride for beer connoisseurs.
Becherovka
It is said that the original recipe was a remedy for stomach ache and, over time, it was transformed into what it is today. It is a unique drink and is very representative of the country. It is prepared with a series of herbs and spices that give it a subtle bitter, yet delicious flavor.
The food and drink of the Czech Republic are served in large portions and is very tasty and spicy. This is something that tourists who are aficionados of gastronomy thoroughly enjoy.
OUR BEST TRIPS TO CZECH REPUBLIC
Copyright 2013-2023 Exoticca. All Rights Reserved.
Exoticca Travel Canada Inc 229 Yonge St Suite 400 Toronto, Ontario M5B 1N9 Canada