Call us toll-free now
Book with an expert for free:
1-888-488-0592
Prefer us to call you? Drop your number in the box:
24 hours a day, 7 days a week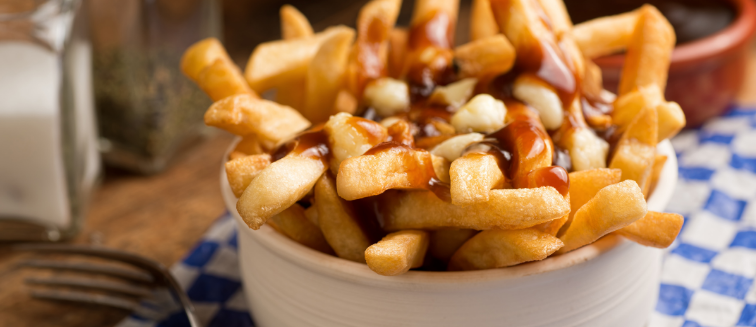 Food In Canada
Canadian cuisine has a variety of ingredients and styles. This is because, in addition to its strong indigenous influence, the country has imported many dishes from the two countries that occupied it in antiquity: France and England. Therefore, the cuisine has acquired dishes such as meatloaf, trempettes and Nanaimo bars, among others.
Its star ingredient, maple syrup, is the flagship of the country. Thanks to its vast territory, covered with green meadows and rivers, Canada enjoys very good meat and fish. Of the latter, the most consumed is salmon, which, depending on the area of the country, can be smoked, fresh or baked. Also, vegetables are not lacking in the typical Canadian diet either.
Typical dishes of Canada
Poutine
Originally from Quebec, this dish is one of the most popular in Canada. It is made up of a french fries covered with fresh cheese curds, that melt with the heat, and a brown gravy sauce. It is one of the most delicious fast foods in the country, so it can be found on street stalls as well as in most restaurants in large cities, including Mc Donalds.
Smoked meat
Known as "boeuf fumé", this type of smoked meat is usually served in Canada as the main ingredient of a sandwich, normally with wholemeal bread. The sandwich is flavored with pickles and mustard sauce. It is very popular with locals, so it can also be found on many street stalls, as well as in cafes and restaurants.
Tourtière
This meat pie, made up of a bread dough stuffed with meat, originates from the time of French colonization, hence it is also known as pâté à la viande. It was introduced mainly in Quebec, although nowadays it can be found in many other cities in the country. Also, although it was a dish that was served in important celebrations, today it is consumed at any time of the year.
Calgary Beef
Canada has very good meat, so it is not surprising that many of its most popular dishes are meaty. One of the best-known areas for meat production is Calgary, where beef is served grilled and either in a hamburger or accompanied by chips and salad. The best area to try it is in the interior of the country.
Fiddleheads
One of the most healthy and tasty dishes in Canada. Fiddleheads are rolled fern leaves and when cooked they have a taste similar to asparagus. They are originally from New Brunswick, on the east coast of the country, although they can be found in other neighboring regions. Ideal to try as a starter, it is a fairly light dish.
Peameal bacon
Originally from Toronto, this dish became famous due to the company William Davies Company. This company was the one that began to market them in the cities. Back bacon is rolled in corn flour and cooked to produce a crispy outside. Peameal bacon can be found in many restaurants in the city, as well as in fast food establishments.
Salmon
Canada is one of the countries where salmon is harvested and exported most prolifically. It can be found throughout the territory, although one of the best-known areas to try smoked salmon is in the Bay of Fundy, near the Atlantic coast. In the Pacific, on the other hand, wild salmon is usually eaten, either fresh, cut into slices or roasted. Salmon caviar, dehydrated salmon strips, salmon burgers or marinated steaks are also sold in this area.
Maple syrup
Maple syrup is one of the most popular products in Canada. In fact, the leaf of this tree is the one that proudly shines on the national flag. It is an amber colored syrup that is extracted from the sap of maple trees. Its flavor is sweet, so it is often used in desserts such as waffles, crepes, and pancakes. As an emblem of the country, this viscous liquid can be found easily in the nation's supermarkets or even in specialist maple syrup stores.
Trempettes
Trempettes are one of the most typical sweet dishes in Canada. They can be eaten at breakfast or as dessert. They are crispy, thick pancakes and are usually accompanied by a piece of butter or cream and completely covered with maple syrup, the most popular condiment in the country.
Nanaimo bars
This cake-shaped dessert is originally from Nanaimo, British Columbia. It is composed of a crumbled cookie or waffle base, covered by a layer of custard and, at the top, molten chocolate. Depending on where it is consumed, this cake may come in different variations. In some restaurants, they add mint to give a touch of freshness to its sweet taste.
Copyright 2013-2023 Exoticca. All Rights Reserved.
80 Southwest 8th Street Brickell Bayview, Miami, FL 33130, United States