Call us for free now
Book with an expert for free:
+44 20 8068 3176
Prefer us to call you? Drop your number in the box:
24 hours a day, 7 days a week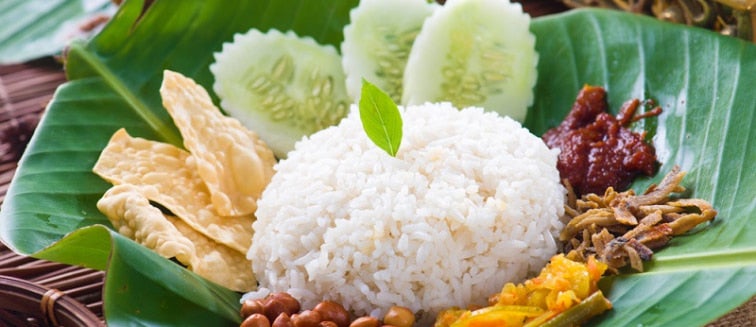 Food In Malaysia
This is a truly fascinating country, so when choosing what to eat in Malaysia, keep in mind that there are flavours which will take you straight to paradise. Malaysian food is spectacular, so be ready to savour delightful flavours everywhere you go. 
Typical Malaysian dishes are abundant and varied. There is much to choose from, but don't feel overwhelmed by it all. Below, you have a summary of the most traditional Malaysian food which is definitely worth trying.
Wantan Mee
This typical Malaysian dish consists of yellow noodles of the Mee type with vegetables, to which are added slices of roast pork and dumplings. You can find them in soup, or dry. The dry version is served with soy sauce.
Fried Noodles
Of all there is to eat in Malaysia, fried noodles are one of the star dishes. They are prepared stir fried with vegetables and soy sauce, and are accompanied by tofu, fried chicken, seafood and different sauces. There are different types of noodles, yellow noodles which are long and rather thick, fine rice noodles or Mee Hoon, thick rice noodles or Kuey Teow, and the Glass Noodles, also known as cellophane noodles.
Nasi Goreng
This is one of the most popular typical Malaysian dishes and is based on fried rice. There are different varieties, and Malaysians eat it for breakfast, lunch and dinner. The rice used is Nasi Lemak, which is a typical curry rice and it is served on banana leaves.
Dumplings
I am sure that you are already familiar with dumplings, those little balls of dough stuffed with beef, chicken, fish or vegetables. Dumplings can be boiled, steamed or fried. They are one of the dishes to eat in Malaysia and are very easy to find everywhere.
Roti
More than a typical Malaysian dish, the roti is a type of flat bread originating from Hindu cuisine.  Its different variants, of which there are many, are always served with curry. In general, this bread is eaten for breakfast and dinner, although you can also find it with the midday meal.  
Bun
Talking of bread, the Bun is a type of bread stuffed with pork, beef, chicken, vegetables, and even with sweet fillings. This accompaniment to Malaysian cuisine is steamed and is a classic which you will find in any restaurant or on any food stall.
Naan
Another variety of bread, this time it is purely Hindu in style and served with curry. Its preparation is unusual, as it has to be cooked inside a clay drum. The dough, made from wheat flour, can include cheese, garlic and carrot.
Murtabak
Continuing with the variety of typical Malaysian dishes, you will find that the Murtabak is a kind of tortilla. This dish consists of a dough stuffed with beef, chicken, pork or vegetables which is then cooked.
Laksa
If you like soups, the Laksa is the dish to eat in Malaysia, as it has a great variety of flavours. The soup is prepared with coconut milk which is cooked with fish stock and tamarind sauce. The soup dish contains noodles and vegetables, and it can also contain chicken or seafood.
Popiah
The popiah is a typical dish to eat in Malaysia which may remind you of spring rolls. The dough is made with wheat flour, and they are served with a sweet or spicy sauce. They are filled with soy bean sprouts, lettuce, egg, carrot and vegetables and are steam-cooked.
Within the sweets and desserts section of Malaysian cookery there are also some delicacies. Take note of the summary below.
Kaya
This typically Malaysian food is a marmalade made with coconut milk, egg and sugar. Sometimes banana leaf is used to give it a greenish colour. If you get the opportunity, ask for it for breakfast and try it spread on a Roti. You will never forget the taste.
Dodol
If you like desserts and sweets, Dodol are prepared with coconut milk, rice flour and sugar cane. You can get them in different flavours and they can be bought loose or in packets. Many travellers take them home as sweet gifts from such an exotic country as Malaysia.
Cendol
This dessert can be a sweet or a drink. It is prepared with coconut milk, palm sugar, beans, corn, crushed ice, colouring and gelatine in the form of noodles, which can be green or black. You can find it easily on the street food stalls and although its appearance may seem a little unusual, due to the gelatinous nature of the noodles and the dark green colour, it has a fantastic flavour.
Now that you know about the most important typical dishes of Malaysia, including breads and desserts, don't miss the opportunity to try each one. The culinary journey that this Asian country has prepared for you to try is bound to leave a delicious taste in your mouth.