Call us for free now
Book with an expert for free:
+44 20 8068 3176
Prefer us to call you? Drop your number in the box:
24 hours a day, 7 days a week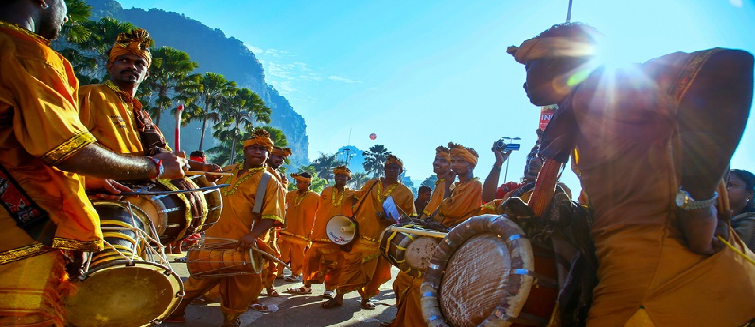 Events and festivals in
Malaysia
Events and festivals in Malaysia
The popular festivals in Malaysia are many, and they are varied. There is an event or celebration on practically every month of the year. Chinese influence on the Malay culture is evident in festivities such as the Chinese New Year, which is celebrated at the beginning of each year.
Each month offers the visitor one or more popular festivals, each more picturesque and lively than the last. Take note of the following events in Malaysia so that you can programme your trip according to which ones you like the most. 
January - Chinese New Year
The Chinese New Year is celebrated from 1 January to 28 February, and it begins with the lunar calendar. During the celebrations there are parades, culinary events, music, and of course, the dragon dance. If your travel plans allow it, don't miss out on this celebration. It is full of colour, lights and happiness.
February - Kek Lok Si Temple
February in Malaysia is full of festivities that you can't afford to miss. We'll start with the Malaysia Super Sale, which runs from 1 to 28 February. This is an event for shopping aficionados with discounts of up to 70%. Alongside this, from 4 to 19 February, the Kek Lok Si Temple celebrations take place. This is the temple of the supreme blessing, and is adorned with over 10.000 lights.
March - East Wind Festival
Among the Malaysian events celebrated during March, you will find the East Wind Festival which takes place from the 1 - 3 of the month. To celebrate this festival, Malaysians put on fishing competitions, buffalo races, tractor decoration and they even choose the strongest farmer. There is also the Kite Festival, batik painting exhibitions, traditional theatre and, of course, many traditional Malay food stalls.
April - Vaisakhi
The Vaisakhi is another popular Malaysian festival that you should not miss. It is celebrated on 14 April and is organised by the Sikh community. The birthplace of this festival is the Punjab, India, although Malaysia celebrates its own version of these festivities.
If you have a desire for more festivals, you can also attend the Sarawak Folklore Festival from 26 – 28 April. Apart from traditional music, there are cookery competitions, and Miss Culture is chosen from 15 finalists.
May - IFTAR
The IFTAR celebrations take place in Kuala Lumpur from 11 May to 26 June. This is a very important festival for the Muslim community. During this event, activities are organised to highlight the value and significance of Islamic culture and religion.
At the same time, within the popular festivals of Malaysia, Wesak is celebrated on 29 May. This is a Buddhist celebration where, each year, thousands of devotees celebrate this special day through activities such as decorating the temples, giving help and donations to those in need, meditation and vegetarian food stalls.
June - Malaysian Festival of Colours
Between the end of May and the beginning of June, the Citrawarna, or Malaysian Festival of Colours takes place in Kuala Lumpur. This festival has the distinctive feature of having been created for foreign visitors. Supported by the Ministry for Tourism, the events programme offers folklore and gastronomic demonstrations from the different Malaysian states. 
July - Penang Bon Odori
During the entire month of July one of the most traditional Malaysian festivals takes place: the Penang Bon Odori. This festival is a Japanese Buddhist celebration to honour the spirits of the ancestors. It is a kind of carnival with local food stalls, firework displays and a wide diversity of games.
August - Merdeka Festival
In August you will be able to attend the Merdeka Festival. During 30 days the whole country commemorates Malaysia's independence from Great Britain which took place on 31 August 1957.  At the same time, there are other popular festivals in Malaysia which have a Chinese character, such as the Penang Hungry Ghost Festival.
September - Full Moon Festival
Continuing with events in Malaysia, in September you can attend the Halfway to the Full Moon Festival. This celebration coincides with the 15th day of the eighth month of the lunar month, which is September in the solar calendar. During this night, people go out into the street to watch the moon and eat a sweet which is traditional on this date: moon biscuits.
Octubre - Dwali
Diwali or Festival of Lights, is celebrated on 15 October and November. During this festival, two Hindu gods are worshipped: Kali and Lakshmí, the wife of Vishnu. In this same month, celebrations are also held for the Nine Emperor of Gods Festival, which is of Chinese origin, and the Deepavali Festival of Lights, which is of Hindu origin.
November and December - Pesta Pulau Pinang
If you are in Malaysia from 1 November to 31 December, you will be able to attend the Pesta Pulau Pinang celebration. This was created by the late Tun Dr Lim Chong Eu, and began in December 1970 as part of the endeavour to create a healthy environment for businesses. Consumer goods and commercial items are exhibited in an environment which is similar to a carnival during the holiday period.
As you can see, there are many popular festivals in Malaysia. They are all varied and distributed throughout most of the year. Pick up your calendar and take note of the ones you like best so that you can plan your trip to this marvellous country.