Call us for free now
Book with an expert for free:
+44 20 8068 3176
Prefer us to call you? Drop your number in the box:
24 hours a day, 7 days a week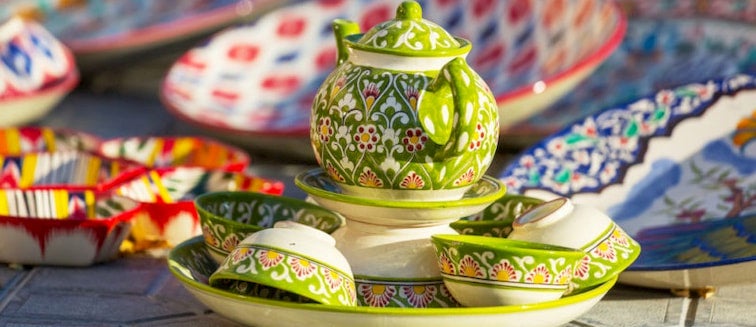 Shopping in Uzbekistan
If you are looking for souvenirs from Uzbekistan you should read this.
Knowing what to buy in Uzbekistan is something that is better thought about before the trip.  You need to know what the typical products of the country are to be able to choose between the many souvenirs of Uzbekistan that you will find, beyond the typical fridge magnets.  This is still a relatively unknown country for travellers.  It is located in Central Asia, in the heart of the old Silk Road.  It is a destination that is attracting more and more tourists and it is likely that Uzbekistan will experience a significant tourist boom.
Important information
If travelling to this obscure country, you need to know that the official currency is the "som" (pronounced "sum") although they accept dollars and euros.  They don't always accept credit cards and there are hardly any cash machines, so it is better to take cash.  If travelling from the euro area, you don't need to buy dollars because you would lose money.  You can change money into soms at any hotel.  You can also use euros to pay in shops for souvenirs of Uzbekistan and handicrafts.  In general, prices are low and bargaining is used.
You won't find shopping centres or franchises of large brands.  Trading and part of the social life is done in markets and bazaars, perfect places to find typical products from Uzbekistan.
Clothing
The clothing is original, elegant and beautiful.  It is characterised by its embroidery and decoration.  The country has its own kind of embroidery, unique and typical, which is popular throughout the world.  It is used to decorate a multitude of garments and accessories such as bags or rugs.  Uzbekistan's Suzani embroidery is used. The best embroidery can be found in Samarcanda and Bukhara.  Bukhara in particular, is a town famous for its gold thread embroidery.  Another region that stands out is Kashkadarya where they make bags with a quirky embroidery in warm colours.  There are other widely used garments such as the kamzul and the zarchapan which are highly decorative with gold thread, both for women and men.
Another thing to buy in Uzbekistan is a type of hat known as a Tubeteika.  There are many types of Tubeteika, and they can be found in different colours and designs.  Each region of the country has its own version of the headwear, which is undoubtedly one of the most identifying garments of the people of Uzbekistan.  The Chust is the most popular design, which is black and white, but they also sell ones that are colourful, gold embroidered and even with precious stones.
Handicrafts: wood and metal
The traditional Uzbek knife is the pichok and it is common to gift this between men. The best pichoks are manufactured in the Chust region.  They are characterised for being lightweight and by their curved blade.  They have an inscription that says  Estalik uchun Chust ("In memory of Chust"). The artisans of Uzbekistan are also highly skilled at working with metal and wood. Some jewellery stands out such as a type of earrings known as Kashgar-Boldak. Wood carvings are done to perfection since it is an ancient tradition that has been passed on from generation to generation.  It applies to different decorative items and homeware.
Handicrafts: ceramics
One of the preferred souvenirs of Uzbekistan by tourists are the ceramic items.  All those who love ceramics should visit the city of Rishtan.  There you will find numerous shops selling ceramic items painted in blues and turquoises.  Another opportunity not to be missed is to buy an "obdasta urdak" in the shape of a duck and decorated with traditional Uzbek patters, such as the almond flower and pomegranate.
In the town of Guizhduván there is a huge ceramics centre, owned by the Narshullaev family.  This generation of artisans know all of the old secrets of the ceramics of Uzbekistan.  Here you will find items with different decorative designs and ceramics of different colours.
In the bazaars you will often find small hand painted figures which are excellent souvenirs of Uzbekistan.  They represent all types of motifs, from animals to public figures.  The lagan plates a decorative and painted with the typical and traditional shade of blue.  They are designed to be hung on the walls.  They are especially popular in the city of Jiva.  The Chiroki lamps and the Khorezm Hum pots are exotic items that reflect the soul of the East.
Rugs
We can't avoid mentioning the famous typical rugs and they are the perfect gift to buy in Uzbekistan. Each region has its own pattern, design and colours and these rugs can be used for the floor or to use as a tapestry.
Other souvenirs from Uzbekistan
Those looking for something more original, could focus their attention on the country's traditional musical instruments, made by hand, or the famous Samarcanda wine.
OUR BEST TRIPS TO UZBEKISTAN