Call us toll-free now
Book with an expert for free:
1 778 807 9750
Too much? We'll call you. Drop your number in the box:
24 hours a day, 7 days a week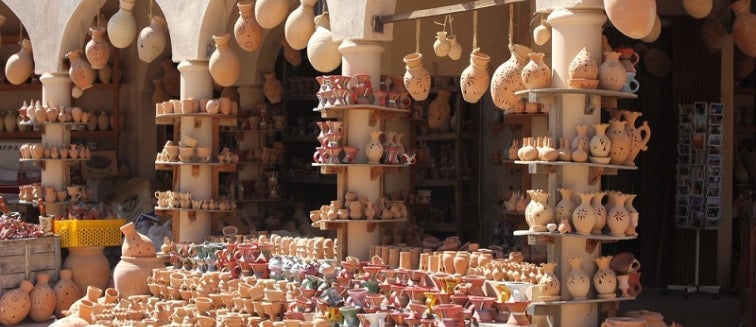 Shopping in Oman
If you are looking for souvenirs from Oman you should read this.
The typical products to buy in Oman have all of the charm and exoticism of the Arab countries. The Sultanate of Oman offers such a variety of souvenirs that it will be difficult for a traveller to decide which to buy.
If there is a typical product you will find in Oman as well all the rest, it is incense.   This country has been a renowned centre of the production and selling of incense since ancient times. But as well as incense, copper and silver crafts, perfumes, fabrics, pottery and sweets, fill the souks and market of this exotic Arab country.
Travellers should be reminded that the best way of finding souvenirs in Oman is by visiting one of its souks. Travelling to Oman and not haggling in its markets and souks is unforgivable, it's there you can find the artisans and where Oman's commercial life takes place.  The Al Hofah souk, to buy traditional fabrics and high quality metal work, and in the Salalah gold souk, where you can buy gold jewellery of a very high quality and purity.
But we are going to summarise the typical products of Oman for you that you could take home as a reminder of your trip and why there are so highly valued.
Incense
The use of incense in Arab and Asian countries is well known, but Oman is also one of its main producers. If you like using incense, this is one of the things to buy in Oman for personal use, or also as a gift. We aren't going to enter into the healing powers of using incense, since just for its fragrance it is worth making space in your suitcase for.
Pottery
Omani potters make traditional pottery to bring life to bowls, plates, pots, bottles, incense burners and a multitude of utensils which are as practical as decorative. In Oman you will find all types of pottery work, from the most traditional and simple, to the most elaborate.
In this sense, the most representative pottery to buy in Oman is in Bahla, a mud brick town, where the quality of the clay is higher. This town isn't just worth a visit to buy its pottery, but also to lose yourself in the labyrinth of streets, and to see the mud brick houses.
Palm leaf handicrafts
Omani artisans use leaves from the abundance of palm trees that can be found all over the country, to make baskets, bowls, and other practical utensils of great beauty. The objects you will find are made in the traditional way, including the natural dyes for decoration. Another of the natural fibres used for wickerwork is ghadaf, a typical desert plant.
Mandoo, or wooden chests
In Oman, the tradition of working with wood is age-old. Artisans model and engrave all types of utensils and objects, but also large windows and doors, as well as all types of furniture and home accessories.
If there is a typically Omani creation, it is the Mandoo. Mandoos are wooden chests, finely engraved and decorated, which are used to store jewellery, food or even clothing, depending on their size. Undoubtedly, this is one of the souvenirs to buy in Oman with the biggest following. As well as being a perfect reminder of your trip, they are also a valuable, practical and beautiful piece of craft work.
Khanjar, the typical Omani dagger
If you really want to take home one of the most valuable souvenirs from Oman, the Khanjar is the best choice. The Omani dagger is more than a gift, in reality it is a national symbol, in fact, it appears on the country's flag. It's curved shape, looks like the letter 'j', and  gold, silver, copper or brass is used for the blade or metal part, and wood is used for the handle, which can also be made of ivory. Obviously there are ones made from cheaper materials at a more accessible price.
Gold and silver jewellery
Silver and gold are the typical products of Oman that show the economic level of the country. Silver jewellery abound in the form of necklaces, bracelets, rings, earrings, anklets and much more.
As well as jewellery, artisans also use silver to make jewellery boxes, perfume bottles, incense burners and the typical Omani coffee pot, the dalla.  The silver is worked in such a way that the objects display beautiful inscriptions and typical engravings of the culture of the country.
In the Gold Souk, you will see everything from bangles to heavy necklaces,
Now you know what to buy in Oman and which are the typical products, save part of your trip to lose yourself in some souks and discover the country's wonderful crafts.
Copyright 2013-2023 Exoticca. All Rights Reserved.
Exoticca Travel Canada Inc 229 Yonge St Suite 400 Toronto, Ontario M5B 1N9 Canada