Call us toll-free now
Book with an expert for free:
1 778 807 9750
Too much? We'll call you. Drop your number in the box:
24 hours a day, 7 days a week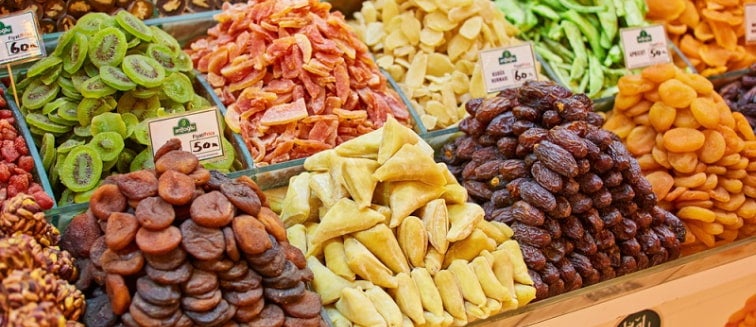 Food In Oman
During your trip you will find many typical dishes to eat in Oman, because its cuisine is very tasty and varied. Spices take centre stage in Omani cuisine, as do chicken, lamb, rice and vegetables.
The gastronomic diversity of Oman makes it difficult to classify what their typical dishes are in just a few lines. However, we are going to introduce you the essential dishes to eat in Oman if you visit the country.
Makboos
This typical dish of Oman is also traditional in many Arab countries; in fact, its origin is in Yemen. The dish is made with spiced basmati rice, which is accompanied by chicken and vegetables. The chicken can also be substituted with another type of meat, such as lamb.
The important thing about this dish is the spices, since it uses black pepper, cardamom, cloves, cinnamon, saffron, nutmeg, lime and laurel. This mixture of spices gives a unique flavour to the dish, which is also served with homemade tomato sauce, pine nuts, dates and almonds. It is accompanied by traditional Omani bread, salad and sometimes also yogurt. A delicacy which you will undoubtedly want to try during your trip.
Shuwa
This is another typical dish to eat in Oman where spices are a must. This time it is grilled meat, but the difference is the fact that this meat is marinated with spices for one or two days.
The meat, once marinated, is wrapped in palm leaves and placed in an oven which has been dug in the sand. The result is an incredibly tasty meat.
Meshkak
This is another dish to eat in Oman and you which will see everywhere; they are brochettes of marinated meat. To prepare the chicken, beef or lamb meat, it is marinated in spices and then grilled, inserted in iron rods.
You will find it in all the restaurants, and above all you will see that it is cooked a lot during the local festivities.
Jareesh
Among the typical dishes of Omani cuisine, the jareesh or harees is a dish made from roasted boiled wheat, to which beef or chicken is added.
To prepare it, the wheat is soaked overnight, the next day it is boiled next to the chosen meat, over a very low heat, and butter is added. The resulting broth is beaten, to make a kind of porridge, to which cardamom, parsley, cinnamon and even sugar can be added.
Mashuai
If you like fish, this is a dish which you must eat in Oman, because it is grilled swordfish with lemon sauce, of which the result is delicious. Swordfish, olive oil, cumin, coriander, cinnamon ginger, turmeric and salt are used to prepare it.
This dish of spicy fish is served with white rice, which is prepared in the traditional way, that is, with butter, mustard, pepper and turmeric. The dish is served with chopped cashews, lemon juice and fresh curry leaves.
Omani Bread
Bread is essential in the cuisine of Oman, as many of the traditional dishes are accompanied by this food. Omanis have several types of traditional breads, one thick and circular, and the other thin and crunchy of smaller size. You will also find the pitta bread which is typical of the Arab world, which they will serve you in most restaurants.
Halwa
Arriving at the desserts, halwa is one of the delights to eat in Oman which you cannot miss. This dessert, made with honey, eggs, rose water, nuts and spices, is served in a bowl with several spoons for sharing. This traditional dessert is served with dates, the fruit of the palm tree and the famous coffee, the kahwa.
Dates
This fruit, provided by the palm trees which are abundant in Oman, is dried and served as a dessert or welcoming dish in most homes in the country. They come in different sizes, colours and textures, and are sometimes mixed with ground coconut and sesame paste. Many Omani desserts contain these famous dates as part of their ingredients, as well as nuts.
Kahwa
As we already mentioned, coffee, which in Oman is called kahwa, is part of the culture of the country. This delicious coffee, whose cultivation, drying and treatment is traditional, already has a special flavour. In addition, to prepare it in the traditional way, the coffee beans are roasted and ground, and then mixed with rose water, saffron and cardamom. The result is a delicious coffee with a lot of flavour.
Finally, you should know that Omani hospitality is legendary; wherever you go, they will offer you a cup of kahwa and dates which it would be rude to refuse. 
Copyright 2013-2023 Exoticca. All Rights Reserved.
Exoticca Travel Canada Inc 229 Yonge St Suite 400 Toronto, Ontario M5B 1N9 Canada