Call us for free now
Book with an expert for free:
+44 20 8068 3176
Prefer us to call you? Drop your number in the box:
24 hours a day, 7 days a week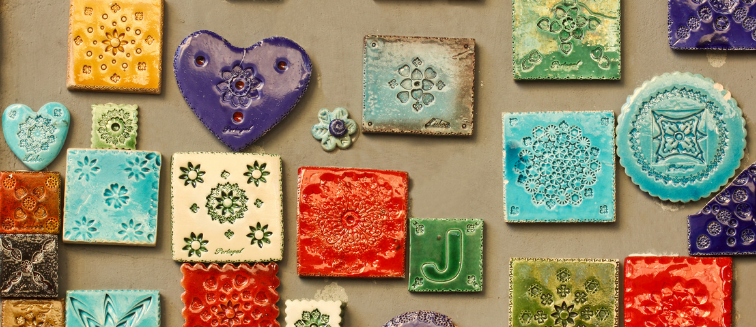 Shopping in Portugal
If you are looking for souvenirs from Portugal you should read this.
If you travel to Portugal, you'll probably find it hard to resist a spot of shopping during your trip! With cosmopolitan cities, filled with shopping streets as well as the authentic craft markets found in some of the smaller towns, you'll be spoilt for choice when it comes to finding the perfect keepsake of your time in Portugal. With a rich cultural tradition of arts and crafts and an array of delicious edible delights, choosing the best Portuguese souvenir can be tricky. Some of the most popular things to shop for in Portugal range from embroidered goods and handpainted ceramics to tinned foods, so there will be plenty to fit into your suitcase!
Azulejos Tiles
If you've visited the major cities of Porto or Lisbon, you'll likely have come across the beautiful Azulejos tiles that decorate many of these cities' most emblematic buildings, such as churches and train stations. The Azulejos tile has a long history in Portugal, dating back to the Moorish invasions of the 13th-century and today these tiles are an integral part of Portuguese culture. Available in an array of intricate and eye-catching designs, the small size of these souvenirs make them the perfect keepsake to take home with you. Both Lisbon and Porto are home to a number of authentic tile shops where you can buy traditional Azulejos. 
Embroidery
Portuguese embroidery is famous throughout the world and the intricate designs have been replicated in modern fashion for years. For authentic embroidered goods, there's no better place to buy Portuguese embroidery than in Portugal itself, and you'll find all manner of embroidered souvenirs if you go shopping in Lisbon, Porto or any other major city. In terms of the most popular designs, colourful stripes and Barcelos Roosters are two favourite motifs you'll see time and time again. Tea towels, tablecloths and scarfs are just a handful of the embroidered souvenirs you can take home to remember your trip to Portugal.
Barcelos Rooster
A national symbol, the Barcelos Rooster is one of the must-buy souvenirs in Portugal! Although you'll find this cheerful little chicken on all kinds of Portuguese wares, the ceramic statue is the most sought-after souvenir and is sold in gift shops across the country. Colourfully painted with hearts and patterns, the rooster has its origins in a popular folktale from the town of Barcelos and symbolises the Portuguese passion for life.
Tinned Sardines
A little taste of Portugal that can fit in even the smallest suitcase, tinned sardines are one of the most popular Portuguese souvenirs! As one of Portugal's most quintessential dishes, sardines are an important part of the local culture and there's no doubt you'll have fallen in love with these salty fish by the time your trip to Portugal comes to an end. Sold throughout the country in supermarkets, delis and petiscos bars, many sardines are canned in pretty packaging and make the perfect gift for foodie friends back home!
Port Wine
If you visit Porto during a tour of Portugal, you cannot miss the chance to taste the authentic Port wine that is produced here in the cellars that line the banks of the Douro River. From traditional ruby to rarer white varieties, choose your favourite before purchasing a couple of bottles to take home with you and enjoy the rich flavours of Portugal long after your trip has come to an end!
Cork Products
The world's leading producer of cork, you'll find this versatile material used in all manner of products if you travel to Portugal! Popular cork souvenirs include handbags, backpacks, pursues, jewellery and footwear. In fact, if you travel through the Alentejo countryside of southern Portugal, you'll spot large plantations of cork trees and be able to see where these popular souvenirs come from. Cork products are the ideal Portuguese souvenir since they are eco-friendly and sustainable.
OUR BEST TRIPS TO PORTUGAL