Call us for free now
Book with an expert for free:
+44 20 8068 3176
Prefer us to call you? Drop your number in the box:
24 hours a day, 7 days a week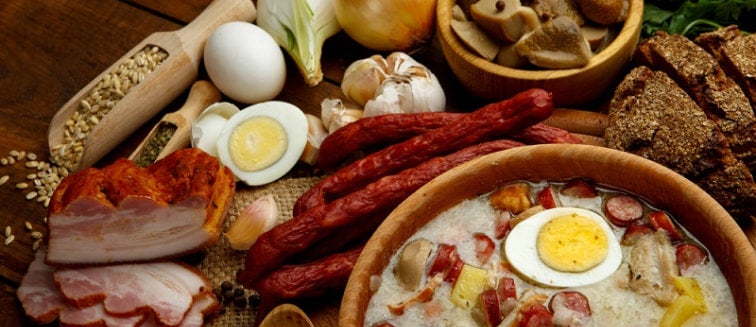 Food In Poland
Polish cuisine is very influenced by German and Slavic cuisine, therefore, when it comes to knowing what to eat in Poland, you have to keep in mind that it is mainly a very taste-rich and high-fat food.
Polish food also has Turkish, Hungarian, Jewish, Armenian and even French influences. This mixture makes the typical dishes of Poland varied and very substantial. Take good note of the main typical dishes which you will find during your trip, and which you should try.
Pierogis
This typical Polish dish consists of pastries stuffed mainly with meat, mushrooms, potatoes, and also cured cheese or even cottage cheese. If you add a touch of blueberries or vanilla, you also have sweet versions with sugar on top.
Ruski
Something which you must also eat in Poland is this giant ravioli stuffed with meat. You can also find it stuffed with cheese, mushrooms and cabbage. A culinary delight in the Polish style.
Golonka
If you like roast beef, be sure to try this typical Polish dish, which consists of baked pork knuckle. For its elaboration fermented cabbage is used and it is accompanied by vegetables.
Borsch
Another dish to eat in Poland, this time as an entrée, is borsch, a beet soup, to which a giant croquette is sometimes added at the time of serving.
Zurek soup
Continuing with the soups, Zurek is prepared with rye flour, mushrooms, sausages and boiled egg. This is one of the typical Polish dishes which is most consumed in winter, because it is so caloric that it is perfect to kill the cold.
Bigos
This dish, with a clear German influence, is a stew of meat and sauerkraut (sour cabbage).
Its preparation is slow and can take three days for all the preparations; it can also include bacon, onion, dried plums and also red wine.
Botwinka
Another traditional Polish soup is this cream made from cooked beets which is typical of the summer months. Also in summer, you can order Chlodnik, a cold beet soup with yogurt, in the style of gazpacho, which is very good.
Kolet schabowy
This pork chop, very similar to the Wiener Schnitzel typical of Germany, is another of the rich things to eat in Poland, especially if you love meat.
Kasza gryczana ze skwarkami
Within the food of Poland, this dish is made from buckwheat with pork rinds. It is a very nutritious and caloric recipe, like all Polish cuisine, which also contains kefir and sausages.
Kaczka z jabłkami
More delicacies than food in Poland: roasted duck with apples or Kacza z jablkami. For the preparation of this typical dish, duck, butter, marjoram, rosemary, salt and pepper are also used. All this is placed in the oven and served with roasted apples.
Sztuka mięsa
If you know the French ragout, this typical Polish dish is very similar. To cook this dish cooked beef is used, to which a horseradish sauce is added.
Gulasz
The Polish goulash has beef, onion, pepper and paprika, as in most Eastern European countries. Sometimes it is served with spaetzle, a kind of small and tasty gnocchi, or with salad of potatoes and parsley.
Gołąbki
You will also find it with the name of Golumpki, and it is a typical Polish dish based on cabbage leaves cooked with meat, tomato sauce and rice.
Placki kartoflane
The Ziemniaczane are potato pancakes, bathed in tomato sauce and grated cheese. They also have pickled cucumber and vegetables with sour cream. It is one of the typical dishes to eat in Poland with a more clear German origin.
Zapiekanka
As a snack or quick dinner, you can find this invention of Polish food which consists of a kind of baguette with mushrooms, vegetables and cheese. You can also add ham, sausages or whatever you prefer.
Naleśniki
They are similar to crepes and are filled with cottage cheese or fruit; you can also find them with extra cream and sugar.
In addition to the main dishes and snacks, in Poland, you also have a variety of desserts and cheeses. As for the cheese, you can't miss out on trying the Oscypek, cured and smoked sheep's cheese. In the dessert menu, you have the Faworki (fried cupcakes), the Galaretka (fruit jelly), the Makowiec (poppy seed cake), or the Szarlotka, a delicious apple pie.
Accompany your culinary journey with a delicious Polish beer, such as the Tyskie, the Zubr or the Tatra. There are plenty of varieties of beers in Poland, but these three are the ones which have won the most awards and recognition. And if you don't like beer, don't worry; that doesn't detract from the delicious taste of this country's cuisine.