Call us for free now
Book with an expert for free:
+44 20 8068 3176
Prefer us to call you? Drop your number in the box:
24 hours a day, 7 days a week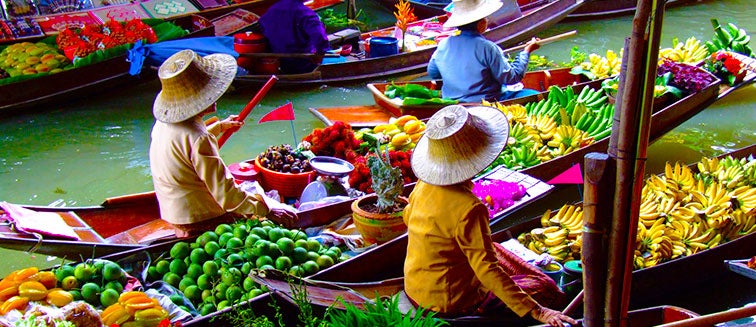 Food In Thailand
The gastronomy of Thailand is one of the richest in the Asian continent. It is characterized by its different textures, aromas and intense flavours. They are able to mix sweet with bitter, salty and spicy resulting in one of the tastiest and most exotic cuisines. Its main ingredients: egg noodles, rice, soy and vegetables make it possible to have a healthy diet during your trip. Thai cuisine is also popular worldwide.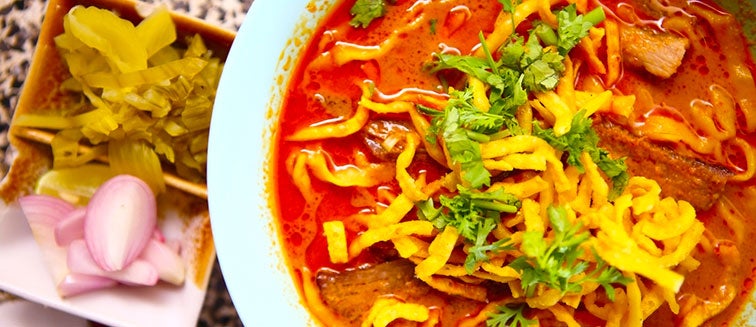 Khao Soi
This dish is very common in northern Thailand, especially in Chiang Mai, where it is common to find it on street stalls. It is a soup of cooked, crispy egg noodles bathed in coconut milk, spices, vegetables and topped with meat or chicken. It is sometimes a little spicy, but not at all overwhelming.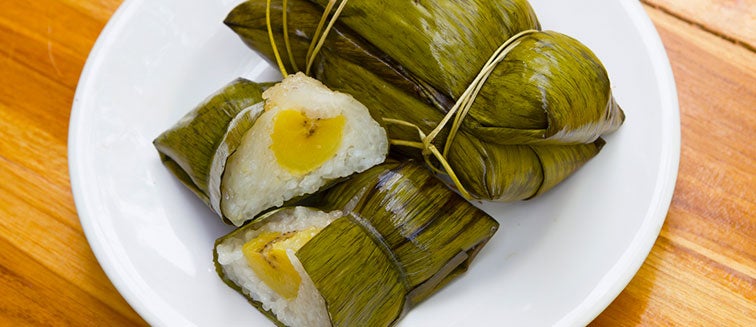 Khao Tom
Khao Tom is a delicious Thai dessert. It consists of a mass of rice wrapped in banana leaf. In some areas of the country, it acquires a bluish colour because flowers are used to dye the rice. It can be served sweet, with coconut milk and banana; or salty, with pork fat and black beans.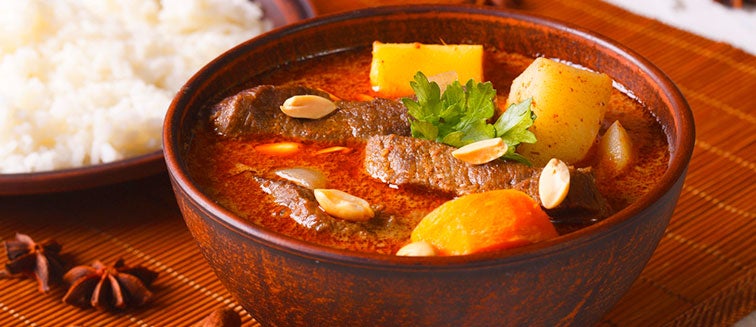 Massaman Curry
This curry dish can include meat, chicken, tofu or pork. The sauce is made of coconut milk, cardamom seeds, palm sugar, cinnamon, chopped peanuts, potato, tamarind and bay leaves and is usually served with rice.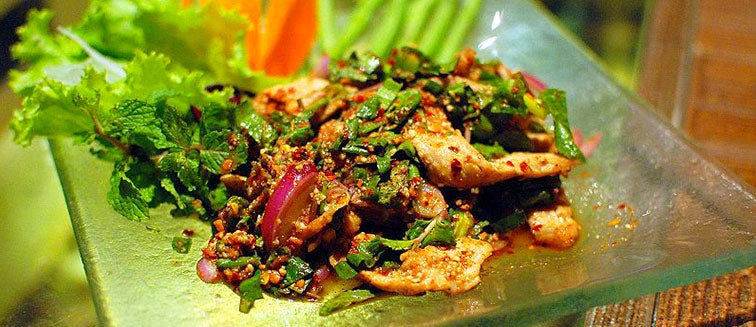 Nam Tok
Better known as nuea yang nam tok, this dish contains veal, chicken or pork. It can be served in different ways. For example, as a salad with roasted and ground rice, or in a soup with fish sauce, cilantro, lemon juice or onion.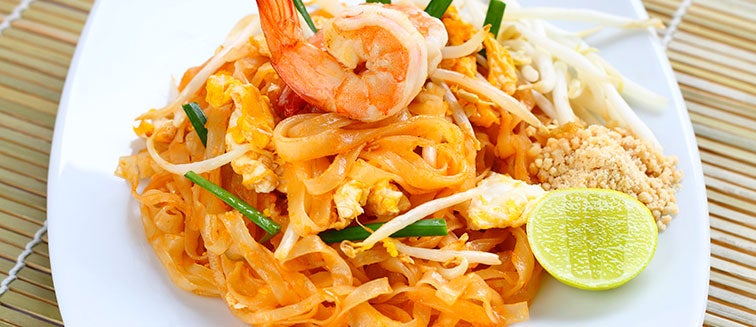 Pad Thai
This is the most typical dish in Thailand, so you will find it in most restaurants. Although the recipe varies, depending on the region, the base is always the same: fried noodles, accompanied by soy, vegetables, fish sauce, nuts and prawns, meat or tofu. There is also vegetable versions that omit the meat or fish. A spicy sauce is sometimes added on top.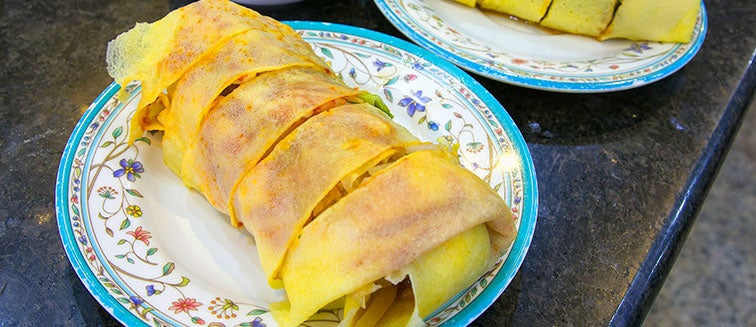 Poh Piah
Although this dish is originally from Singapore and Malaysia, Thais have adopted it as their own and it is very common to find it in restaurants. Poh Piah is spring rolls made with wheat flour and coated with sweet or spicy sauce. Its interior is usually made up of vegetables and strips of pork.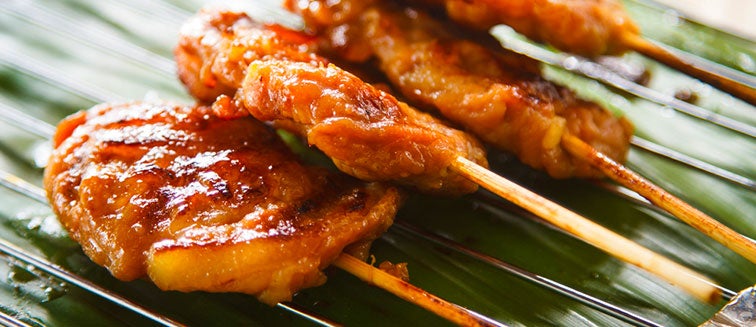 Satay
These popular pork skewers are dipped in peanut sauce. It is of Indonesian origin, but in Thailand, it can be found on many of the menus as starters and on the street food stalls. Chicken is the most common version, although there are also pork, fish, or squid. You can ask for more spice if you prefer.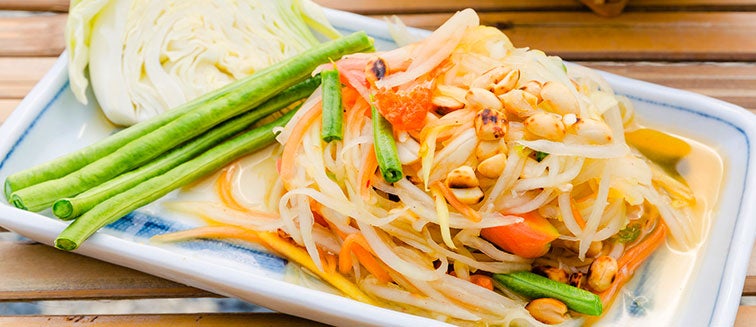 Som Tam
One of the tastiest salads in Thailand, but also one of the spiciest. It is made up of papaya mixed with fresh vegetables such as tomatoes, carrots, lettuce, soy or Thai green beans. It is dressed with fish soup, chilli and garlic. This dish is typical of northern Thailand.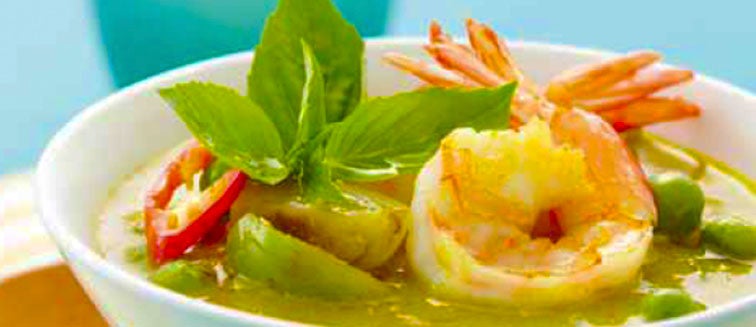 Thai Green Curry
Gaeng kiew wan means green curry in Thai. It is one of the most traditional dishes in the country. You can choose a meat or fish version, and it is almost always served with white rice. To add flavour, it is accompanied by a fish sauce, coconut milk, kaffir lime, onion and spice.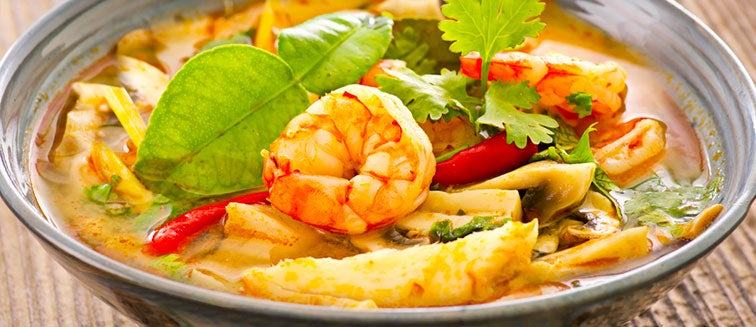 Tom Yum
Thai soup is another of Thailand's best-known dishes. The recipe is based on lemongrass, lime juice, fish sauce, tamarind, kaffir lime, galangal, chillis and shallots. Meat or vegetables of your choice are they added such as shrimp, seafood, fish, meat, chicken or mushrooms.  
OUR BEST TRIPS TO THAILAND