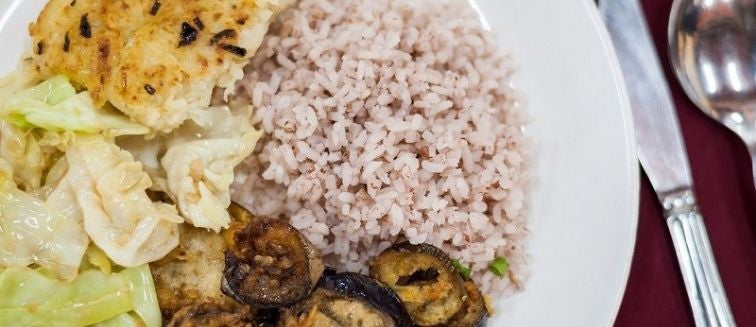 Food In Bhutan
If you have no idea what to eat in Bhutan, we tell you that Bhutanese cuisine generally has a lot in common with Asian cuisine. The main difference is that in Bhutan, pepper and rice are more commonly used, as well as potatoes, because they also have Indian influences.
The base of the Bhutanese cuisine is rice, specifically red rice, which is a type of very tasty brown rice, with a certain nutty flavour. They also use buckwheat and corn. In addition to these cereals, meat is part of typical Bhutanese dishes, beef, pork, lamb and especially yak, are the main ones.
To season dishes, Bhutanese use a lot of chili, as well as cheese, which are also the star ingredients of their national dish: Ema Datshi. This dish is made with green chillies with a cheese sauce, and if you like spicy food, you will immediately become a fan.
Having said that, we will get to know Bhutan's cuisine better, through a tour of its most traditional and tasty dishes.
Momos
As in Nepal, in Bhutan momos are everywhere, especially in street food stalls, but also in restaurants. These kind of vegetable or meat patties can be served fried or steamed. Of course, chilli is a key ingredient in Bhutan.
Ema Datshi
We have already mentioned this excellent Bhutanese dish, but it is worth noting that it varies depending on who is cooking it. It can be prepared with fresh green chillies, or dried red chillies. Chillies are added to cheese and lots of butter, depending on the taste of the chef.
Kewa Datshi
Another dish to eat in Bhutan is kewa datshi, made with potatoes and choose, but also sometimes with chillies or tomatoes added. To prepare it, potatoes are cut into thin slices and sautéed in butter, then the cheese and other ingredients are added.
Shamu Datshi
Continuing with cheese, but this time mixed with mushrooms, because that is how this other basic Bhutanese dish is prepared. The mushrooms are cooked in a kind of stew with cheese and butter and served with rice. There is also a vegan version, shamu datshi.
Shakam Datshi
If shakam means dry meat in Bhutanese, shakam datshi can't be anything other dry meat with cheese and butter. To prepare this dish, the meat is cut into small pieces, which are boiled over a low heat, and the butter and cheese are added generously at the end.
Shakam Shukam Datshi
This rare variation, as it is very difficult to find anywhere, is a combination of dried meat (shakam), with dry white chillies (shukam) and cheese (datshi). The result is a very tasty dish, with that bitter touch of white chilli, which you will definitely want to try again.
Sikam Paa
Take note of one of the more peculiar dishes eaten in Bhutan, which is strips of dried pork, fried with dried chilli. It is a calorific bomb that will leave a strong taste in your mouth, as well as your stomach.
Yaksha Shakam
If you are in Bhutan and you like meat, you have to try yak, so this dish is for you. To make this typical Bhutanese dish, yak meat is chopped and cooked with fermented yak cheese. As you can see, yak is the undisputed star of this Bhutanese dish.
Juma
Meat-eaters will be delighted on their trip to Bhutan, as they can then try a kind of sausage, made with minced meat, rice and spices. Sichuan pepper gives an unusual citrus flavour to these Bhutanese sausages.
Gondo Datshi
There is more to eat in Bhutan, this time scrambled eggs cooked in butter. The eggs are mixed with a lot of butter to fry them, and then datshi cheese is added. The mix is amazing, so it will surely become your favourite breakfast. You can also combine this dish with rice and chillies, and you have a perfect meal for the rest of the day.
Jasha Maroo
This dish consists of a chicken stew with a ginger flavour, although it is also known as chicken curry. Without a doubt it has a special touch, which makes it different from the typical Indian dishes from which it originates.
To accompany such tasty dishes, the most popular drinks include butter tea (suja), milk tea (ngaja), black tea, and locally produced ara (rice wine), as well as beer.