Call us for free now
Book with an expert for free:
+44 20 8068 3176
Prefer us to call you? Drop your number in the box:
24 hours a day, 7 days a week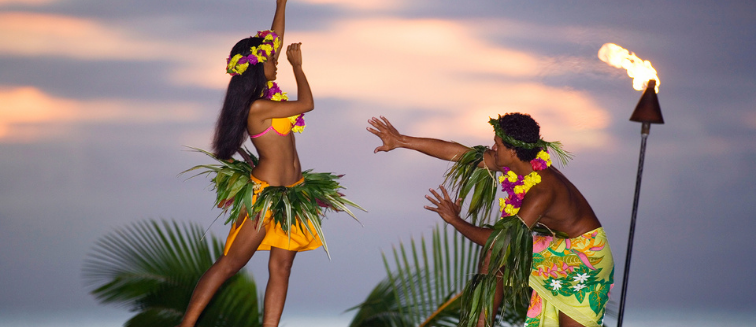 Events and festivals in
French Polynesia
Events and festivals in French Polynesia
Across the paradise islands of French Polynesia, you'll encounter an array of fantastic events, festivals and celebrations! Whilst some events focus on the islands' musical and dance traditions, others highlight sporting events, religious festivals and the natural environment. On the other hand, French traditions, such as Bastille Day are also celebrated in French Polynesia. Dive into the Polynesian culture by getting to know these popular Polynesian events and festivals!
Heiva (July)
Of all the celebrations and events held in French Polynesia, Heiva is the best-loved! A month-long festival of events, Heiva is a celebration of Polynesian culture across all five of the French Polynesian archipelagos. Ultimately, Heiva is a competition, where singers, dancers, performers and sportspeople from all over the country come together to compete in an array of traditional arts and activities. The main event, known as Heiva I Tahiti, is held on the largest island of Tahiti. Performances take place every evening and there's an energetic, festive atmosphere across the island as locals get ready to either participate or watch the diverse array of entertainment. Sporting events, such as canoe racing, as well as ceremonial events, like fire-walking, also take place during Heiva. Although the major celebrations can be found in Tahiti, each island and archipelago puts on its own version of Heiva during the month of July.
Pareo Day (May)
A light-hearted celebration of Polynesian culture, Pareo Day is a modern celebration that aims to celebrate the popular Polynesian clothing item of the pareo! Found in the wardrobe of every Polynesia, a pareo is a colourful piece of cloth, usually decorated with printed or painted flowers. Similar to a sarong, it can be worn in countless ways. Pareo Day is a day where people are encouraged to wear their best pareo either to work, school or wherever else they might go on that day! Usually held on the last Friday in May, the celebration was started in 2013 and gained popularity around the world thanks to the help of social media!
Bastille Day (July 14th)
Known as 'National Day' in French Polynesia, this event commemorates the storming of the Bastille and the French Revolution which followed. In Polynesia, this is a celebration of the freedom and autonomy that came from the French annexation of the islands in 1881. Falling during the month-long celebration of Heiva, Bastille Day celebrations involve lots of singing, dancing and traditional performances. 
Tahiti Tiare Day (December)
Usually held in December, this annual event celebrates the national flower of French Polynesia: the Tiare! Said to be the world's most fragrant flower, this white bloom is an important symbol of Polynesian culture. To celebrate the Gardenia Tahitensis, the capital of Papeete pulls out all the stops, with individual flowers being handed out in the city's streets, in shops and even at the airport. Furthermore, local businesses compete to create the most impressive and beautiful floral decorations and displays can be found in local shops, banks, post offices and other buildings across Papeete. 
All Saint's Day (November 1st)
As in other countries around the world, French Polynesians mark All Saint's Day by remembering their deceased ancestors. The days leading up the November 1st are dedicated to tidying the graves of loved ones ready to decorate them with beautiful floral displays and candles on the day itself. All Saint's Day in French Polynesia is a time for families to get together and share stories about those they have lost. It is a national holiday, therefore schools and most businesses are closed on this day.
Chinese New Year (February/March)
Due to the country's proximity to Asia, the Chinese New Year is one of the most important festivals in French Polynesia. Tahiti, in particular. is home to a large Chinese population and therefore the annual lunar new year celebration is enjoyed by much of the population, especially in the capital city of Papeete. To mark the occasion, traditional decorations, such as lanterns, are put up around the city and events such as parades and fireworks displays bring the community together to celebrate the arrival of the new year.