Call us for free now
Book with an expert for free:
+44 20 8068 3176
Prefer us to call you? Drop your number in the box:
24 hours a day, 7 days a week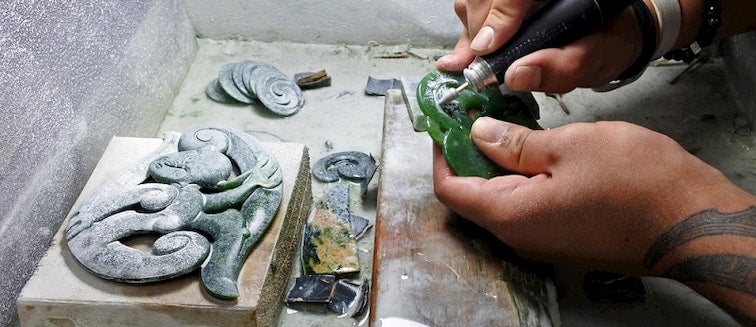 Shopping in New Zealand
If you are looking for souvenirs from New Zealand you should read this.
Pay attention to everything there is to buy in New Zealand during your trip to the country of Māori culture.  The land of the long white cloud belonging to Oceania offers unique souvenirs as a reminder of your trip.
New Zealand is a country where art and handicrafts are closely linked to the Māori. Wood carvings, Jade Jewellery, moulded glass, and daily symbols of the kiwi culture are just some of the country's typical souvenirs. In addition, there is high-quality clothing from world-renowned New Zealand designers and unique food products.
Let's see what to buy in New Zealand and which are the most essential typical products to take home with you as a souvenir or gift.
Māori handicrafts
Māori handicrafts are one of the best souvenirs to buy in New Zealand. The work of the Māori artisans stands out above all in the art of weaving and wood carvings. In this sense, the Raranga, is a tradition of highly skilled weavers who make baskets, capes, rugs, decorative objects and clothing.
On the other hand, the wood carvings or Whakairo, which correspond to men, who make delicate sculptures, decorations, tools, weapons, canoes and even musical instruments. Each object has its own story and if you want to buy a good quality item, avoid souvenir shops and visit the National School of Te Puia that you will find in Rotorua.
Pounamu, jade jewellery
Jade is one of the most important typical products to buy in New Zealand, not just for its beauty, but also for the value it holds for the Māori people.   The west coast of the South Island is the place where Māori jade comes from, which presents different marks and colours depending on the river it is extracted from.
The Māori tradition has used jade for centuries to make tools and jewellery of a high value.  In the case of jewellery, many of them are full of meaning, they were passed on from parents to their children with a strong value of social status. This is the case with the Hei Tiki, or necklaces in the shape of foetus, which is linked to fertility.
Paua, sea snail shells
The Māori people harvest these enormous sea snails both as a food, and to make precious jewellery with their shells.  Harvesting is controlled by law and they cannot be taken out of the country, except for as a souvenir.
With the Paua shells, the artisans turn them into beautiful ornaments of an iridescent blueish colour, mixed with green and purple.  The tradition uses the paua as eyes in the wood carvings, they are associated with the eyes of ancestors.
Woollen clothing
Another of the typical products of New Zealand is wool, which you will find throughout the country.  Although the sheep originally come from Spain, they have evolved in this country, creating their own characteristics.
The wool from Merino sheep, as this variety is known, is used to make mountain clothing. The result is a very high quality garment because of its strength, softness, its breathability, for its perfect thermal insulation and its ability to absorb moisture.
Clothing from prestigious designers
If you love fashion, this is one of the star products to buy in New Zealand. World renowned designers such as Karen Walker, Zambesi, World or Nom*D, are the most obvious examples of cutting edge and imaginative fashion.
Other brands like Starfish, Huffer, or the designs of Kate Sylvester or Anah Stretton will give you a more than pleasant surprise.  Make space in your suitcase because you are going to fall in love with the 'made in New Zealand' fashion.
On the other hand, as well as handicrafts and clothing, there are also souvenirs of New Zealand for gastronomy lovers: coffee, honey or chocolate are just a few examples.
Tuatara coffee
If you love coffee, don't hesitate to take some samples of this organic fair trade coffee home with you. As well as being a Premium quality hand roasted coffee, part of the earnings go towards a good cause.  A percentage of the sales is invested in a conservation project of the legendary tuatara lizard, in danger of extinction.
Manuka Honey
What better gift to buy in New Zealand than a sample of this high quality Māori honey. This honey, extracted from the pollination of the manuka, a shrub which is indigenous to New Zealand, has great healing powers.  The Māori people have always used it to alleviate swelling and pain, for its capacity to regenerate tissue and its antibacterial power.
New Zealand Chocolate
Yes, in New Zealand there are exquisite varieties of chocolate at the hand of Whittaker's. The company has made chocolates since 1896 and has its base in Porirua, it is the second best-selling brand after Cadbury, which also has a factory in the country.
Now you have your suitcase full of typical products of New Zealand, you are sure to go back home wanting to plan your next trip to the country of the long white cloud.