Call us for free now
Book with an expert for free:
+44 20 8068 3176
Prefer us to call you? Drop your number in the box:
24 hours a day, 7 days a week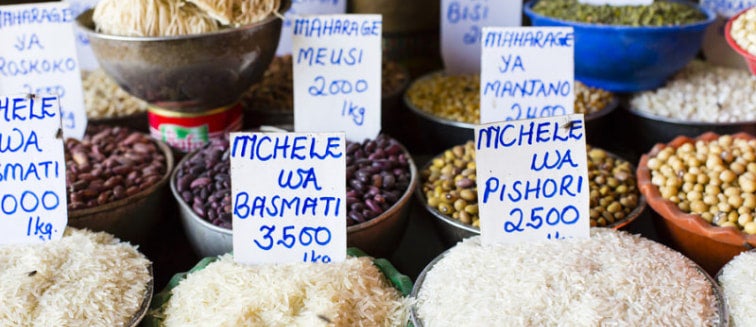 Food In Tanzania
You're probably wondering what to eat in Tanzania. As in most African countries, the scarce access of the population to resources has been an obstacle for the development of cuisine with its own personality.  With the exception of some typical Tanzanian dishes, which are simple to make and rustic, national cuisine is mostly made up of Asian and European foods.
The most traditional Tanzanian cuisine is Swahili cuisine which is found on the coast and is a combination of Indian and Arabic influences.  Many of its typical dishes belong to Hindu cooking but are adapted to the ingredients of the area. The British influence is also prominent in the culinary customs of the country.  Organising what to eat in Tanzania if you are vegetarian can be a bit more difficult.
Meat and fish
In Tanzanian cooking, dishes made with meat prevail in the inland areas, and fish on the coast.  While it is true that the recipes are not very elaborate, the raw material is very fresh, so the quality is excellent.  Normally the meat is grilled or roasted, most notably antelope, wildebeest and buffalo steaks. For visitors who don't dare to eat such exotic meats, there are also options of dishes with chicken, beef, lamb, and in some places, also pork.
It is fairly common to find kebab stalls thanks to the Islamic influence.  They are quite similar to those that we all know, made with strips of lamb seasoned with different spices.  It is accompanied with rice and vegetables, which can be cooked (green beans, potatoes, sweetcorn) or raw.  The sauces are made with coconut milk or curry. Sausages are made with beef due to the prohibition of pork in the Islamic culture.
In terms of fish, the most common varieties in Tanzanian cuisine are trout, perch, tilapia, parrot fish, tiger fish and rock cod. It is also known for its seafood, particularly lobster from Zanzibar and giant prawns.
Other specialities
When you don't know what to eat in Tanzania, salads are a good choice.  They are usually made with raw fruit such as banana, apple, papaya, coconut and sweet potato. They also often served cooked as a garnish for meat and fish.  A spice which is used a lot is pepper.  In fact, pepper cake is one of its specialities. It contains minced beef, butter, onion, olive oil, curcuma, nutmeg and three varieties of pepper.
Another of the typical Tanzanian dishes is ugali. This is a purée of cassava which is very like Italian polenta.  It is served with meat and vegetable stews.
Nyama chocan is typical of the regions in the north of the country and is a barbecue of chicken and beef. On the coast you can often find dishes with cassava and plantain with clove and cinnamon.
It is also easy to find chapatis, belonging to India.  It is a type of bread in the shape of a flat dough made with cornflour.  Mandazi is a type of sweet fried bread which is usually served to eat with coffee.
Typical Tanzanian desserts
What should you eat in Tanzania in terms of desserts?  Evidently, tropical fruit is the star dessert, served in salad or fresh.  An infinity of fruit is on offer: mango, papaya, pineapple, guava, passion fruit, coconut, tamarind, orange, lime, watermelon, melon, custard apple, etc.  The British influence can be seen in hotels and restaurants, especially when it comes to desserts.  If you are wondering what to eat in Tanzania, you can enjoy more western flavours in the hotels and lodgings.
Drinks
As with all of the old English colonies, tea plays a prominent role.  It is grown abundantly on the highlands of the country and is exported in large quantities.  It is drunk with milk and sugar. Another exported product of excellent quality is coffee, which is worth tasting.
Beer is consumed quite a lot, but it is important to specifically ask for it cool, otherwise, in line with British custom, it is served warm.  The national brand is Kilimanjaro and Safari Lager which comes in a half litre bottle.  Dodoma Red and Dodoma Pink are the country's wines, although in the restaurants they serve wine of different origins, mainly North American, European and South African.  Kenya Gold is a delicious coffee liqueur which is served with a bit of ice and can be a fantastic end to a hot day trip.  Kibgayi is a liqueur made with a mix of vodka and gin and Afrikoko is a sweet cocoa and chocolate liqueur.  Konyagi is a typical Tanzania gin.  It is important to note that, although alcohol is allowed, you shouldn't drink in the street.
OUR BEST TRIPS TO TANZANIA