Dubai mosques that you should know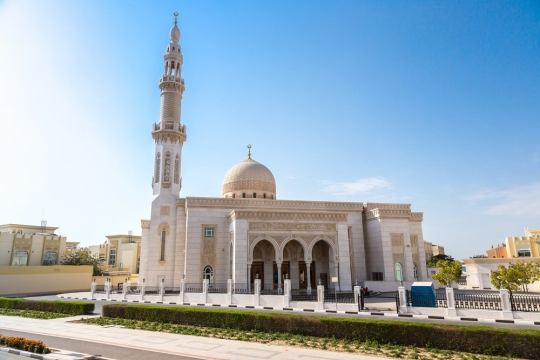 Tourism to the UAE has increased dramatically in recent years. All this thanks to the incredible luxury alternatives offered by cities such as Dubai or Abu Dhabi. Dubai has become a commercial center, a luxury tourist destination and a city of open doors, open minds. This is what the city motto says. Dubai authentically combines the luxuries of the present with the traditional roots of the past. The United Arab Emirates is first and foremost a Muslim country. That's why we have a list of places you must visit. These are the Dubai Mosques that you should know.
Before starting. It is important that you know that these mosques in Dubai are sacred places. These places are of great importance for the locals. The mosques are cult centers of Islam. Be amazed by its beautiful architecture, be enchanted by what the Dubai Mosques represent. But always keep respect, respect for difference, respect for sacred places. The mosques that allow access to non-Muslim visitors have a dress code. Men can not wear shorts or tank tops. It is important that the knees are covered. Women should wear loose clothing. They cannot wear tight clothes and their hair must be covered.
Understanding these few indications, let's start.
Dubai mosques that allow access to non-Muslims.
The great architectural beauty of mosques around the world has made these true sites of interest for tourists. This happens in Dubai. However, understanding that mosques are centers of worship, not all allow access to tourists or non-Muslim people. However, these Dubai Mosques have become unique places to teach travelers a new culture, arts, languages, and beliefs. These are the Dubai Mosques that allow access to non-Muslims that you must know.
Jumeirah Mosque
The Jumeirah Mosque is perhaps the most important in Dubai for tourists. Its imposing architectural beauty attracts thousands of visitors.
This mosque represents very well the Dubai motto, "Open doors, open minds". Here you can get to know a different culture, respecting the differences, enjoy the architecture and understand a little more about the beliefs of the Muslims. Enjoying diversity is one of the reasons to be attracted to this mosque.
This mosque in Dubai was built in 1979. Minarets (tower where one person calls the people to worship): This mosque has two minarets that give a charming touch. It is impossible to think about taking a trip to Dubai and not having a memory of the Jumeirah Mosque. Meet this charming place and enjoy the power of its architecture on a luxury trip to Dubai.
Al Farooq Mosque
Also known as the Blue Mosque, it is very easy to locate due to its four 65-meter minarets. It was built in 1986 and its construction is inspired by the Blue Mosque of Istanbul in Turkey.
Although its facade is impressive, the interior is even more so. With a large amount of stained glass, the building has a large amount of light. But the most impressive thing is perhaps, the great dome that measures 30 meters high.
Taking advantage of the fact that access for non-Muslims is allowed, it is obligatory for a traveler to visit the interior of this mosque.
This mosque not only has great architectural beauty, but it is also a center of Islamic studies. You can learn here about their Muslim culture, medicine, art, and science. In addition to the teaching of the Arabic language.
Other mosques in Dubai.
The mosques have a great religious value. That is why in some of them access to non-Muslim people is not allowed. However, you can enjoy the beauty of its architecture from the outside. These are other Dubai Mosques that you should visit.
Grand Bur Dubai Masjid
The Grand Mosque is in the area of Bur Dubai, was built in 1900, replaced by a new mosque in 1960 and then rebuilt in 1998, resembling the original building of 1900.
This mosque is the largest in Dubai, being the predominant building in the old part of the city. Its gigantic minaret of 70 meters is the highest in the city.
What else to know in Dubai?
In addition to its mosques, Dubai offers visitors a large number of tourist sites that you should know on your trip to the United Arab Emirates. Some of the must-see places in Dubai are:
Burj Al Arab: Hotel considered the only 7-star hotel in the world.
Burj Khalifa: You will be impressed with the tallest tower in the world. You can go up to the viewpoint on its top floor with a prior reservation.
Dubai Mall: A shopping center with 1,200 stores and more than 750,000 visitors a week. The perfect place to go shopping.
Others: Dubai Marina, Dubai Fountain, Jumeirah Palm Tree, The World, Aquaventure.
Complete your adventure with tours of the Dubai desert and the stunning beaches of the Persian Gulf.
Could another luxury destination impress you so much? Dubai and other Emirates such as Abu Dhabi have been responsible for turning the UAE into a real tourism trend. What are you waiting for? Have a luxury vacation!