The best natural parks in Canada where you can disconnect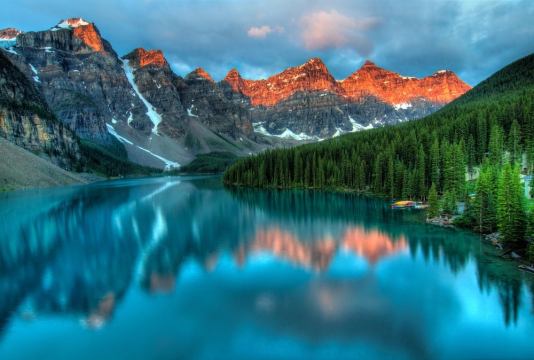 Nature calls us to disconnect, leave the routine and be free. Places to breathe pure air abound, however, we are so enclosed by the stress of our cities that we forget it. That is why it is sometimes good to look at a map and look for extraordinary trips. We want you to discover unique places that fill you with peace and tranquility. Let's take a look at the American continent! We know of the wonders that the new continent must amaze us. But we rarely see far to the north. Today we will show you a destination that will leave you wanting to breathe beautiful blue. These are the best natural parks in Canada where you can disconnect.
The best natural parks in Canada
Banff National Park, Alberta
Not only is it one of the best natural parks in Canada, but Banff is also the oldest, therefore, the best known and visited. Located in the Canadian Rockies, it hides in its interior great and beautiful lakes, glaciers, forests, surrounded by immense snow mountains. The Banff National Park has about 120 years of history and to reach it can be done from the city of Calgary.
Jasper National Park, Alberta
Another of Canada's most famous natural parks, it is located north of Banff National Park and is a bit wilder. Home of the grizzly bear, Jasper perfectly combines the charm of the Rockies with boreal forests. In addition, lakes, glaciers, mountains, wild animals, and many other things await you to surprise you in Jasper National Park. If you take the road from Banff to Jasper, you will find one of the most beautiful roads you have seen, we assure you.
Waterton Lakes National Park, Alberta
We continue in Alberta to tell you about another of the best natural parks in Canada. Very close to the border with the state of Montana in the United States, the Waterton Lakes National Park make you fall in love with a landscape like no other. Trails, mountains, snow-capped peaks, forests, come together to form a place for your rest. Disconnect from the routine, connect with nature in Waterton Lakes.
Gros Morne National Park, Newfoundland and Labrador
Canada has it all, that's why we left the Rocky Mountains of Alberta to go to the island of Newfoundland, on the west coast of Canada. A place of mountains that go back to the earliest formations on Earth. Wildlife for an adventure trip.
Yoho National Park, British Columbia
Also, in the Rocky Mountains, but in British Columbia, very close to the National Parks of Banff and Jasper, is Yoho National Park. However, although it is not as big as its neighbors in Alberta, Yoho can surprise you with its natural beauty. Landscapes that seem taken from tales of maidens. Enjoy spectacular places like the Emerald Lake. The Rockies are a fantasy scenario, that's why many of the best natural parks in Canada are there.
Forillon National Park, Quebec
We change coast, we go to the East coast, where a spectacular natural park leaves us magnificent views of the Atlantic. Different routes cross this park, where you can breathe naturally. Be surprised by its dunes, forests, and cliffs.
Nahanni National Park, Northwest Territories
Mountains, canyons, waterfalls such as the Virginia Falls, is what you can find in this natural park in the province of Northwest Territories. Enjoy the tranquility that a country like Canada can offer you. Magical places that you will like to know and live at least once in a lifetime.
Pacific Rim National Park, British Columbia
Vancouver is one of the main cities in the country. You will get to know the best natural parks in Canada and very close to Vancouver you will find the Pacific Rim National Park. Steep coasts that become a great option for hiking, in the middle of fine sand, crystal clear waters and dense forests.
Bruce Peninsula National Park, Ontario
In every corner of Canada, you will find spectacular natural scenes that will surprise you. You already knew the Pacific Rim near Vancouver, it is the turn of the city of Toronto, one of the best cities to visit in Canada. A few hours north of this, you will find the Bruce Peninsula National Park. A place of turquoise waters, cliffs, and forests. World Biosphere Reserve, and an unparalleled destination to meet on your next vacation.
Kluane National Park, Yukon
We toured Canada from end to end to show you some of the best natural parks that the country can offer you. Now, on the border with Alaska, you will find the Kluane National Park, where is the highest mountain in Canada, Mount Logan, with 5,959 meters of altitude.
It's time to connect with nature, these are some examples of what you can find in a world for adventurers.