The 12 most spectacular beaches in Hawaii that you cannot miss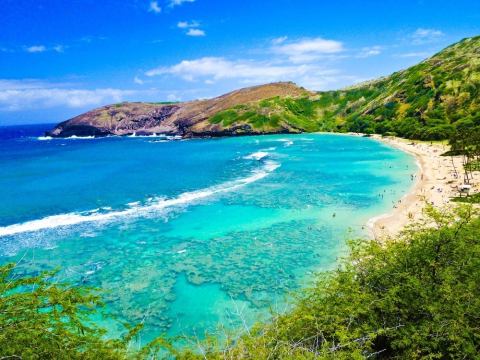 Hawaii is a paradise that we all want to know. It is very difficult to deny that at least once in our lives we have dreamed of visiting this tropical destination. Hawaii is the 50th state of the United States and is one of its most desired destinations. It is an archipelago consisting of 19 islands. Volcanoes, mountains, sea, and scenarios full of magic. These are the 12 most spectacular beaches in Hawaii that you cannot miss.
Oahu Island
Hanauma Bay – Oahu
We start our list with a beach for snorkeling lovers. For those who love to put on a mask and go in search of a magical submarine world, this is your beach. A great variety of fish swims among its reefs. The beach has a horseshoe shape and is located southeast of the island of Oahu. It is formed by an old volcanic crater.
Lanikai Beach – Oahu
Crystal clear waters and water sports are mixed in these beautiful white sand beaches. Lanikai is one of the most spectacular beaches in Hawaii and just by being there you will understand why. Giant coconut palms welcome you to paradise. Turquoise waters and favorable winds for surfing, windsurfing or kitesurfing.
Waimanalo Bay Beach Park – Oahu
We continue with the beautiful island of Oahu to show you one of the unmissable beaches, Waimanalo. This is one of the most complete and visited beaches. Here you will have all the services for you to enjoy with your family with peace of mind. This is beautiful scenery where you can get beautiful photographs of Hawaii. Waimanalo beach also has a camping service so you can enjoy a magical night on Oahu.
More in Oahu
Kailua Beach – Oahu
Kailua beach is in the east of the island of Oahu, very close to Lanikai Beach. It is an ideal place to spend the day and share with family or friends. You can take food and prepare it because the beach has a picnic area and barbecue. This beach is usually visited by Marines, as there is a military base nearby. This beach is bigger than Lanikai and like it, it also has crystal clear waters to enjoy the tropical climate.
Waikiki Beach – Oahu
This is one of the most spectacular beaches in Hawaii. It is in Honolulu, south of the island of Oahu. It is the first urban beach on the list. A lovely bay with some of the oldest hotels in Honolulu. It is also one of the favorite beaches for surfers due to its large waves on windy days. No doubt you should schedule a visit to this beach on your next trip to Hawaii.
Maui Island
Kaanapali Beach – Maui
We are going to the island of Maui, another of the Hawaiian wonders that you should know. We started with the Kaanapali beach. On the island, this is one of the most complete for all the services that you will have at your disposal. Water sports are also a good option here.
Kapalua Bay – Maui
This beach located west of Maui is a good option for families. Its calm waters allow you to enjoy the sea more calmly. The large coconut palms are part of the natural scenery that is simply beautiful.
Wailea Beach – Maui
This destination is a little fuller of tourists than other places. On this beach, you will find many hotel complexes, so this is an area with a lot of affluence.
Something to emphasize the beach of Wailea and that makes it one of the most spectacular beaches in Hawaii is that here you can find gigantic friends. See and hear whales. The cetaceans bathe in these warm waters, especially in winter.
Big Island
Hapuna Beach – Big Island
Hapuna is one of the most famous beaches in Hawaii. It is a beach of white sand of a great extension. If what you are looking for is to have control, this is one of the beaches with the greatest organization.
Kauai Island
Poipu Beach Park – Kauai
There is no better way to bring a family together than the beach you visit is designed for all tastes. This beach has two separate bays with the intention that everyone has a space in it. One of the bays for babies and small children, where they can have fun in calm waters. The other for the more adventurous who want to practice water sports.
Ke'e – Kauai
Do you like sunsets? Here you will enjoy the best on a beach surrounded by green cliffs, white sand, large palm trees, and turquoise waters. You are in paradise! Enjoy your stay in Hawaii.
Hanalei – Kauai
We finalized our listing with the largest beach in Kauai. A long white sand beach with a sea of ​​beautiful colors. Enjoy here the coral reefs, suitable for snorkeling.
Hawaii is a paradise where you look at it. Do not stay with the desire to know this natural wonder of tropical climates, volcanoes, waterfalls, cliffs, lots of green and a lot of magic.